Throughout the NBA's hiatus, we're breaking down the top 10 players at every position for the 2019-20 season so far, and today we're ranking the best power forwards in the NBA. 
If you missed the first three instalments, you can read them here:
HONOURABLE MENTIONS
DRAYMOND GREEN
8.0 points, 6.2 rebounds, 6.2 assists, 1.4 steals, 38.9% FG
This year has been an absolute write-off for the Warriors, something the rest of society can certainly relate to.
Incredibly, 12 players from last season are no longer on Golden State's roster, and three of the five players who remain – Steph Curry, Klay Thompson and Kevon Looney – have either played sparingly or not at all.
All of this is bad news for Draymond Green, whose dynamic offensive capabilities are best utilized when he's surrounded by elite players.
The hyper-competitive Green is also at his best when he's thrown into the postseason pressure cooker, and right now the Warriors couldn't be further that.
Draymond has shown flashes of his old self, but this will hardly go down as one of the most memorable years of his career.
AL HORFORD
12 points, 6.9 rebounds, 4.1 assists, 44.2% FG, 33.7% 3P
Al Horford would've been much higher in these rankings as recently as last season, back when he was the glue that held the Celtics together.
But he's an awkward fit in Philly, struggling to find his place alongside Joel Embiid and within a clogged offence that often features four bad shooters.
Poor fit aside, Horford has been shockingly ordinary on defence often enough that it's hard not to wonder if he's still the same player.
The 76ers will be desperately hoping that Horford is just going through a funk, and not a permanent decline.
Their season depends on it.
THE TOP 10
10. LAMARCUS ALDRIDGE
18.9 points, 7.4 rebounds, 49.3% FG, 38.9% 3P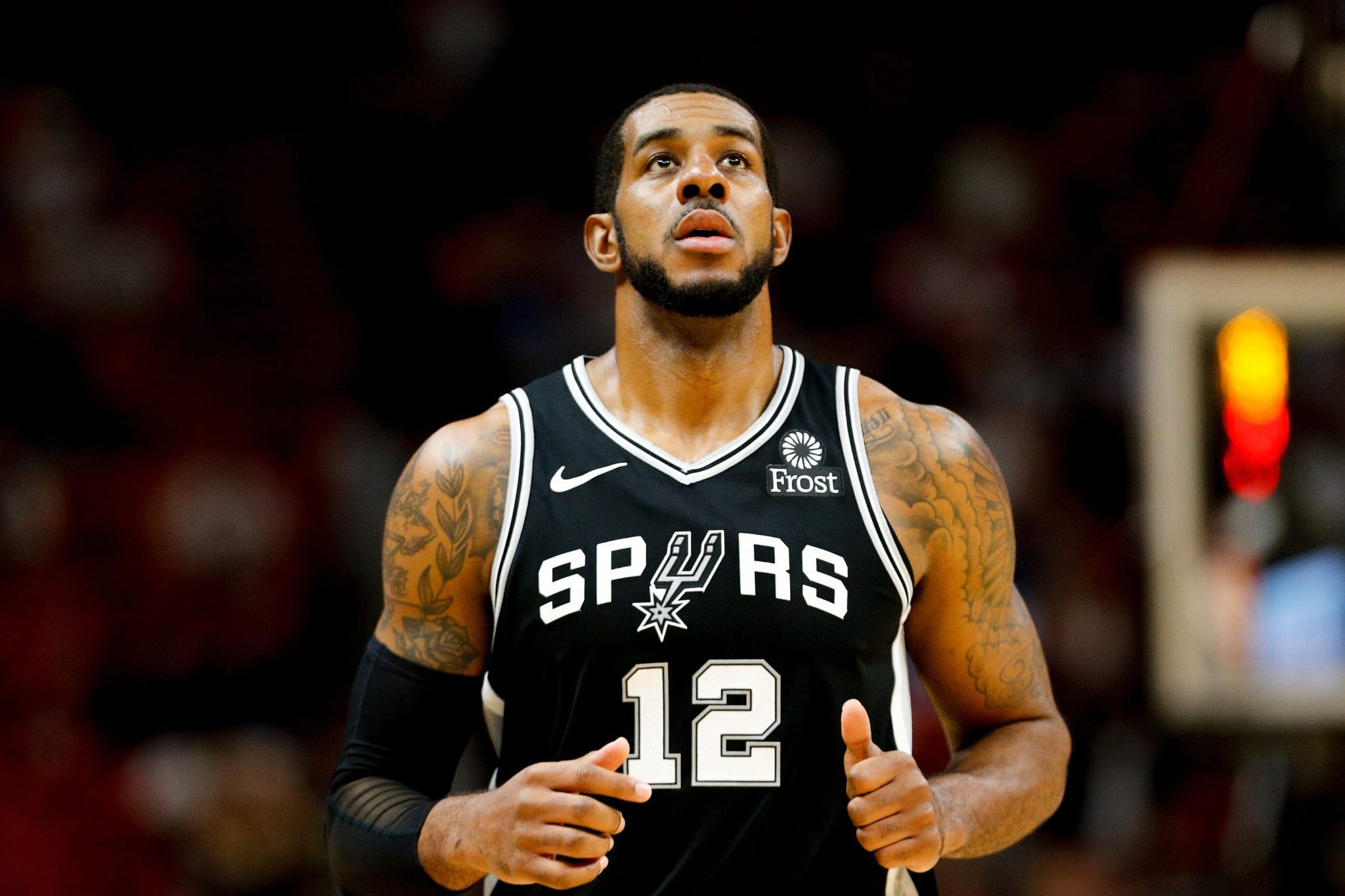 LaMarcus Aldridge is like your classic family station wagon: reliable, gets the job done, solid but not spectacular.
And while Aldridge has been a fairly boring big man on a fairly boring team, the seven-time All-Star has made one major change since last season: drastically boosting his three-point shooting from 23.8 percent to 38.9 percent.
You'd almost suspect that sort of behaviour would be frowned upon in San Antonio, where the Spurs shoot an incredibly low number of threes (28.2 threes per 100 possessions, second-last in the NBA) and Gregg Popovich regularly rants about three-point shooting ruining the game.
9. KEVIN LOVE
17.6 points, 9.8 rebounds, 45% FG, 37.4% 3P
These are frustrating times for Kevin Love.
This season alone, Love punched the shit out of a seat during a tirade in Toronto, threw the ball at teammate Cedi Osman mid-game and reportedly told Cavs general manager Koby Altman "I have plenty of money" when threatened with a fine.
The good news is, Love can still play.
His stats across the board are on par or better than previous years, but his abilities just aren't all that valuable to a young, rebuilding team that's going to lose a whole bunch of games no matter what.
8. DANILO GALLINARI
19.2 points, 5.5 rebounds, 43.9% FG, 40.9 3P%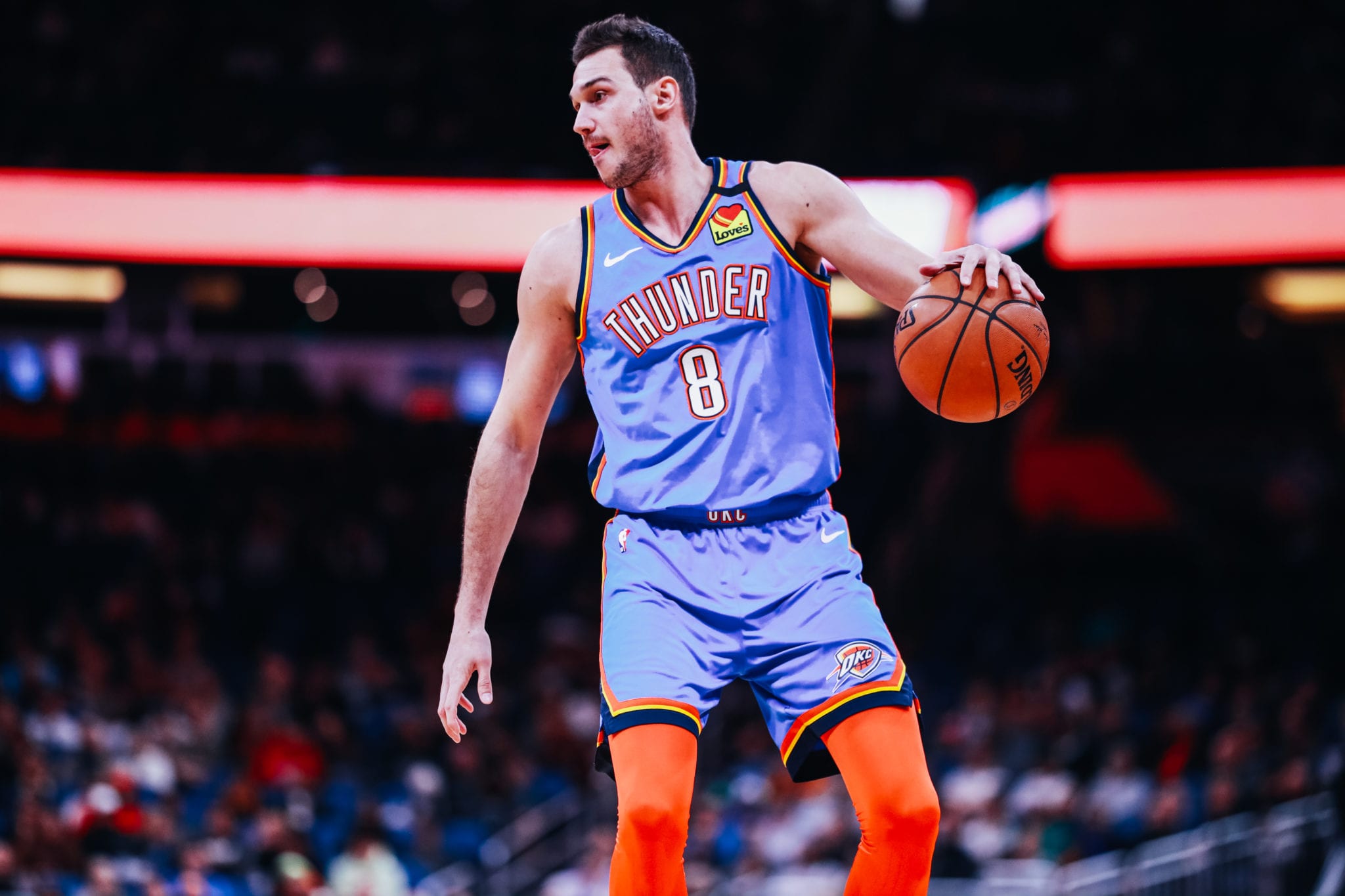 It's amazing what Danilo Gallinari can do when he isn't constantly injuring himself.
Gallinari has been a deadly and dynamic scorer this season and last, whether it's posting up, isolating, letting them fly from deep or killing opponents softly in the pick and roll, either as the screener or the ball handler.
Gallo has been playing at an All-Star level and is one of the biggest reasons the Thunder have blown all expectations out of the water.
 7. MONTREZL HARRELL
18.6 points, 7.1 rebounds, 58% FG
A three-year college player who was drafted in the second-round, Montrezl Harrell was never meant to be anything spectacular.
The casual fan would've struggled to identify Harrell few years ago, and now he's scoring more points per minute than 95 percent of the league.
In fact, Harrell's 24.1 points per 36 minutes puts him in the top-20 league-wide, ahead of Nikola Jokic, Pascal Siakam and Kemba Walker.
Now that's what elite production off the bench looks like.
 6. KRISTAPS PORZINGIS
19.2 points, 9.5 rebounds, 2.1 blocks, 42% FG, 34.9% 3P
Despite having a spectacular start to his career, it's time we temper expectations for Kristaps Porzingis.
Returning to the court following an ACL tear is one of the toughest things you can ask of a basketball player, and Porzingis has had to do it while adjusting to a completely new system and role.
The towering Latvian has still been an excellent defensive anchor, the mere threat of his long-range shooting has been invaluable (even though his shooting hasn't actually all that flash this season) and he's still averaging a tick under 20 points per game.
However, his offensive game is a lot more one dimensional, and overall, he just isn't the same guy that we saw in New York, at least not right now.
 5. BAM ADEBAYO
16.2 points, 10.5 rebounds, 5.1 assists, 1.3 blocks, 1.2 steal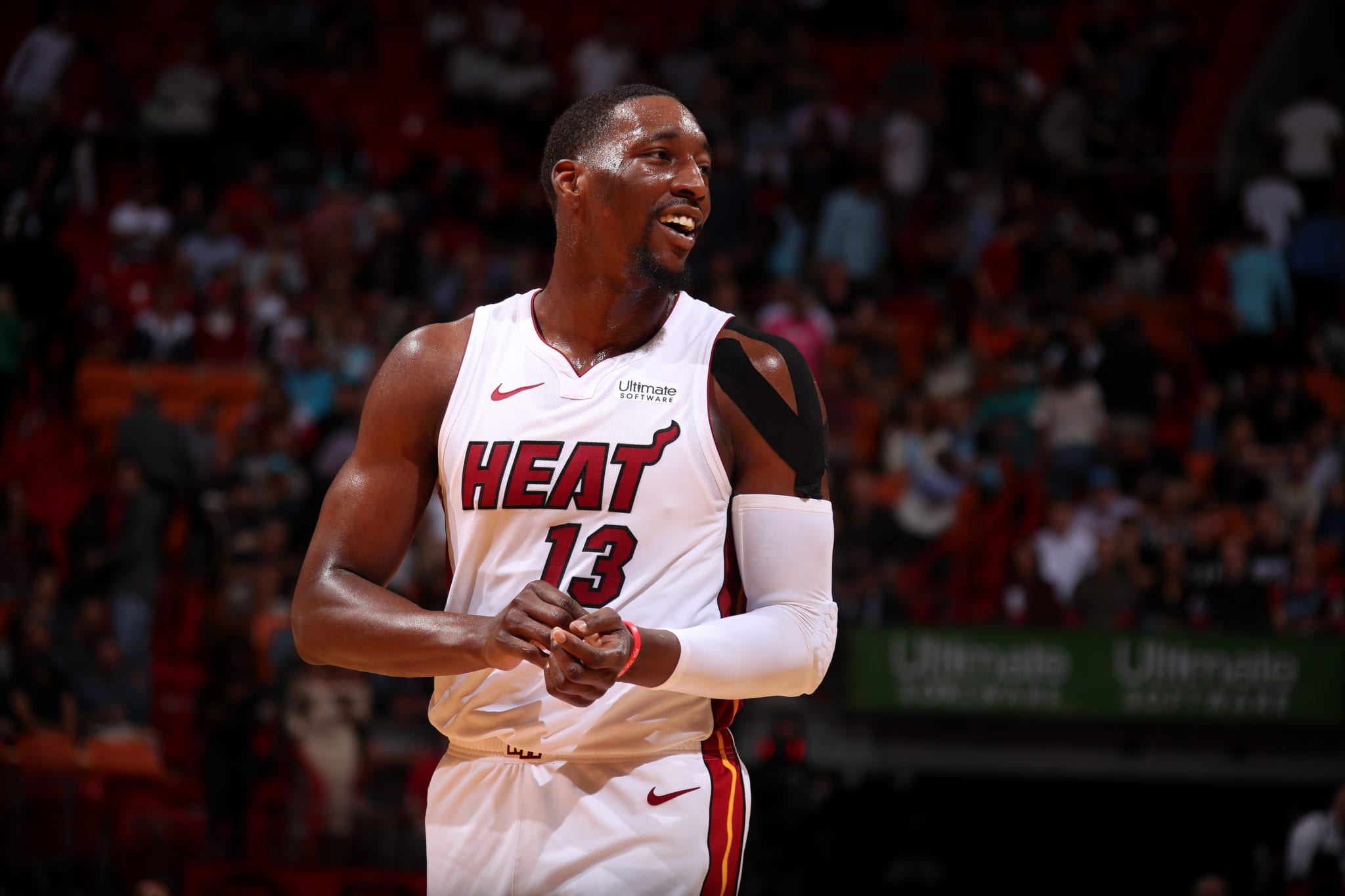 On the surface, Bam Adebayo looks like what you'd get if you handed a struggling sketch artist $10 and asked him to draw Dwight Howard.
But Adebayo is no scrub.
A masterful rim protector and excellent passer, Adebayo has been imitating Rudy Gobert at one end and Nikola Jokic at the other.
An incredible combination of brute force and playmaking wizardry, Adebayo has emerged to the shadows to become an absolute monster.
 4. DOMANTAS SABONIS
18.5 points, 12.4 rebounds, 5 assists, 54.0% FG
At the time the trade went down, it seemed absurd that Indiana would swap Paul George for Domantas Sabobis and Victor Oladipo.
The Pacers were widely criticised for signing off on the deal, and yet as it turned out, they effectively swapped one All-Star for two of them.
Sabonis has already put himself in elite company, as one of only three players – along with Giannis Antetokounmpo and Nikola Jokic – to average at least 18 points, 10 rebounds and five assists this season, a feat which has previously only been achieved twice in the past 15 years.
The Lithuanian big man is also a brilliant screener, can handle the ball in transition, passes like a point guard and crushes his opponents into dust with fearless assaults on the rim.
3. PASCAL SIAKAM
23.6 points, 7.5 rebounds, 45.9% FG, 35.9% 3P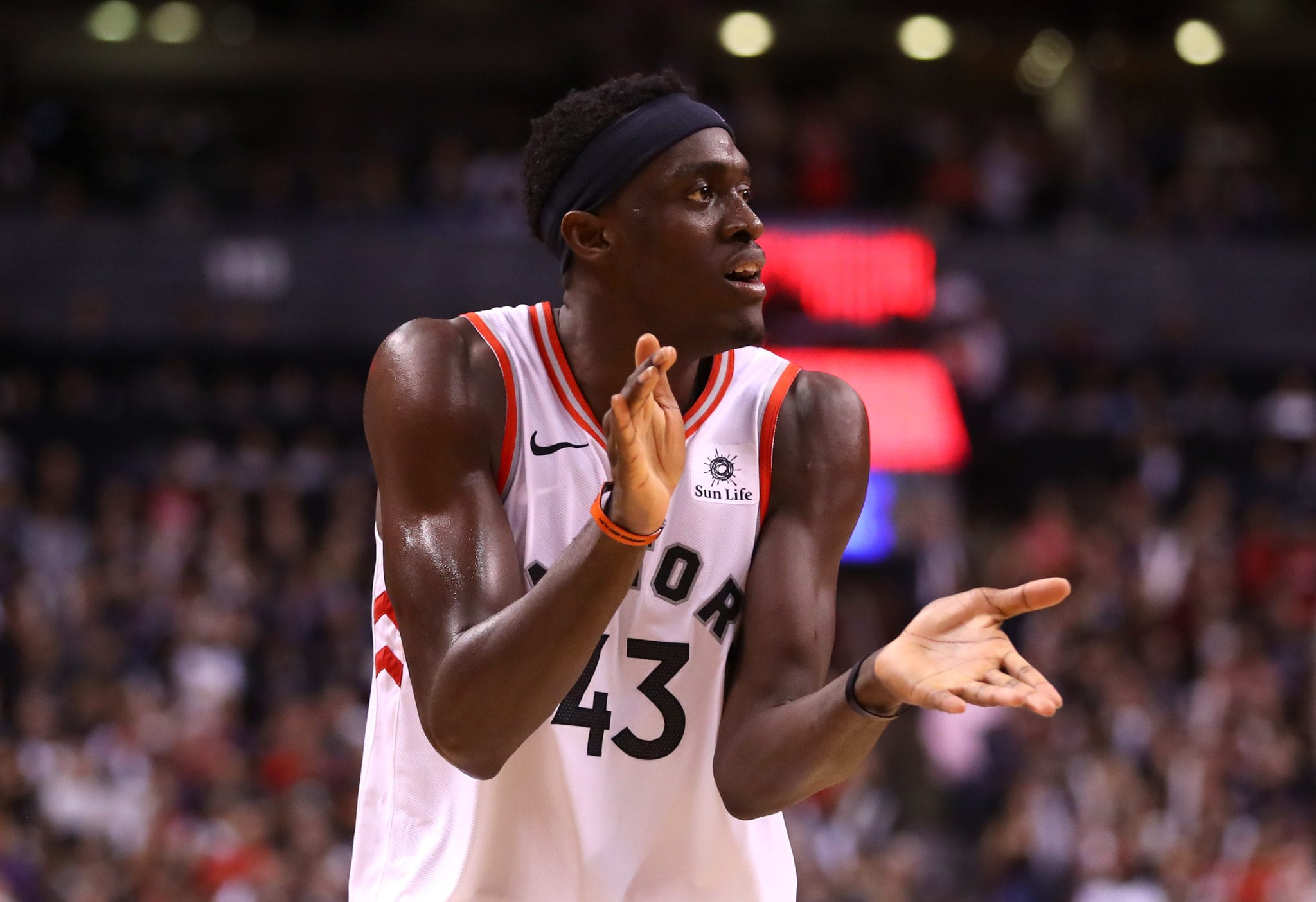 Those predicting a major drop-off for the Raptors following Kawhi Leonard's departure failed to account for the inevitable growth of Pascal Siakam as the team's number one guy.
Siakam has seized the reins with gusto while taking his herky-jerky game to new heights.
He came out breathing fire to start the season, averaging close to 28 points and 10 rebounds across his first eight games.
From there he continued to blossom into an All-Star, helped spark a thoroughly enjoyable 15-game winning streak, and led the Raptors to a 46-18 record, which is exactly where the reigning champs were at this same point last season.
2. ANTHONY DAVIS
26.7 points, 9.4 rebounds, 51.1% FG, 33.5% 3P
Heading into the season, Anthony Davis still had two question marks hanging over his head.
One was his injury frequency, and the other was his historic lack of winning.
In terms of injuries, Davis has only missed games in four separate chunks this season, which is a miracle by his standards (his season was interrupted 11 times in 2018-19).
When it comes to his winning concerns, well… it's funny how teaming up with LeBron always seems to sort that out.
To Davis's credit, he has meshed perfectly with James and absolutely dominated at both ends of the floor while playing with a renewed sense of joy following his not-so-smooth escape from New Orleans.
1. GIANNIS ANTETOKOUNMPO
29.6 points, 13.7 rebounds, 5.8 assists, 54.7% FG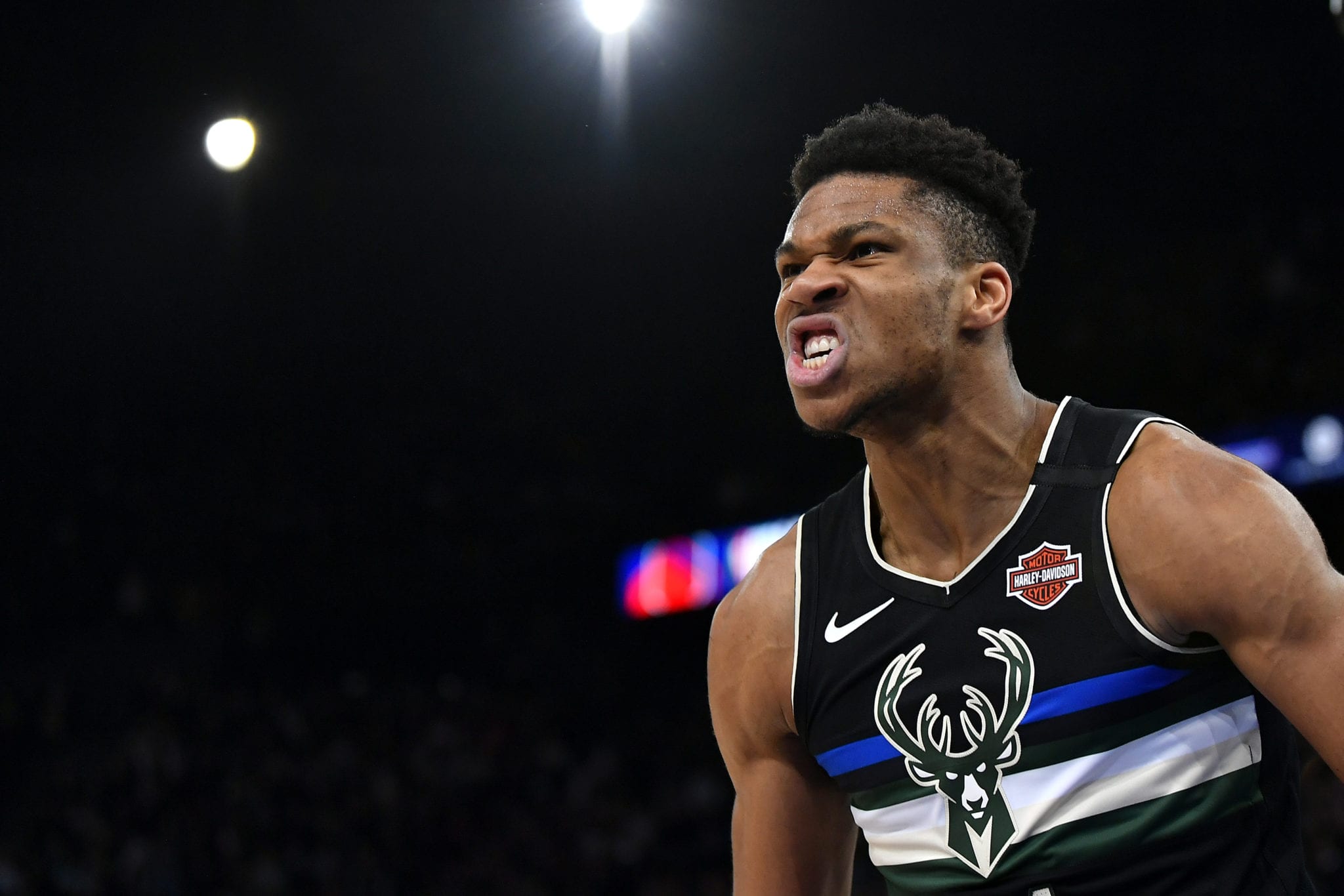 MVP awards are traditionally won by those at the peak of their powers.
But after winning last season's highest individual honour, Giannis Antetokounmpo still had plenty of improving to do.
Antetokounmpo is averaging career highs in points (29.6) and rebounds (13.7) despite seeing the least amount of court time since his rookie year (30.9 minutes).
Better still, he's doing it while leading the Bucks to a league-best 53-12 record despite playing with a roster that's relatively modest on paper.
At this point, the only thing that can stop Antetokounmpo from winning MVP again is voter fatigue.
For more Basketball Forever content, follow @bballforeverfb and @nickjungfer.