Before we get started, here are a few things to note before anyone jumps straight into the comments in a fit of rage.
Luka Doncic isn't on the list because he plays a mixture of three different positions.
Steph Curry hasn't been included because he hasn't played much at all this season, and the same goes for Kyrie Irving.
Ok, now with that out of the way, let's do this.
10. DE'AARON FOX
20.4 points (8th), 6.8 assists (12th), 47.5% FG (6th), 30.7% 3P (30th)
While the Kings appear destined for their 14th consecutive year without making a playoff appearance, this was at least the year De'Aaron Fox started to really break out.
Fox's three-point shot needs a whole lot of work, but if he can figure that out, he's going to be an absolute weapon.
9. KEMBA WALKER
21.2 points (5th), 4.9 assists (22nd), 42.1% FG (22nd), 27.7% 3P
Kemba Walker hasn't been himself for significant portions of the season, especially following the All-Star Game.
It's been widely speculated that these slumps have been due to Kemba's troublesome knee, although he is on the record saying he feels just fine.
It's hard to know which would be more concerning: Kemba's knee problems persisting, or him not having an injury to blame his poor form on.
8. JA MORANT
17.6 points (16th), 6.9 assists (10th), 49.1% FG (2nd), 36.7% 3P (17th)
It's been an incredible season from the yet-to-be-announced Rookie of the Year.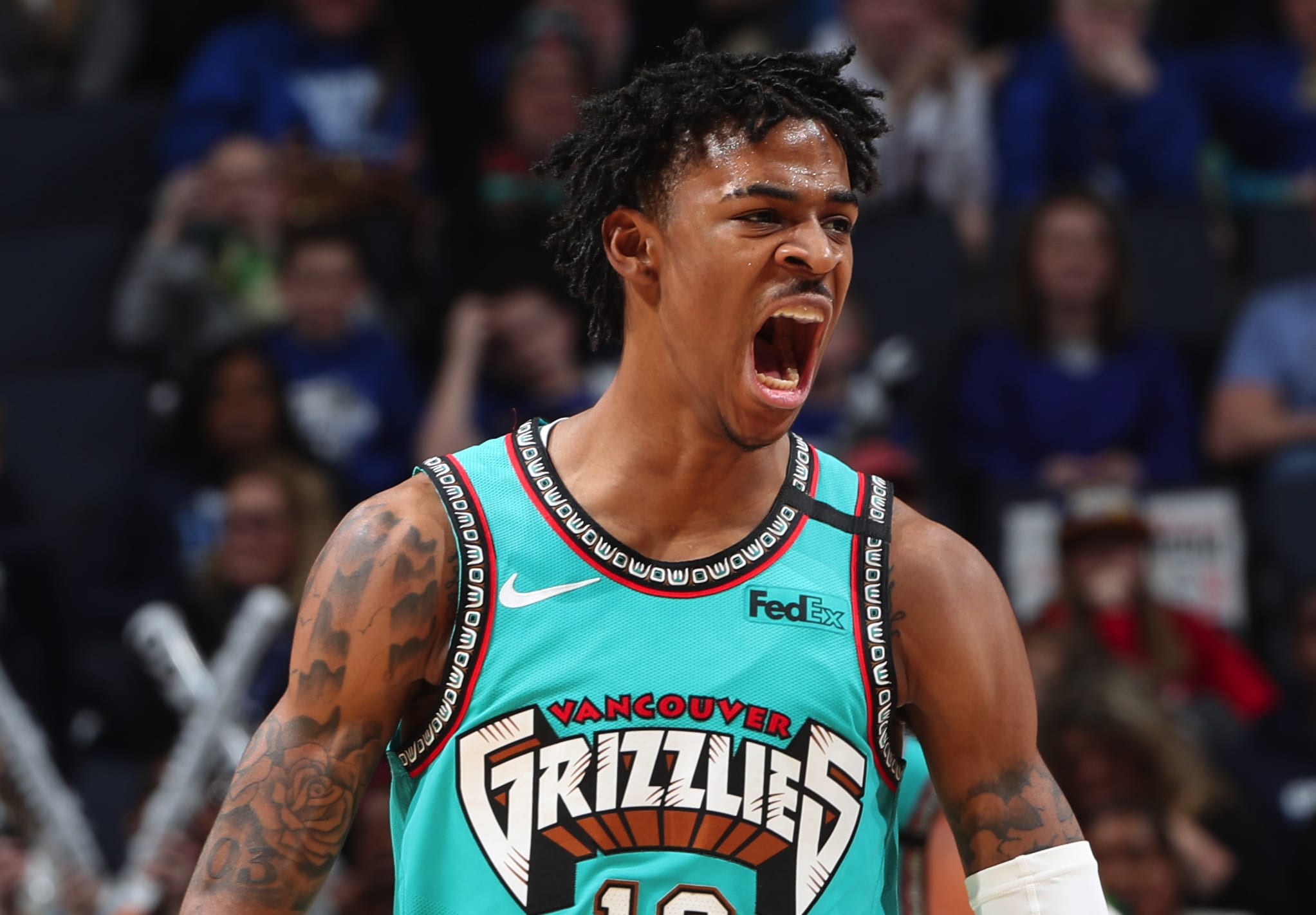 What's really stood out about Ja Morant has been the fearlessness attacking the rim and his general swagger despite his inexperience, not to mention his ability to shoot almost 50 percent from the field as a rookie who's still adjusting to the professional game.
7. JAMAL MURRAY
18.8 points (11th), 4.8 assists (24th), 45.5% FG (14th), 34.5% 3P (27th)
Jamal Murray's basic numbers are very similar to last year's, but this dude matures every year, showing his poise, smarts and fearlessness more often than not.
If he keeps doing what he's doing, it won't be long before everyone is talking about his game instead of his sex tape.
6. KYLE LOWRY
19.7 points (9th), 7.7 assists (5th), 41.7% FG (23rd), 35.4% 3P (22nd)
His shooting numbers suck, but Kyle Lowry has still boosted his scoring output by almost 40 percent this season in Kawhi Leonard's absence.
Lowry also remains: (a) a bulldog on defence, (b) a big reason why the Raptors are still elite without Kawhi, and (c) a certified All-Star.
5. TRAE YOUNG
29.6 points (1st), 9.3 assists (1st), 43.7% FG (19th), 36.1% 3P (19th)
This may seem low for someone who leads the way in points and assists, but Young has a very long way to go defensively, and defence is half the game.
Young has also been extremely inefficient, ranking 19th in both field goal shooting and three-point shooting among point guards.
Having said all that, if he can lift those shooting numbers and mature on D, the rest of the league is in some serious trouble.
4. BEN SIMMONS
16.7 points (17th), 8.2 assists (3rd), 58.5% FG (1st)
Ben Simmons might not have an outside shot, but there isn't a coach alive who wouldn't happily take his 58.5% field goal shooting.
Simmons is also the best defender on this list.
And in case that wasn't enough, he also ranks third in assists.
3. RUSSELL WESTBROOK
27.5 points (3rd), 7 assists (9th), 47.4% FG (8th), 25.4% 3P (X)
Russell Westbrook has really stuck it to the doubters (myself included) once the Rockets switched to super small ball.
With the paint wide-open following the Clint Capela trade, Westbrook has taken full advantage of all that new-found space and torn it up.
His 27.5 points per game marks his highest-scoring season since his MVP campaign, and his third-highest scoring season ever.
His decision-making remains a concern at times, and his three-point shooting is a concern all the time.
But Russ was still having himself a hell of a season before corona hit.
2. CHRIS PAUL
17.7 points (15th), 6.8 assists (11th), 48.9% FG (4th), 36.2% 3P (18th)
Back in October, ESPN's metrics gave the Thunder a 0.2 percent chance of making the playoffs.
Fast-forward six months and the Thunder are the fifth seed in West with a 40-24 record.
Remember, this team of random castoffs and assorted trade pieces wasn't meant to go anywhere.
And yet they were thriving, largely because of CP3's stunning bounce-back season, his tremendous ability to bring out the best in everyone around him, and his refusal to merely wait for a trade to a contender like many other stars would've done in his position.
Oh, and just to top it off, Paul leads all players of all positions in clutch scoring for the season, and it isn't even close.
1. DAMIAN LILLARD
28.9 points (2nd among PGs), 7.8 assists (4th among PGs), 45.7% FG (13th among PGs), 39.4% 3P (4th among PGs)
Not only is Lillard second in points, fourth in assists and fourth in three-point percentage, he's also first in PER, first in WAR, first in general musical ability and first in the public humiliation of NBA officials.
For more Basketball Forever content, follow @bballforeverfb and @nickjungfer.