Richard Jefferson had the unenviable task of playing against both LeBron James and Kobe Bryant, and he says LeBron was definitely the toughest player he ever had to guard.
"Kobe was gonna do what Kobe does. he was gonna shoot the ball," Jefferson said on NBA Today.
"… That to me wasn't the hardest person to guard. It was still LeBron James. Mainly because of this: it was he was bigger, he was more physical."
Jefferson added that guarding a young LeBron in the 2007 playoffs was an absolute nightmare.
"At 22, 23 years old, I was like, 'Man, I don't know what we are going to do with his man," he said.
That was the postseason when James almost single-handedly beat New Jersey 4-2 in the second round, and this was when the Nets had Jason Kidd and Vince Carter.
Of course, Kobe fans aren't going to like this take from Jefferson.
But at least Lakers fans can thank their lucky stars that they somehow landed both players in purple and gold.
Kevin Durant Takes Issue With Reporter's Racially Questionable Take
Kevin Durant decided to speak up when Miami media personality brought race into a comparison between Tyler Herro and Tyrese Maxey.
Referring to which player would offer Portland better value in a trade for Damian Lillard, former ESPN talking head and noted Heat fan Dan Le Batard had this to say:
"Herro is better than Maxey, he's just whiter than him."
READ MORE: 'I Troll The Media For Fun': Brandon Miller Explains Not Knowing Who NBA Champ Was
Durant's response was screenshotted by fans before he deleted it.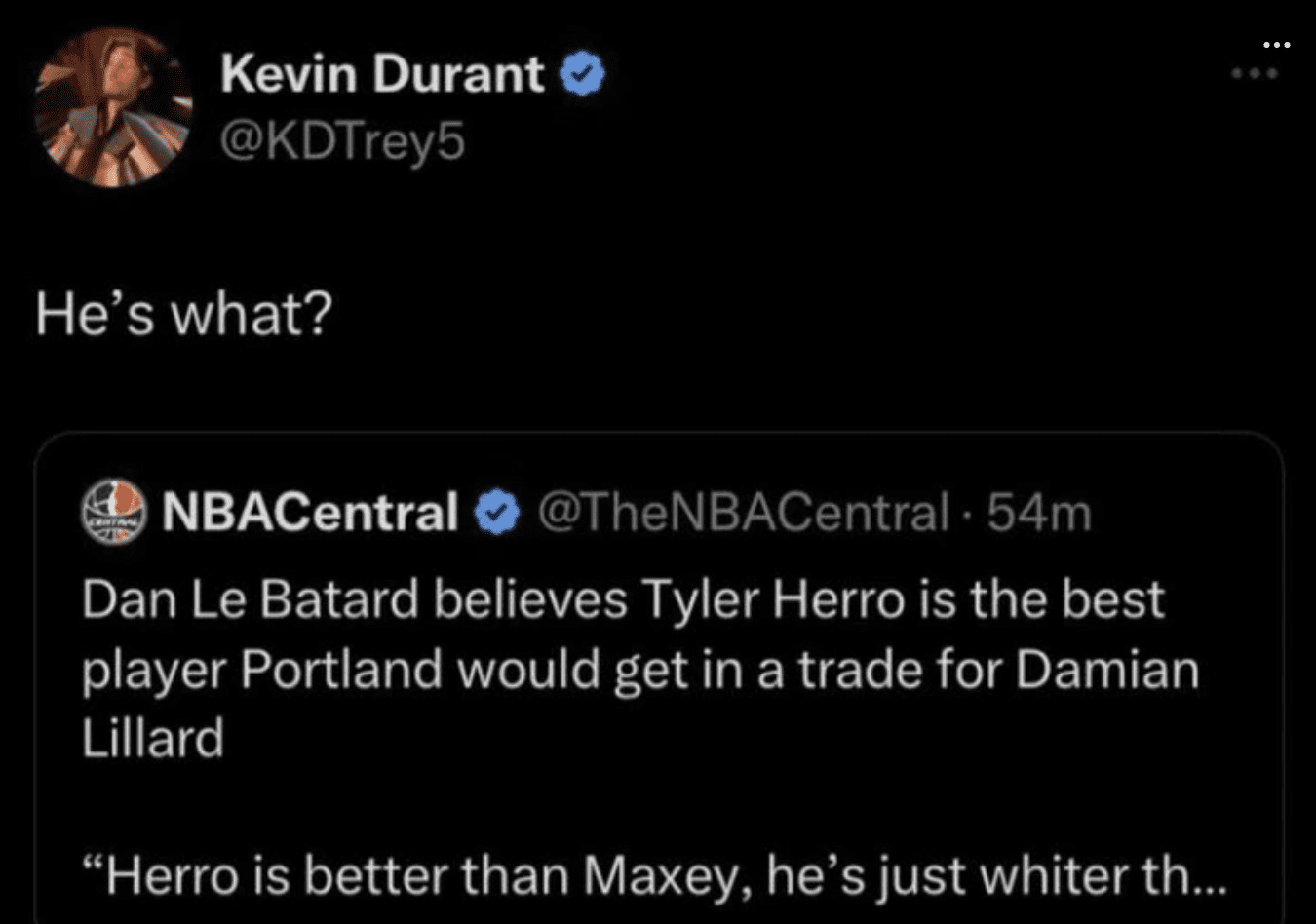 The question is: of all the things Durant has tweeted – whether it's on burners or his real account – why is this the one he deleted?
After all, Le Batard's statement is clearly in poor taste and deserving of criticism.