Miles Bridges has spoken publicly for the first time since signing a one-year, $7.9 million qualifying offer earlier this month to return to the Charlotte Hornets.
After missing all of last season due to a domestic violence incident, Bridges fronted the media on Tuesday.
"First of all, I want to apologize to everybody for the pain and embarrassment that I caused everyone, but especially my family," he said.
"This year away, I've used it to prioritize going to therapy and become the best person I can be, someone that my family and everybody here can be proud of."
Hornets general manager Mitch Kupchak said the decision to bring back Bridges required "a lot of time to sort through" and "a lot of measured thought."
"Our relationship with Miles that goes back over five years, talking to Miles this past year, whether it was ownership, myself or our coach, knowing Miles as we know him, him showing remorse and accountability and indicating to us that this would never happen again, " Kupchak said. "I believe Miles when he says that."
In November, Bridges entered a plea of no contest to a domestic violence charge for assaulting the mother of his two children. The woman posted photos of her injuries, revealing bruises, cuts, and swelling on her face, arm, and leg. As a result, Bridges was sentenced to probation and mandated to complete 100 hours of community service.
Kevin Durant Takes Issue With Reporter's Racially Questionable Take
Kevin Durant decided to speak up when Miami media personality brought race into a comparison between Tyler Herro and Tyrese Maxey.
Referring to which player would offer Portland better value in a trade for Damian Lillard, former ESPN talking head and noted Heat fan Dan Le Batard had this to say:
"Herro is better than Maxey, he's just whiter than him."
READ MORE: 'I Troll The Media For Fun': Brandon Miller Explains Not Knowing Who NBA Champ Was
Durant's response was screenshotted by fans before he deleted it.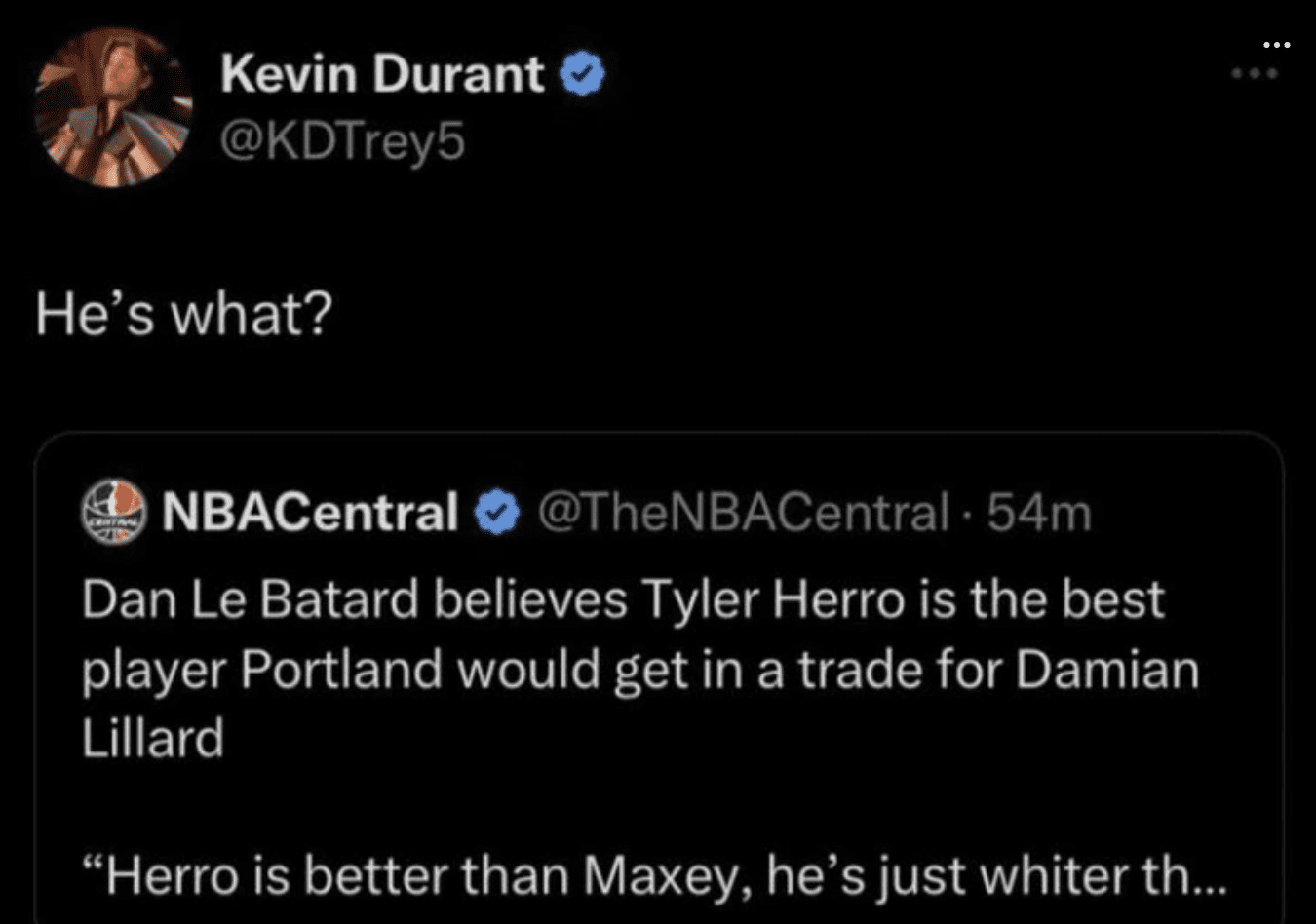 The question is: of all the things Durant has tweeted – whether it's on burners or his real account – why is this the one he deleted?
After all, Le Batard's statement is clearly in poor taste and deserving of criticism.