Nikola Jokic was rightly crowned with the NBA Finals Most Valuable Player Award (MVP) after Denver clinched the championship in five games.
The team won 94-89 against the Heat in Game 5 and Jokic had an almost unbelievable series.
Jokic is the first player in NBA history to lead all players in points, rebounds and assists in a single postseason.
He also became the first player drafted outside the top-15 to win both Finals MVP and regular season MVP. Wild.
"One really good thing were not really for ourself, everything for the guy next to us and thats why this award means even more because I was winning for Jamal, Jamal was winning for me," Jokic said right after he was presented with his trophy.
"This is a great group of people…everything this year was amazing.
"We believe in each other the relationship we had. Yes trophy and something but I think we had some relationship that is going to be longer even after we finish careers."
Jokic was able to celebrate the win and award with his family, including his brothers and his young daughter.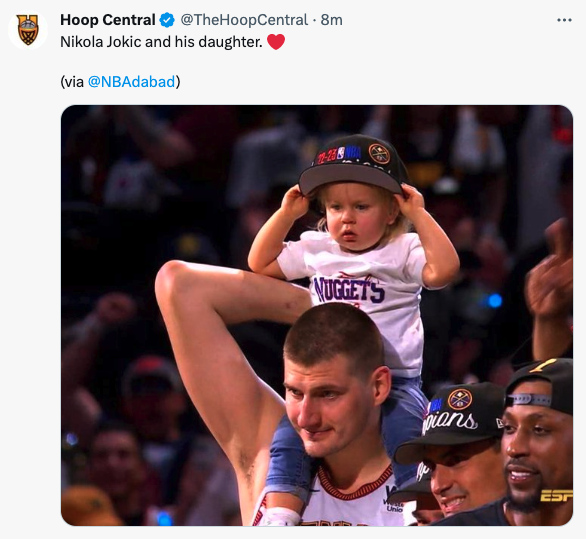 Nikola Jokic's brother picked him up after winning the Finals 😂 pic.twitter.com/bCoEg1WirR

— Ahn Fire Digital (@AhnFireDigital) June 13, 2023
In Game 5, he recorded 28 points, 16 rebounds and four assists on 75 percent shooting from the field.
Jokic won regular season MVP the last two seasons before this so he really did manage his own special kind of three-peat.
Right after winning the game and before being award MVP, Jokic said on the broadcast, "The job is done. We can go home now."
The Serbian superstar is clearly very keen to get back to his hometown of Sombor, where they are celebrating in his honor.
The scene in Nikola Jokic's hometown of Sombor, Serbia as Jokic and the Nuggets became NBA champions 🥳pic.twitter.com/35w7umladl

— ClutchPoints (@ClutchPointsApp) June 13, 2023
READ MORE: NBA Twitter Reacts to the Nuggets Winning Their FIRST EVER Championship