Rumors spread like wildfire once Taylor Swift had split up with her boyfriend Matt Healey and was then spotted with Lakers star Austin Reaves at a bar in Arkansas.
Only the former was true.
TMZ reported that Swift and Healey were no longer an item.
So, then celebrity gossip outlets thought of the first white guy that sprung to mind and claimed Swift was into him.
Hilariously, Reaves' brother reposted one of the tweets and said, "Austin going to the bar is the most unrealistic part of this whole thing".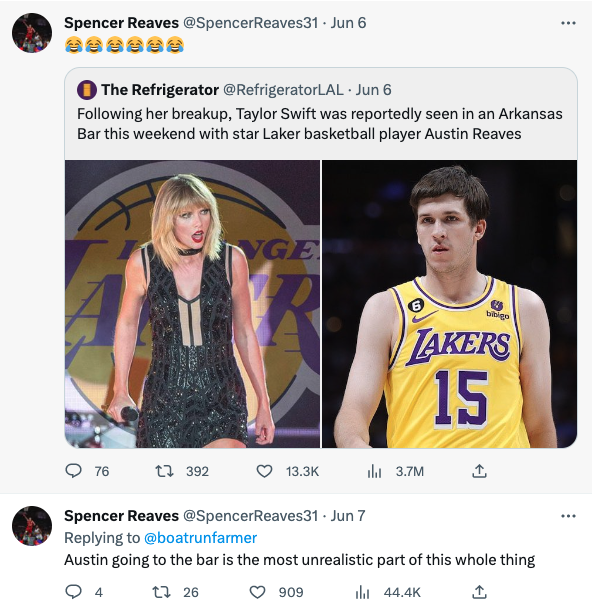 A Twitter account that calls itself a "Propaganda and Fake News Detection Centre, A News Data Research Organization" posted the following, disputing the claims.
"Upon research, we didn't find any verified news sources regarding them. The #NBA star Austin Reaves already has a girlfriend, Jenna Barber," The Twitter account D-Intent Data wrote. "Usually, Jenna Barber used to share her moments with Austin Reaves on social media.His brother Spencer Reaves's reaction to the rumor.
"A few media outlets and social media influencers are circulating rumors about the songwriter and the NBA star to get some spotlight on social media".
There were no photos of this supposed meet-up, Reaves has a long-term girlfriend that is his literal high school sweetheart, plus Taylor Swift was at a show nine hours away on the night in question.
So it makes the whole thing pretty far-fetched.
NBA fans and fans of T-Swift alike has some pretty hilarious reactions to the fake news on Twitter.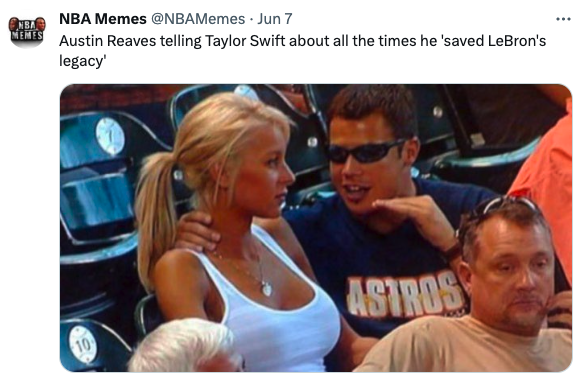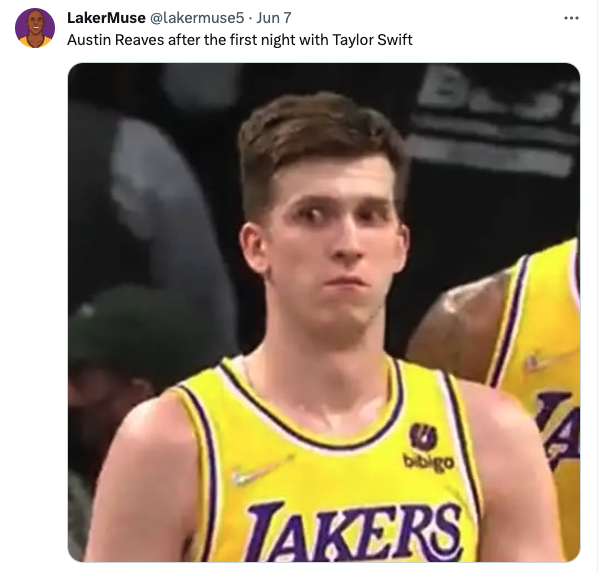 Taylor Swift Was NOT Seen With Austin Reaves Despite False Rumor #taylorswift #austinreaves #taylornation #riristea #rivetsoro pic.twitter.com/0Jdz92iiU9

— Rivet Soro (@Rivet_Soro) June 6, 2023
Austin Reaves after bagging Taylor Swift : pic.twitter.com/49YMTIxO3O

— Shoboat (@Shobeezy) June 6, 2023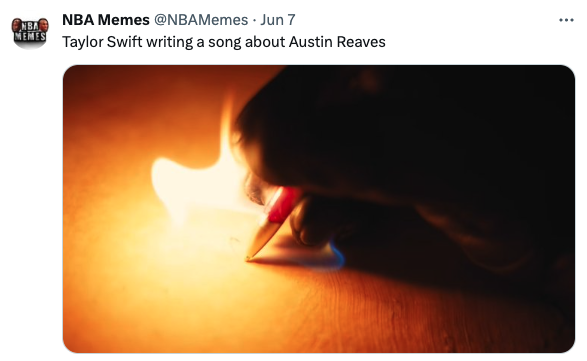 READ MORE: NBA Twitter Reacts to Latest Zion Williamson Pornstar Bombshell