After the Lakers' Game 5 loss to the Warriors at the Chase Center, LeBron hit back at Steve Kerr amid claims of flopping in Game 4.
LeBron made it clear that flopping isn't something his team, or any team he's been a part of, does.
"I just know that we, our coaching staff and us players, we don't work on flopping," James said. "That's not even a part of our game. Our game is to attack the paint. We don't mind physical contact. We actually like the contact and we don't shy away from it. So we're just not a team that goes out there looking for flopping opportunities. That's just not us. It's never been. It's actually never been any team that I've played on in my 20 years where we've been a flopping team. But it is what it is. They have the right to say what they want to say. But the game is always won in between the four lines and we gotta be better on Friday for sure."
Golden State player JaMychal Green clearly didn't agree with LeBron as he trolled him on his IG story for the comments.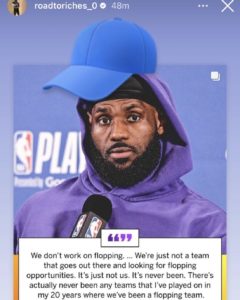 LA coach Darvin Ham contradicted himself on the issue of flopping. Before Game 5 he took a shot at Kerr.
"I just control what I can control, which is coaching my team," Ham said before tip off. "I don't go down the rabbit hole of blaming officials."
But lo and behold, once his team had lost the game, he backflipped and blamed the refs himself.
"We played the same way we always play. I don't know what's a foul anymore," Ham said in response to the Lakers' 15 free throw attempts.
"We play a physical game of basketball. We don't teach flopping. We don't teach head snaps," Ham stressed. "You see Bron [LeBron James], he's got 1000 scratches on his arm. Same AD [Anthony Davis], same with Austin Reaves, same with Lonnie Walker. It's unfortunate that it comes to that, but we haven't done it all year, we're not going to start now, looking for a third-party to help us. We're just going to coach our team. We're just going to play the way that we play, a physical, forceful brand of basketball, and let the chips fall where they may."
James' comments come after teammate Dennis Schroder responded to Kerr's claims before Game 5, saying "If they set illegal screens, sometimes you gotta show them that they are moving on the screen. If you don't do it, they're not gonna call it."