LaVar Ball recently re-visited Australia where his son LaMelo Ball played in the NBL (National Basketball League) and now LaVar is advocating for Bronny James to do the same.
An 18-year-old LaMelo played for the Illawarra Hawks in the NBL in the 2019-20 season and stadiums were full because everyone wanted to see the young prospect play and he certainly impressed the Australian crowds.
LaMelo Ball went behind the back TWICE! 😮

(via @NBL) pic.twitter.com/ZxMj39tJnN

— SportsCenter (@SportsCenter) October 21, 2019
In true LaMelo fashion, he only appeared in only 12 games for the Hawks after sustaining a foot injury, but before that averaged 17 points, 7.5 rebounds and 6.8 assists and was then selected by Charlotte as the number three 2020 draft pick.
LaVar thinks the NBL would be a great option for Bronny James as well, who has certainly proved he has the talent to test himself against older players instead of college stock for the foreseeable future.
"Uh, yes," Ball said when asked if Bronny should skip college and play in the NBL. "On the fact that, you have all these players in college trying to come out. You gonna set your own stage across the water…People wanna see, he gonna fill the gym up. Two things gonna happen. When you're young, and you like that, and your dad is where he's at…lot of people going to come to the gym and say 'He ain't like that for real.' The other half is going to want to support him. So the gym is going to fill up…It's better over here because you are playing against grown men and you are getting paid. You wanna play basketball and you really that dude, why am I sitting in class trying to pass a chemistry test?"
In August 2022, Joe Vardon of The Athletic wrote "Bronny, in the fall of 2023, will either be in college, with G League Ignite or in Australia … or wherever Rich Paul places him" so a stint in the NBL doesn't seem completely out of the question for LeBron James' eldest son.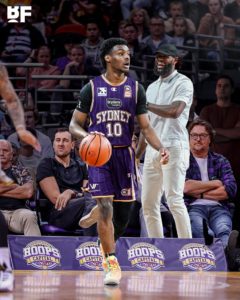 It's pretty interesting that LaVar is talking about the James family at all, considering what went down in 2017.
Ball said that LeBron's offspring won't grow up to be great basketball players because they will be playing in their father's shadow.
LeBron didn't take kindly to this and responded with: "Keep my kids' name out of your mouth, keep my family out of your mouth. This is dad to dad. It's a problem now."
Safe to say we don't think LeBron will be calling up LaVar for advice about the NBL anytime soon.