While it's a journalist's job to deliver the news, some reporters are so prominent that they become the news. At times, it's over something harmless, like Woj's amusing wordplay on draft night, or Shams earning the "Rizz God" nickname by making a certain member of the opposite sex weak at the knees on live television.
But on other occasions, reporters being thrust into the spotlight stems from something a little less innocent. That was the case when Woj was rinsed by his former ESPN colleague Ethan Strauss in several eye-opening articles, and now it's Shams who's facing scrutiny.
Here's the thing… A whole lot of activity on Twitter suggests more and more people are realising that Shams is represented by United Talent Agency, which partnered with Rich Paul's Klutch Sports two years ago. This has fuelled speculation that Shams could be prone to skewing some of his reporting in Klutch's favour.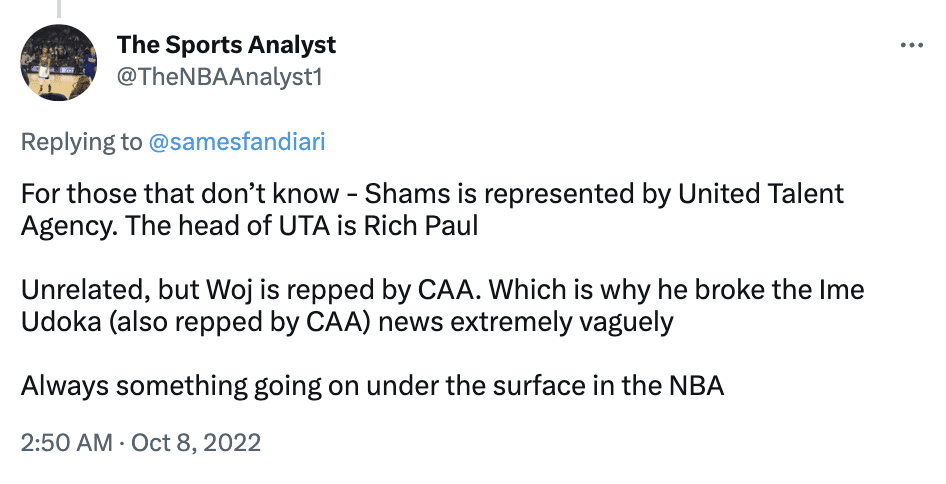 That speculation went to another level earlier this month when Russell Westbrook was looking for a new team. Charania claimed there weren't any teams making a strong push to sign him, saying "there's not a spot" for him in the NBA currently.
That same day, Woj reported that Westbrook had in fact been speaking with four teams: the Bulls, Clippers, Wizards and Heat.
Shams then followed Woj's report by indicating Westbrook was no longer in such a dire position after all, reporting that he was in contact with the Clippers (although still no mention of him drawing interest from Chicago, Washington and Miami).
If you're wondering why making Westbrook look bad may have been of interest to Klutch, just remember this… the more it seems like Westbrook was a basket case who ran the Lakers into the ground, the more it deflects from Anthony Davis (a prominent Klutch client), his inability to stay healthy, and how much that hampered LA's season before the trade deadline. The perception that Davis is injury prone has certainly proven to be a sore point for Rich Paul.

Beyond Shams' reporting on Westbrook, it's also worth noting that he had very little to say about Klutch client Miles Bridges being arrested for domestic violence last year, despite the newsworthiness of a prominent player assaulting his partner and all the disturbing information that was so publicly available afterwards.
Months after the assault, however, Charania made time to put a positive spin on the situation by making it known that Bridges was attracting interest from multiple teams around the league.
Elsewhere, when Klutch disciple Draymond Green punched teammate Jordan Poole in the face at practice in October, Shams wrote just one four-line article about it, while every other major sports outlet covered the story extensively for days. He also avoided using the word "punch" and did not specify that Green had hit Poole in the face. Even if we gave Shams the benefit of the doubt and assumed he didn't have all the details when the news first broke, articles can always be updated to include crucial information that comes to light.

On another occasion, when Zach LaVine (you guessed it, a Klutch client) got into a heated verbal altercation with other Bulls players in December, it was Joe Cowley of the Chicago Sun-Times who had the story. K.C. Johnson of NBC Sports Chicago then confirmed the report, but we never heard much at all out of Shams.
In fact, Charania is doubly compromised when it comes to LaVine. On top of his job at The Athletic, he also works for digital sports network Stadium, which was founded and is co-owned by Chicago Bulls owner Jerry Reinsdorf.
How much objective reporting can we really expect from someone who is not only financially connected to the league's most powerful agent, but an NBA team owner as well?