The NBA play-in format is back for its second season, but this year the league has made some very interesting changes.
Here's everything you need to know:
WHEN IS IT?
With the last day of the regular season set for May 16, the NBA play-in games begin May 18 and ends May 21.
The first round of the playoffs then begins on May 22.
HOW DOES IT WORK?
The teams that finish sixth or higher in their conference will be guaranteed playoff spots, while teams seeded seventh through to tenth will enter the play-in tournament.
The NBA will use winning percentage to determine the final regular season standings as some teams may finish with different numbers of games played due to COVID-19 cancellations.
READ MORE: Dr. J Explains Why He Snubbed LeBron From His All-Time First and Second Teams
Here's how the play-in tournament will work:
Game 1: The No. 7 team will host the No. 8 team in each conference, with the winner earning the No. 7 seed in the playoffs. The losing team gets another chance to make the playoffs in Game 3.
Game 2: The No. 9 team will host the No. 10 team, with the winner moving on to Game 3 and the loser being eliminated and entering the lottery.
Game 3: The loser of the No. 7 vs. No. 8 matchup will host the winner of the No. 9 vs. No. 10 matchup, with the winner awarded No. 8 seed in the postseason. The loser of Game 3 also enters the lottery.
HOW IS THIS DIFFERENT TO LAST YEAR'S NBA PLAY-IN?
Previously, the only way an NBA play-in game could occur was if the ninth-seed finished within four games of the eighth-seed.
This would result in the ninth-seed playing the eighth-seed in a play-in game.
The ninth-seed needed two wins to advance, and the eighth-seed needed just one.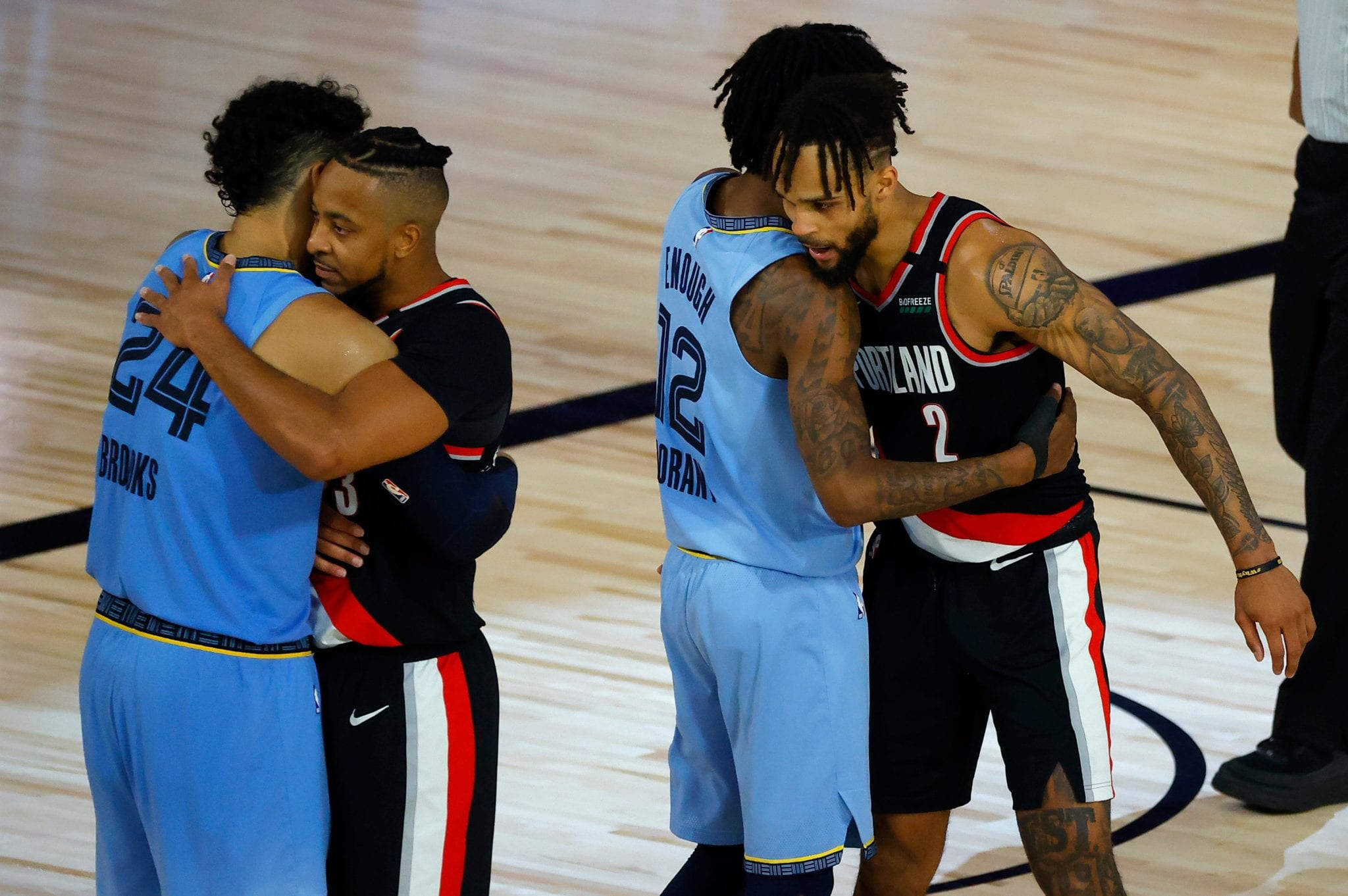 There was only one play-in game last year, a matchup between the eighth-seeded Portland Trail Blazers and the ninth-seeded Memphis Grizzlies.
The Blazers won game one, which was all they needed to eliminate the Grizzlies from contention and advance to the playoffs.
But this year we'll see far more play-in action thanks to the new format and increased number of participating teams.
WHICH TEAMS ARE MOST LIKELY TO FEATURE IN THIS YEAR'S NBA PLAY-IN?
If the season ended today (April 30), the matchups would be:
WESTERN CONFERENCE 
Memphis Grizzlies (No. 8) at Portland Trail Blazers (No. 7)
San Antonio Spurs (No. 10) at Golden State Warriors (No. 9)
EASTERN CONFERENCE 
Charlotte Hornets (No. 8) at Boston Celtics (No. 7)
Washington Wizards (No. 10) at Indiana Pacers (No. 9)
However, just two games separate the eighth and tenth seeds in the East, and one game separates eighth and tenth in the West.
According to ESPN's Basketball Power Index – which factors in injuries, strength of schedule and the on-court impact of each rotation player – these are the most likely teams to feature in the NBA play-in games:
Most likely to make NBA Play-In West Game 1 (No. 7 vs. No. 8)
Golden State Warriors: 65.6%
Portland Trail Blazers: 61.6%
Memphis Grizzlies: 33.1%
Dallas Mavericks: 21.1%
Los Angeles Lakers: 15.5%
Most likely to make NBA Play-In West Game 2 (No. 9 vs. No. 10)
San Antonio Spurs: 80.1%
Memphis Grizzlies: 63.8%
Golden State Warriors: 33.1%
New Orleans Pelicans: 17.7%
Sacramento Kings: 2.9%
Most likely to make NBA Play-In East Game 1 (No. 7 vs. No. 8)
Charlotte Hornets: 66.6%
New York Knicks: 39.4%
Atlanta Hawks: 28.9%
Indiana Pacers: 23.8%
Miami Heat: 22.9%
Boston Celtics: 14.9%
Most likely to make NBA Play-In East Game 2 (No. 9 vs. No. 10)
Washington Wizards: 76.2%
Indiana Pacers: 72.9%
Charlotte Hornets: 24.6%
Toronto Raptors: 18.8%
Chicago Bulls: 4.1%
WHAT ARE SOME OF THE MOST INTERESTING MATCHUPS WE COULD SEE?
Dallas Mavericks vs Golden State Warriors
Luka Doncic and Steph Curry are capable of unspeakable feats that no one else in the game can replicate, and when you get them on the same court, fireworks are bound to ensue.
Doncic averaged 36 points across his three games against the Warriors this season, while Curry erupted for 57 against the Mavs on February 6 (only to be met with Doncic's 42 points, 7 rebounds and 11 assists that same night as Dallas ultimately won one of the most entertaining games of the season).
Boston Celtics vs Miami Heat
Not only would this be a rematch of last season's Eastern Conference finalists, but both teams will be fighting with extra gusto after having tremendously disappointing seasons.
Another must-watch element of this game will be playoff Jimmy Butler, a man who went to tremendous lengths to keep his team alive the last time his back was against the wall in the postseason.
Charlotte Hornets vs New York Knicks
This season, both the Hornets and Knicks have seen hope on the horizon for the first time in an eternity.
These are teams who, as always, were never expected to go anywhere or do anything this season, but instead have come to embody a care-free and youthful exuberance that has fuelled the revival of their respective long-suffering franchises.
The revitalised Knicks PLAYING against LaMelo Ball – who was once thought to be done for the season – could be quite the event. It's just a shame we can't have a full MSG there to witness it.