Jimmy Butler's life is like something straight out of a Hollywood film. Butler was faced with immense adversity from day one, with his dad abandoning him as an infant and his mum kicking him out of the house when he was 13.
"I don't like the look of you, you gotta go," she told him, as Butler recalled in a 2011 interview. From there, the Butler was forced to crash with various friends, staying with one for a few weeks before moving onto the next.
At the time, Butler was fighting to keep his head above water on the basketball court too. As a junior at Houston's Tomball High School, he averaged 10 points per game. He was a solid player, however his NBA aspirations certainly seemed like a pipe dream.
But anyone who knew Butler personally figured that someone who played and trained with his kind of fire had to be going places. And indeed he was. Just one year later, a hugely improved Butler averaged 19.9 points and 8.7 rebounds and was named MVP of the team.
The big name colleges still weren't interested though, so Butler enrolled at Tyler Junior College instead. He was considered a two-star recruit by 247Sports.com and was listed as the No. 127 junior college prospect in the country.
But his fortunes finally started to turn after putting up 18.1 points and 7.7 rebounds per game at Tyler as he finally started to attract some interest from Division I programs. Butler accepted a scholarship to attend Marquette, where he would eventually team up with current Miami teammate Jae Crowder.
Butler came off the bench in his first season with the Golden Eagles and averaged just 5.6 points per game. College studs Wesley Matthews, Jerel McNeal and Lazar Haywood were the top dogs of the team, but the fiery young kid from Tomball High held his own on the court and earned the respect of his peers.
He was elevated to the starting line-up the following year and hit spectacular game-winning shots against St. John's and UConn to help Marquette qualify for its fifth consecutive NCAA tournament.
By the end of his senior year, he had established himself as one of the best players in the country and was well and truly on the radar of NBA scouts. And it wasn't just his basketball ability that caught the eye of NBA teams.
"His story is one of the most remarkable I've seen in all my years of basketball," one NBA general manager told Chad Ford in 2011. "There were so many times in his life where he was set up to fail. Every time, he overcame just enormous odds. When you talk to him—and he's hesitant to talk about his life—you just have this feeling that this kid has greatness in him."
A few months after his final college season came to a close, it finally happened. Butler realised his once impossible dream of making the pros when the Chicago Bulls selected him with the 30th overall pick of the 2011 NBA Draft.
Butler was finally an NBA player, but as always with him, nothing came easy as a pro. Unlike the top picks who started every game and played big minutes immediately, he had to work his way up from the bottom all over again.
Butler played just eight minutes a game in his rookie season, having landed on a playoff team featuring Derrick Rose, Loul Deng, Joakim Noah and Rip Hamilton. He made some significant strides in year two but it was his third year when something really clicked.
With Rose and Deng limited to just 10 and 23 games respectively, Butler seized the day, proving himself as a dynamic defender and gifted scorer at the next level. By year four, he was an All-Star and led the team with 20 points per game, having established himself as Tom Thibodeau's number one option as Rose continued to find his footing post-injury.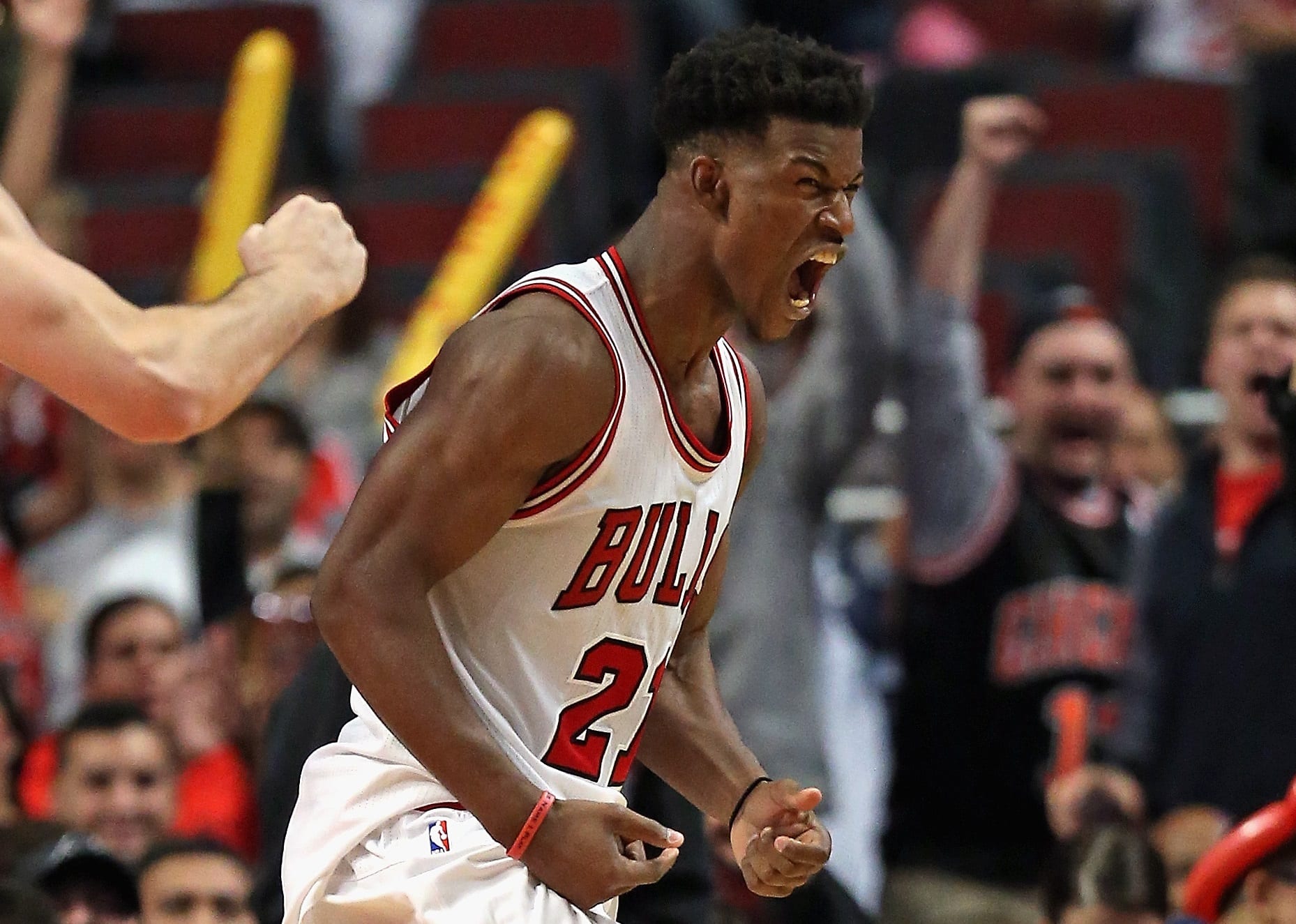 In more recent times, the legend of Jimmy Butler went to another level when stories surfaced of his contempt for Karl-Anthony Towns and Andrew Wiggins in Minnesota – due to his belief that they didn't work hard enough and weren't making the most of their talent – and leading a team of third-string players to a dramatic win against the starters during an infamous and expletive-laden practice session.
However, this story also fuelled a commonly-held belief that Butler was a prickly individual and a bad teammate. He subsequently bounced from Minnesota to Philadelphia to Miami. Butler was heavily criticised every step of the way, even when he went to the Heat, a team which clearly offered him a perfect fit.
Stephen A. Smith said Butler would never be loved in Miami like Dwyane Wade, while Lisa Leslie went on national television and described Butler joining the Heat as a 'loser move', seemingly suggesting his priorities were making money and enjoying the South Beach lifestyle.
This season, Leslie's biting comments have looked sillier with every passing day. Instead of counting his money and lounging on the beach, Butler has propelled Miami to the NBA Finals, an incredible feat that absolutely no one predicted.
And while hardly anyone seems to seriously think he can win it all, there was a time when no one thought he could make it to a Division I college, let alone make the NBA, let alone become an All-Star. Butler has long been in the business of proving people wrong. He has always used the negative energy of others as fuel. From a young age, he's had no choice.
At this point, anyone doubting Jimmy Butler should know that they're playing right into his hands.