The Phoenix Suns have easily been the biggest surprise of the NBA bubble so far.
If you had lined up a collection of experts before the restart and asked them if there would be an undefeated team in Orlando, most would have said it was exceedingly unlikely. If you had then asked whether they thought the Suns could be the team to do it, you probably would have been laughed out of the room.
But instead of treating the bubble like a glorified Florida boys' trip, the Monty Williams coached Suns played some of the best basketball we've seen all season.
They went 8-0 in the bubble, despite being without second-leading scorer Kelly Oubre Jr or enforcer Aron Baynes. The feat was even more impressive when you factor in that seven of the eight teams they faced were 10 games above .500 at season's end.
Ultimately, Phoenix fell agonisingly short of a playoff berth that no one even thought was possible as recently as two weeks ago.
So, what was it that led to the Suns' remarkable resurgence and undefeated run in Orlando?
DEVIN BOOKER WAS PLAYING OUT OF HIS MIND
The Suns had the second-best offence in the bubble, and Devin Booker was the biggest reason why.
Not only did Booker score at will in Orlando, but he did so extremely efficiently. He shot 50% from the field, whilst pouring in more than 30 points and six assists per game. His true shooting percentage exceeded 61% – a truly elite figure.
One of the most notable things about Booker's scoring was his ability to get to the free throw line much more often than in previous years. That really breathed some extra life into his already deadly scoring game. He went to the line nearly nine times a game in Orlando, well above his career average, and he shot them at a ridiculous 95.4% (63-66).
Booker was also attacking the rim with more vigour and body control than perhaps we've seen in previous seasons, and he continued to refine his shot profile, attempting more mid-range jump shots, and less contested threes.
He still has the potential to hit impossible shots, like his memorable game-winner against the Clippers, but the steadiness and nous that seems to have influenced his game this year could spell danger for the rest of the league moving forward.
Booker's performance in the bubble, if viewed as a snapshot for things to come, will seriously please the Suns faithful. He has been playing like a genuine superstar, and he has been enabled to do so by a combination of smarter offensive looks, a team featuring legitimate NBA talent who support his strengths and offset his weaknesses, and a roster formation that makes much more sense than it has in the past.
A COHESIVE SUPPORTING CAST & MASSIVELY IMPROVED DEFENCE
There's some credence to the line of thinking that taking the ball out of Booker's hands and placing it into Ricky Rubio's has been one of the biggest positive influences on the Suns' offence this year. Rubio has been a wonderful influence on their offensive identity. He has always been an elite passer and teammate, and he continued that facilitation in the bubble. But, the pass is only as good as the person finishing the play, and the Suns have found some genuine pieces to go alongside Booker and Rubio.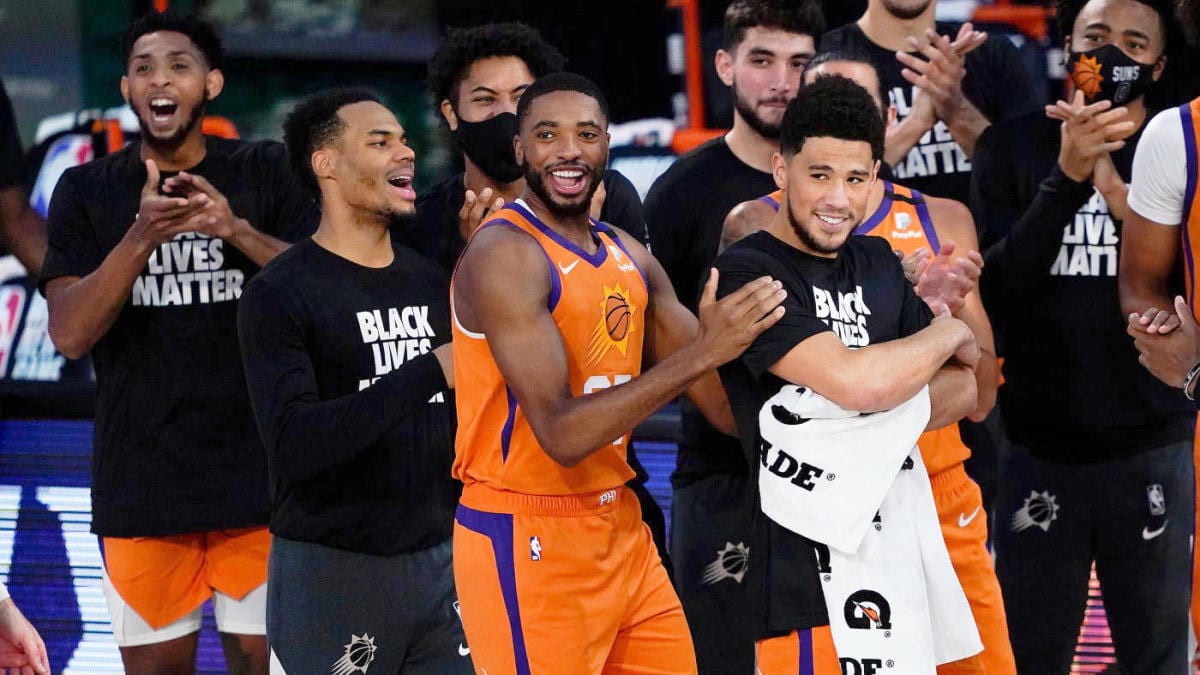 Deandre Ayton continues to improve and is making significant strides on the defensive end of the floor. He has always been an efficient scorer, but his ability to protect the rim (and defend away from the basket) is coming along. He often looked lost at the defensive end last season, and was out of sorts even by rookie standards at times. But after the Suns finished last season with the second-worst defence in the league, Ayton helped Phoenix anchor down the fourth-best D in the bubble.
Suns defensive rating before the bubble: 111.3 (19th)
Suns defensive rating after the bubble: 107.4 (4th)
Suns offensive rating before the bubble: 110.2 (16th)
Suns offensive rating after the bubble: 120.3 (2nd)
Mikal Bridges, meanwhile, is a special defensive prospect, one who suffocated opposing scorers in Orlando (most notably TJ Warren, who Bridges shut down amid the best scoring stretch of his career). His offence has progressed this season too, as has his three-point shooting.
Rookie Cam Johnson is another attacking wing who can shoot the ball at a very good clip (39 percent from three). A walking testament to staying in college for all four years, Johnson has looked totally comfortable since day one and played his role extremely well in Orlando.
Meanwhile, Jevon Carter and Cameron Payne are a pair of bulldogs who contribute quality back-up minutes, and continue to embody the Suns' new emphasis on hustle plays and team basketball.
MONTY WILLIAMS ENABLING HIS PLAYERS TO FLOURISH
Monty Williams has had big tickets on his coaching ability since his days as a 38-year old head coach with the New Orleans Hornets, and he continues to live up to that lofty reputation.
Williams was named the best coach of the bubble, and he has made a number of smart moves to ensure his young studs can develop and star.
Inserting Cam Johnson into the starting lineup worked wonders, as Williams surrounded Booker and Rubio with athletic wings to help space the floor and open up cutting and driving lanes.
He clearly has the respect of his players, which is vital for the Suns' continued progression. His speech at the end of Phoenix's bubble run was something special too.
Monty Williams is a real one. You always want a coach like this. (via @suns) pic.twitter.com/NxbyhCj2Cf

— SLAM (@SLAMonline) August 13, 2020
For too long now, Phoenix's golden years have sat firmly in the rear-view mirror, and the city has been crying out for a group to re-invigorate and refresh their once-proud organisation.
The bubble was a much needed shot in the arm for them, and if their recent play was anything to go by, this group may well have sown the seeds for a prosperous future.