You won't see Josh Giddey on House of Highlights or in SLAM highlight reels, at least not yet. But make no mistake, he's the best NBA prospect you've never heard of.
Having plied his trade in his native Australia – where he will soon make his professional debut with the Adelaide 36ers – Giddey is a relative unknown to casual observers in the US. But Down Under, everyone is starting to realise just how special he is, and it won't be long before the rest of the world catches on.
It might seem lazy to compare Giddey to fellow Aussie Ben Simmons, but the similarities are undeniable. Like Simmons, Giddey is a super-sized point guard from Melbourne with a combination of freakish vision, passing ability and basketball smarts that earned him a spot on the national team well before his 18th birthday.
Giddey doesn't shy away from those comparisons either, adding that he has been studying Simmons's game for years.
"He's a bigger guard like me and just the way he passes the ball and sees the floor is a lot like what I try to do as well," Giddey told Basketball Forever. "I watch guys like Ben Simmons and Luka Donic and try to pick up the little things that they do… the way Ben will look one way and pass the other, little things like that."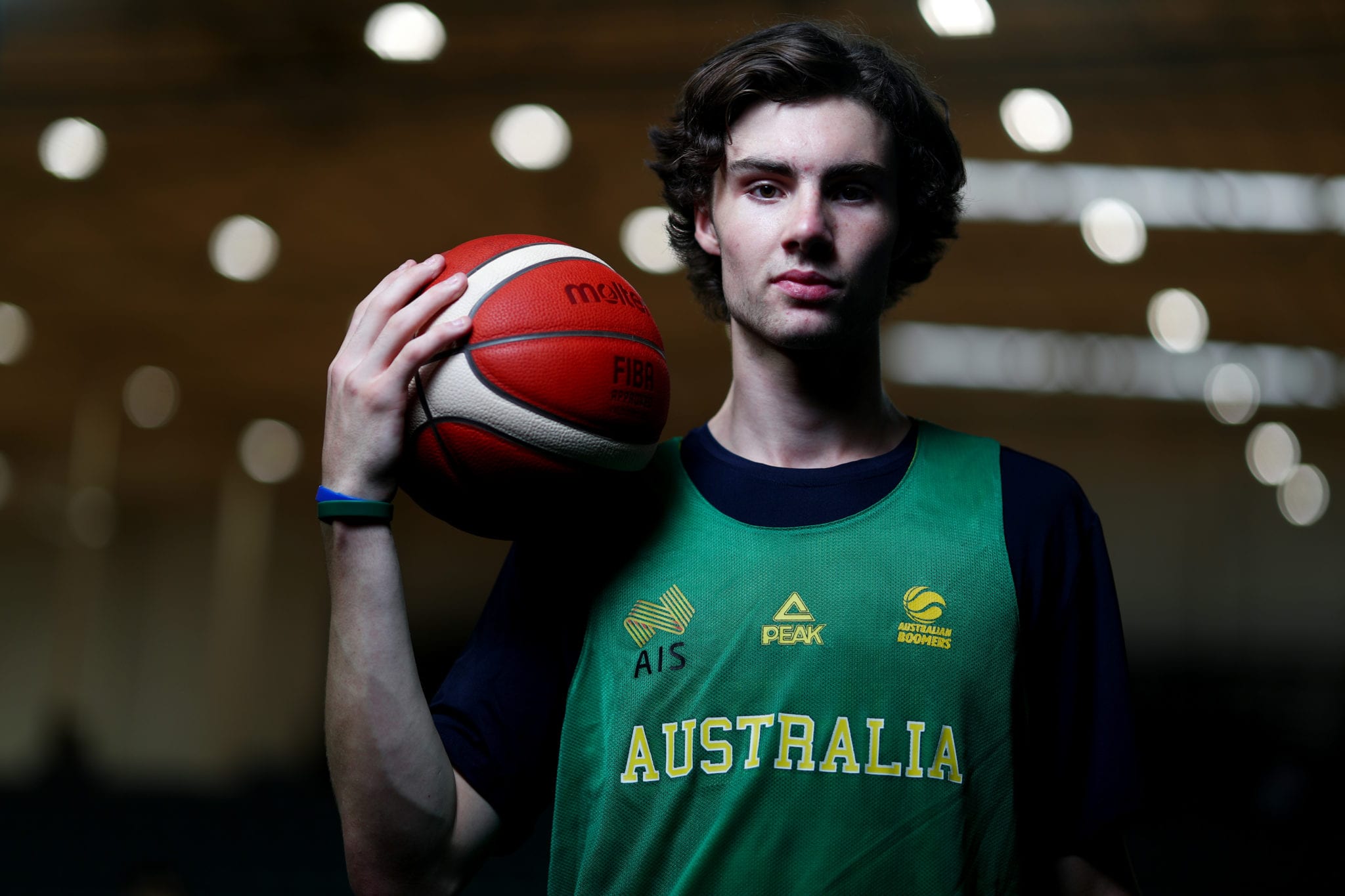 Passing is undoubtedly the deadliest weapon in Giddey's arsenal. He's equipped with the kind of vision that's rarely seen anywhere in the world, and has a "periscope instead of a set of eyes", according to 36ers general manager Jeff Van Groningen.
Better still, he has the size to see over his defenders and the smarts to see plays unfold before they actually happen. Now, the focus for Giddey is on improving his shooting and strength. He's the first one to admit that his outside stroke needs some work, and at 17 years of age, he also has a lot of work to do if he wants an NBA body.
"I've been eating a lot," Giddey said. "I've put on five or six kilos in the two months that I've been back in Melbourne. Obviously getting stronger is important for me, coming into a man's league as a kid and being able to hold my own. So it's just been a lot of eating, a lot of lifting, protein shakes, all that stuff."
Of course, Giddey's introduction to American audiences would've been accelerated if he opted for the college route. The youngster always dreamed of playing collegiately and attracted offers from Arizona, Colorado and Baylor. But ultimately, he couldn't shake the feeling that playing against grown men would be better for his development.
"It was a tough decision," he said. "I went on a visit to Colorado but I just thought the NBL would be better for my long-term goal of playing in the NBA. Just developing in a professional league against vets who have proven themselves, playing against bigger bodies, older guys, pros, I really think that will help me develop quicker."
READ MORE: The Best Point Guards in the NBA Right Now (2019-20)
Giddey is just the latest prospect to steer away from college basketball in favour of the professional game, and he says LaMelo Ball and RJ Hampton doing exactly that last season influenced his decision to some extent.
"I remember back when Terrance Ferguson did it, it was a while ago and I was still completely set on going to college," he said. "But seeing LaMelo and RJ come out and do what they did here… It wasn't the ultimate deciding factor, but it definitely got me thinking about it."
Also making Giddey's decision easier was his belief that the 36ers were committed to helping players like him make it to the next level. Adelaide is striving to become a basketball factory that manufactures NBA-ready players, with former Atlanta Hawks centre Isaac Humphries already signed on to join Giddey in Adelaide next season, and at least one more player of that calibre on the way if management gets their way.
Giddey likes where he fits into those plans, and came away from his initial meeting with Van Groningen and 36ers owner Grant Kelley very impressed.
"Grant is a great guy," Giddey said. "That was the first time I'd met him and I loved what he had to say. The way he spoke about Adelaide and what his plans were, it just made me want to be involved. And Jeff's been around the league for a long time, so he knows what he's doing and he knows a lot of people.
"You know that he's going to get the guys that give us the best chance of winning a championship. That was the first time I'd met Jeff and Grant, but after that chat I knew Adelaide was where I wanted to be."
Giddey says there are no guarantees that he'll head to the NBA after one season in Adelaide. He's focused on taking the best route, not necessarily the quickest one. And if the young Aussie does decide to stay for an extra year, NBA fans can rest assured that he'll be more than worth the wait.
For more Basketball Forever content, follow @bballforeverfb and @nickjungfer.