Kevin Durant escalated his ongoing public feud with Kendrick Perkins on Wednesday when he labelled his former teammate a "sell out" on Instagram.
Durant's jab was in response to Perkins's recent comments about Kyrie Irving.
Perkins, who played with Irving in Cleveland, has been highly critical of the way the Nets guard has gone about voicing his opinion that NBA players should skip the rest of the season.
"Kyrie Irving, right now you are the distraction, you are the distractor," Perkins said on ESPN's 'Get Up' this week.
"…It's crazy to me because you come out and you do something simply without talking to president Chris Paul or consulting with [player's association director] Michele Roberts… 'Let's sit out without a plan'. It makes zero sense and I totally disagree."
READ MORE: Why Abandoning NBA Season Would Do More Harm Than Good in Fight Against Racism
Perkins also told The DA Show that no one was listening to Irving and that the NBA would continue as planned.
Those comments did not sit well with Durant, Irving's co-star in Brooklyn and a former teammate of Perkins in Oklahoma City.
Durant issued a two-word response in the form of an Instagram comment on Wednesday, while also retweeting a video that mocked Perkins.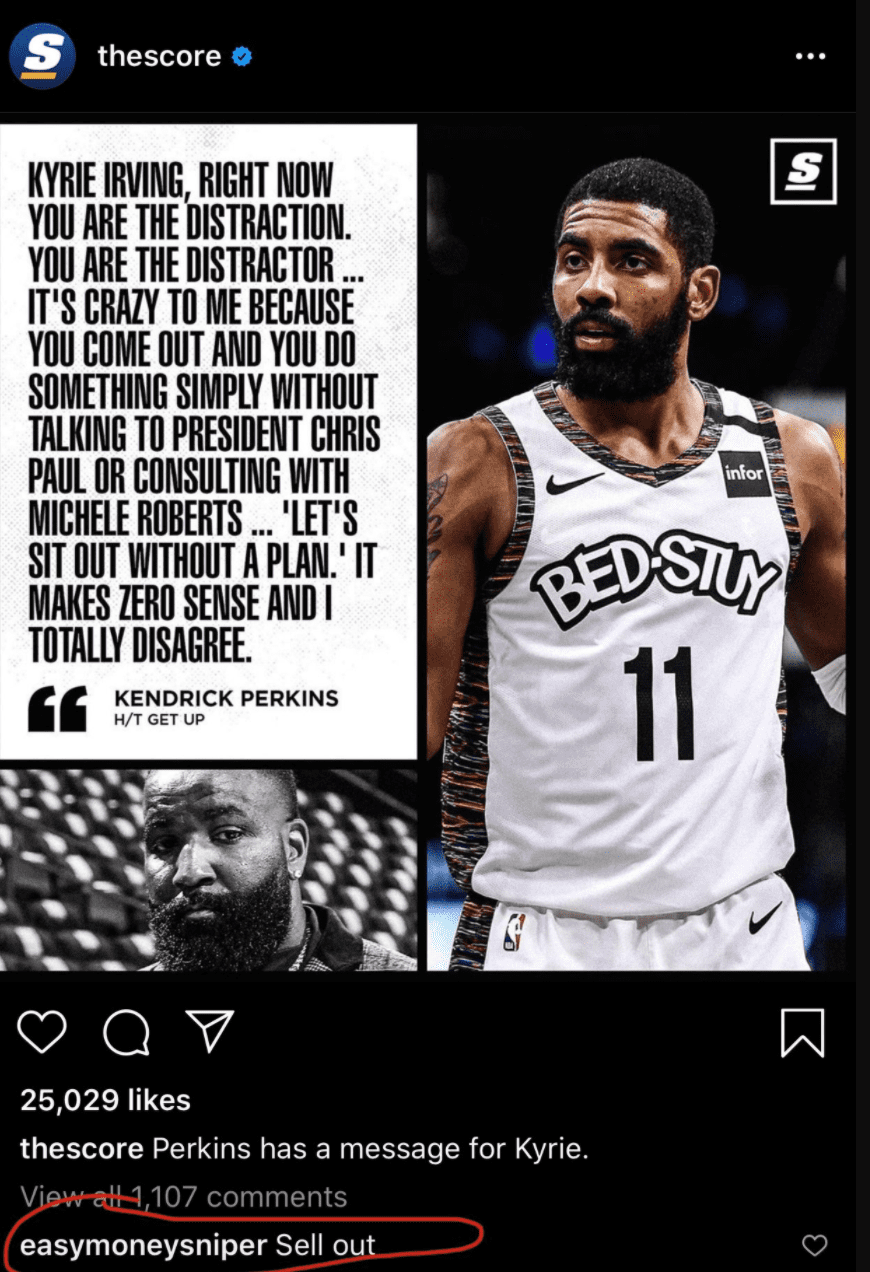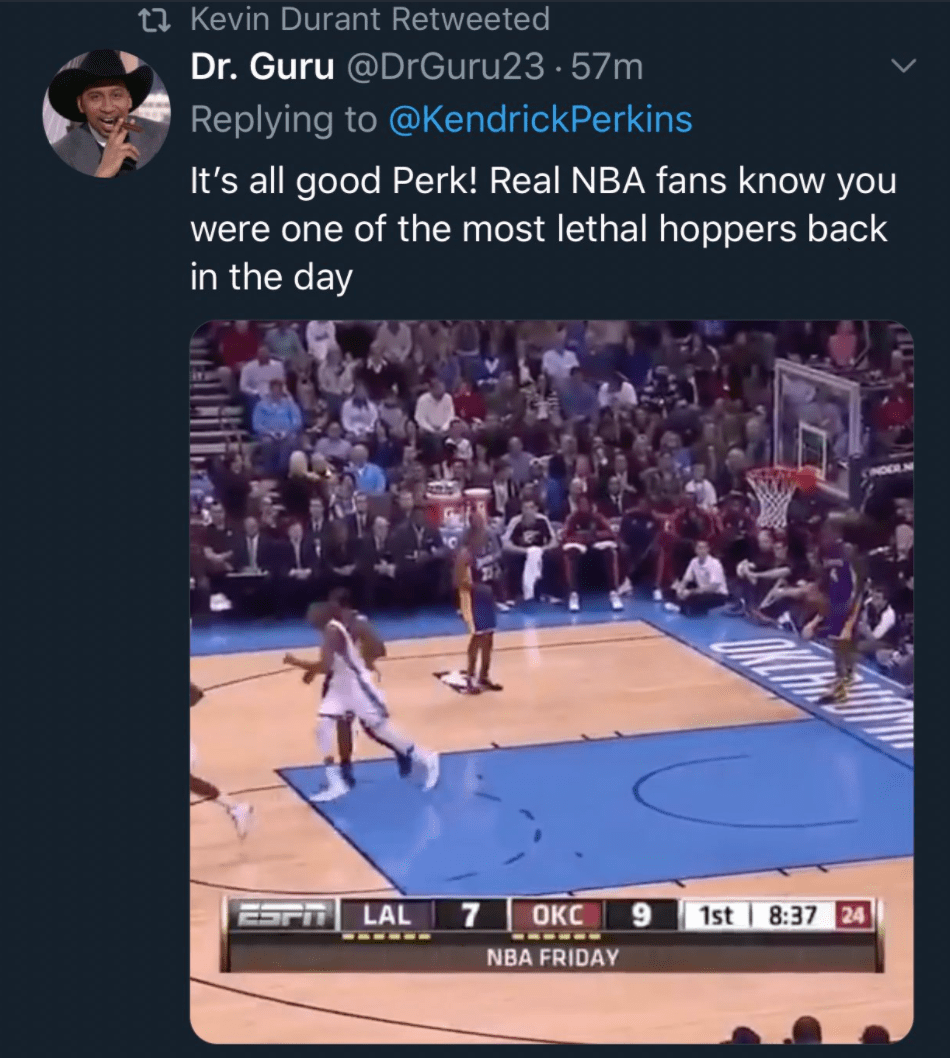 Perkins then fired back with this: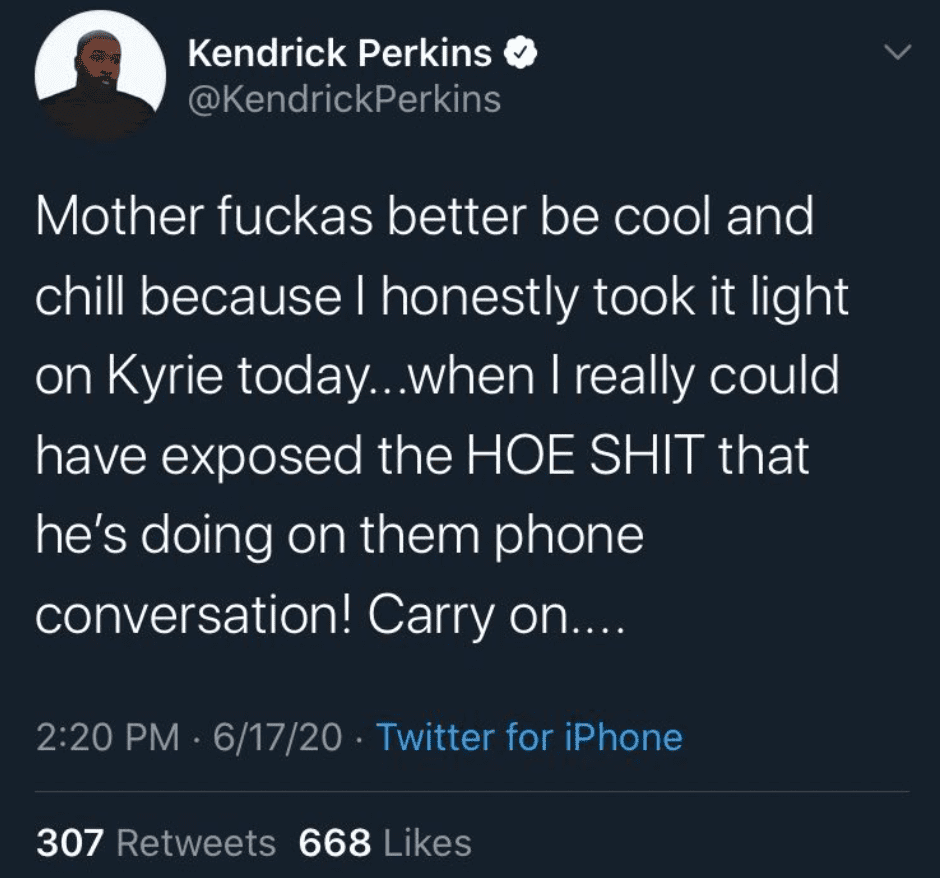 He deleted the tweet soon after posting it.
This isn't the first time KD and Perk have engaged in a public spat, with the pair most recently getting into it on Twitter earlier this year:
KD lost in the second round without Russ when I was there. So what that mean?

— Kendrick Perkins (@KendrickPerkins) January 9, 2020
Yea and our starting center @KendrickPerkins averaged a whopping 2 and 3 during that series. U played hard tho champ lol

— Kevin Durant (@KDTrey5) January 10, 2020
Weak is starting at center, playing real minutes with no production. Should've worked on your skills as much as I did

— Kevin Durant (@KDTrey5) January 10, 2020
But once things had cooled off, Perkins offered the following apology:
Just wanted to tell you I Love you my brother and whatever I did to hurt you I'm sorry bro and hope you forgive me!!! I love you bro real Talk! @KDTrey5

— Kendrick Perkins (@KendrickPerkins) January 26, 2020
"I'm not about to let another day go down the drain behind a BS Twitter beef," he told NBC Sports Boston afterwards.
But that sentiment went right out the window today.