Have you ever noticed that there aren't any photos of Michael Jordan on draft night?
That's because he wasn't there.
Yes, the greatest player of all-time didn't attend his own draft night.
Instead, the 21-year-old MJ was busy trying out for the 1984 Olympic team, and becoming the greatest player of all-time in the process.
Now the first thing to remember here is that Team USA was very different in those days.
Professional players were ineligible to play until 1992, so before that, the team was made up of college kids.
But Jordan's 1984 squad was no ordinary college-level team.
In fact, thanks to MJ, it would go down in history as the greatest non-professional team ever.
And while everyone associates Jordan's run in the Olympics with the 1992 Dream Team, his most impressive Olympic performance was back in '84, before he'd even stepped on an NBA court.
Everything about MJ's first USA team was crazy too, even the tryouts.
Future Hall of Famers Charles Barkley, John Stockton and Karl Malone were all cut from the team.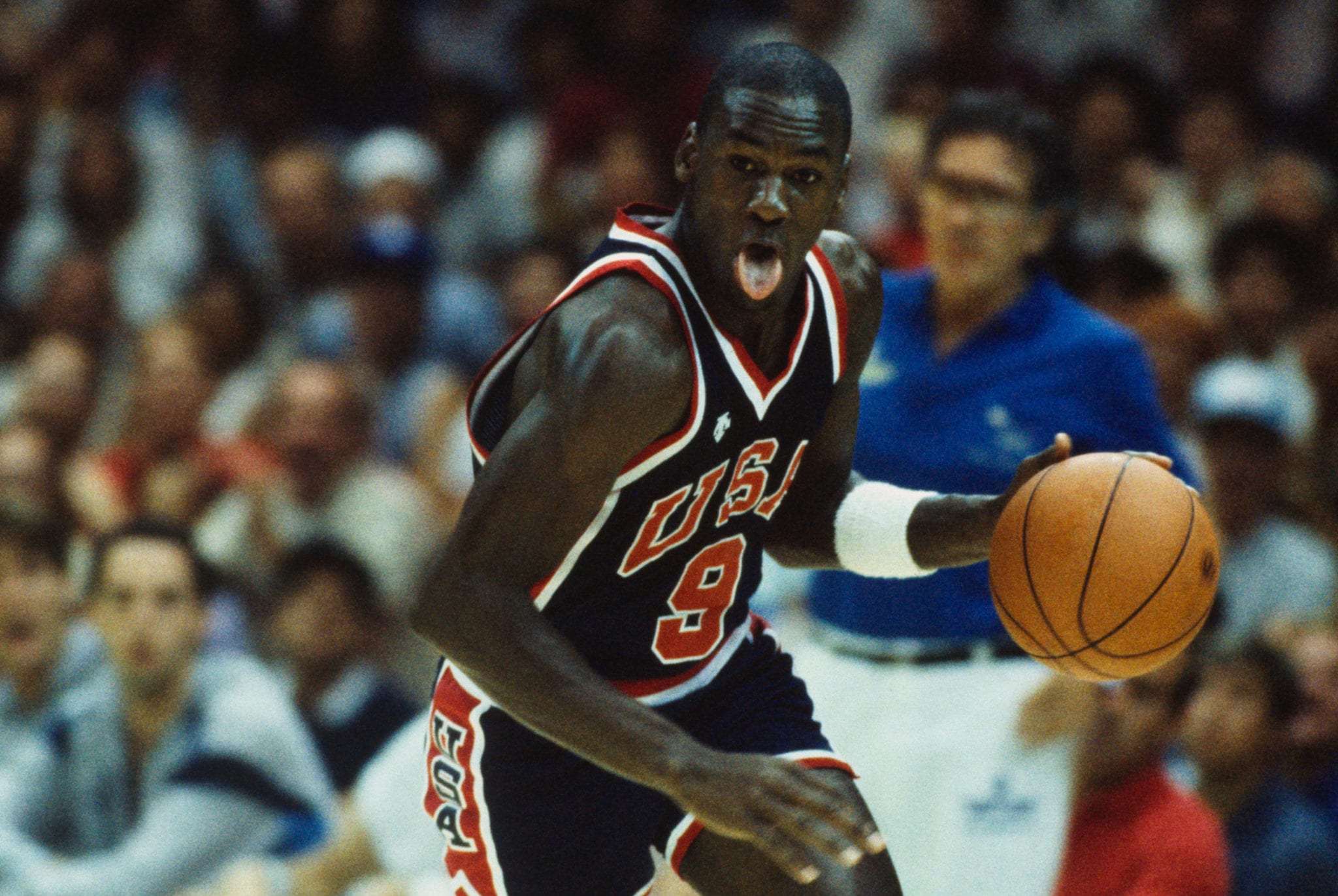 Barkley getting cut was extra wild.
He was clearly the second-best player out of the 70-plus guys who tried out, but head coach Bobby Knight clashed with Barkley and was worried he'd mess up his plan to make Jordan the main guy.
Knight was one of the few people who seemed to understand what Jordan would become.
And yet, even with Barkley, Stockton and Malone all getting cut, the final team still featured four of the five NCAA first-team All-Americans from that year: Michael Jordan, Patrick Ewing, Sam Perkins and Wayman Tisdal.
Once the team had been chosen, their next step was to play eight warm-up games against varying All-Star teams full of eventual Hall of Famers.
That list included Magic Johnson, Larry Bird, Isaiah Thomas, Kevin McHale, Bill Walton and James Worthy.
The idea was to push the college kids harder than they had ever been pushed and straight-up kick their ass… give them a real reality check.
Instead, a baby-faced MJ gave them a reality check.
Jordan couldn't be guarded.
Even those Hall of Fame guys couldn't figure him out.
As well as being one of the most athletic players in history, MJ just had so many moves they hadn't seen before.
Jordan just played differently, moved differently, saw the game differently.
He was a different animal altogether.
And this amateur USA team of his didn't just win a game or two against their All-Star opponents.
They won EVERY. SINGLE. GAME. 8-0, with Jordan leading the way.
Imagine that happening today, a college kid running scrimmages against future NBA Hall of Famers and dominating them, leaving them speechless.
Naturally, Jordan saved his best for last.
Heading into the final exhibition matchup, all the NBA stars were furious after being completely embarrassed by a college kid.
That final collection of superstars, led by Magic Johnson and Isiah Thomas, threw everything at Jordan in the finale, knowing they had to get at least one win to save face.
But it still didn't matter.
MJ dropped 27 points and won the game anyway (84-72), completing the eight-game sweep as the entire basketball world stood up and took notice.
Jordan then continued his dominance when the Olympics began, capping off another perfect 8-0 run in tournament play, culminating in a 30-point crushing of South Korea in the gold medal match.
The USA averaged 95 points per game across the Olympics, with an average margin of 32.
And Jordan's 17.1 points per game led the team by a long way.
Combine that with beating a collection of NBA All-Stars eight straight times, and everything MJ did in the summer of '84 is one of the most mind-blowing and underrated feats in the history of the game.
These were the first true signs that MJ was on his way to becoming the GOAT.
It's no wonder MJ developed faster than every other player and dominated in the NBA right away.
By staying in college for three years, spending a summer playing against NBA-All Stars, and leading an Olympic team at 21-years-of-age, his preparation for the NBA was unlike anyone else's.
It also allowed him to develop an otherworldly basketball IQ and unmatched ability to operate within a team framework, something LeBron had to learn on the job and Kobe, God love him, never really learned at all.
From the moment his NBA rookie campaign started, Jordan was lightyears ahead of the competition.
There's never been a better rookie, and there's never been a better player.
And it all stemmed from his time on the '84 Olympic team.
That summer is what truly positioned MJ to become the greatest player of all-time.
For more Basketball Forever content, follow @bballforeverfb and @nickjungfer.