There isn't a sporting league in the world that makes better use of Twitter than the NBA.
And while the league and its teams do some exceptional work on the platform, nothing compares to the content offered up by the players.
Here is some of their best work from the past decade.
Blake Griffin reacts to being traded by the Clippers 
— Blake Griffin (@blakegriffin23) January 30, 2018
Griffin and the Clippers hold DeAndre Jordan hostage in his own home 
Don't agree with the furniture layout but I'm not an interior designer. pic.twitter.com/23PNgQB88z

— Blake Griffin (@blakegriffin23) July 9, 2015
Dirk gets drug tested
Just had off season drug testing. Told the guy: Did you see me move last year?? If I was on something I need to change the product ASAP!!!

— Dirk Nowitzki (@swish41) July 28, 2018
Dirk cops a roasting from his trainer
I got inspired by @VicOladipo. I also texted my trainer. Here is his response… @HoopConsultants pic.twitter.com/Wgo1p0dmh1

— Dirk Nowitzki (@swish41) May 1, 2018
CJ McCollum utters those three famous words
Im trying Jennifer

— CJ McCollum (@CJMcCollum) August 15, 2018
The Timberwolves troll Ja Rule following his awful half-time show in Milwaukee 
We too were hustled, scammed, bamboozled, hood winked, lead astray!!! pic.twitter.com/l9rhElC52d

— Timberwolves (@Timberwolves) February 24, 2019
CJ McCollum claps back at Chandler Parsons 
We hit the lottery by not signing you https://t.co/eSiBaNT061

— CJ McCollum (@CJMcCollum) January 28, 2017
Kevin Durant watching the History Channel in the club, the way one does 
I'm watching the History channel in the club and I'm wondering how do these people kno what's goin on on the sun..ain't nobody ever been

— Kevin Durant (@KDTrey5) July 31, 2010
KD gets exposed
KD has secret accounts that he uses to defend himself and forgot to switch to them when he was replying to this guy I'm actually speechless pic.twitter.com/9245gnpa3c

— idk (@harrisonmc15) September 18, 2017
This Durant tweet didn't age well 
Now everybody wanna play for the heat and the Lakers? Let's go back to being competitive and going at these peoples!

— Kevin Durant (@KDTrey5) July 16, 2010
Melo destroys a random fan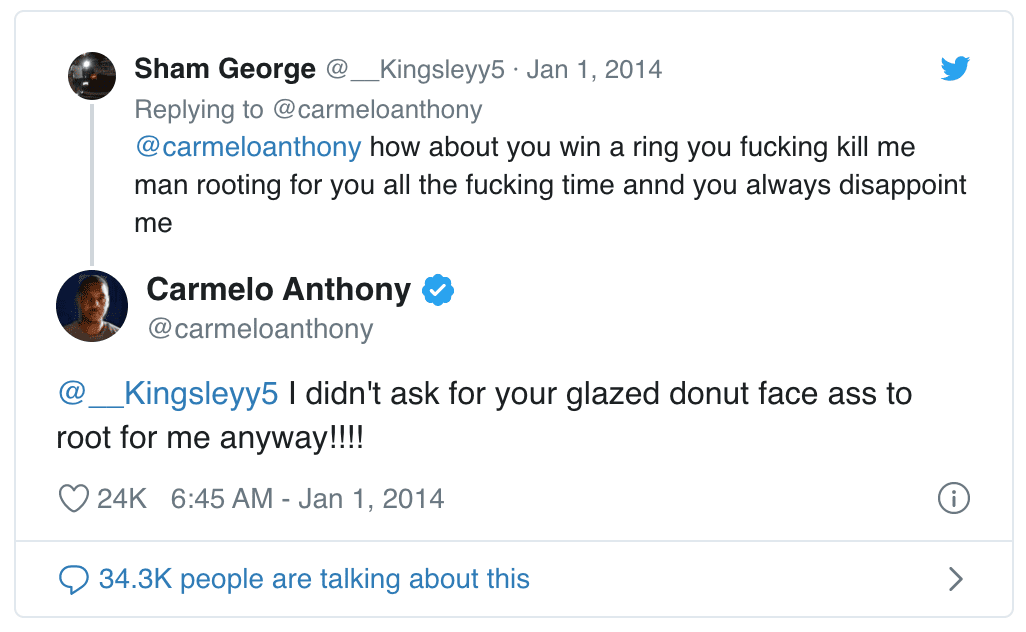 A young Kyle Kuzma disses LeBron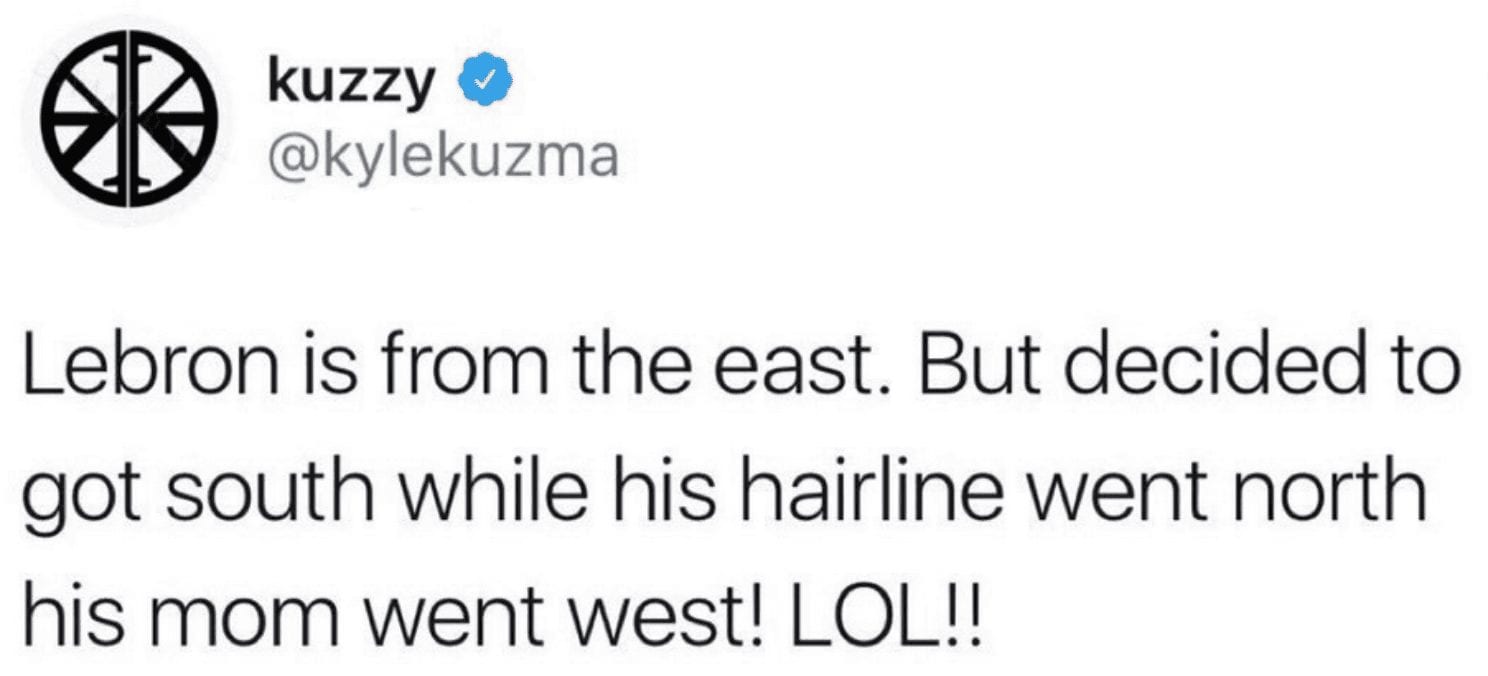 Joel Embiid responds to Donald Trump winning the election 
Well America is tanking!!! All we can do is Trust The Process…

— Joel Embiid (@JoelEmbiid) November 9, 2016
Embiid trolls Trump again, this time after being snubbed from the All-Star Game 
Once again the popular vote didn't matter……

— Joel Embiid (@JoelEmbiid) January 27, 2017
JaVale McGee with the stat of the night
I'm the only person ever with a rat tail and a NBA championship! Let that sink in!🏆

— Javale McGee (@JaValeMcGee) June 13, 2017
Dame trolls LeBron after Miami's 2011 Finals loss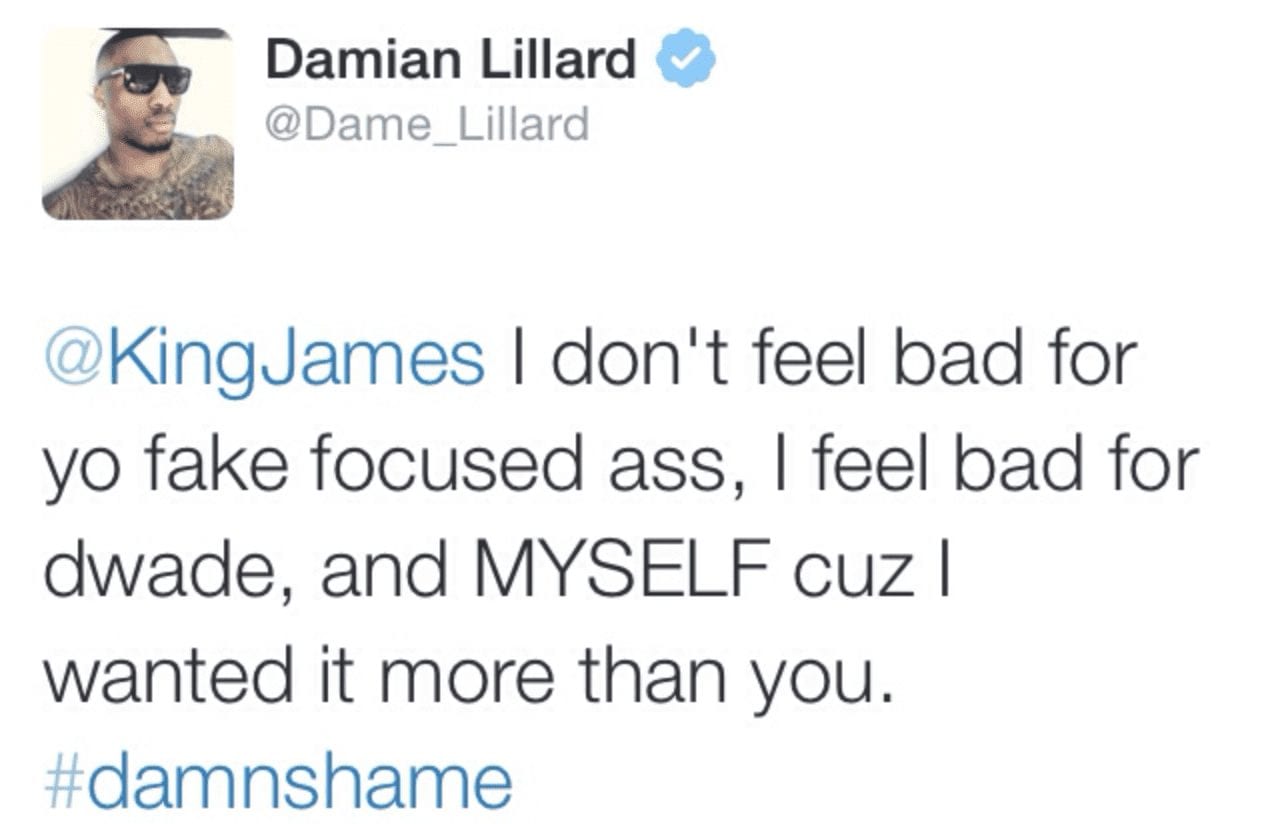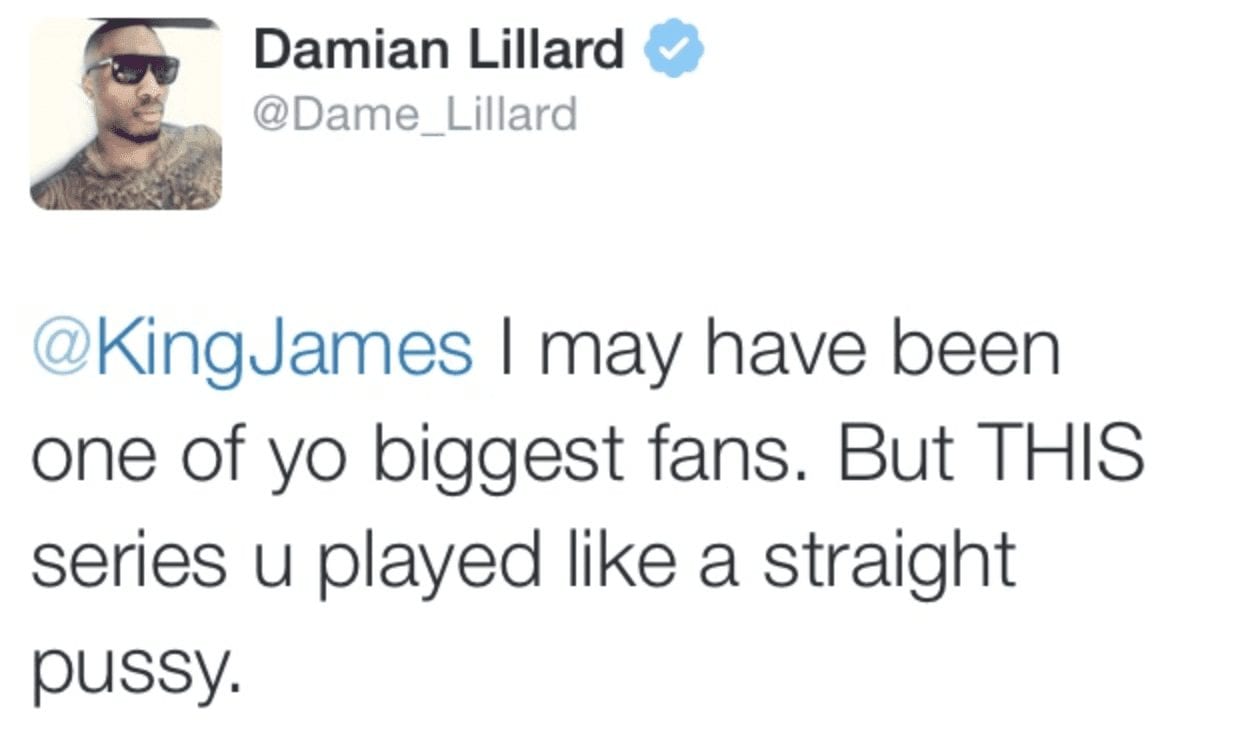 Dame trolls Russ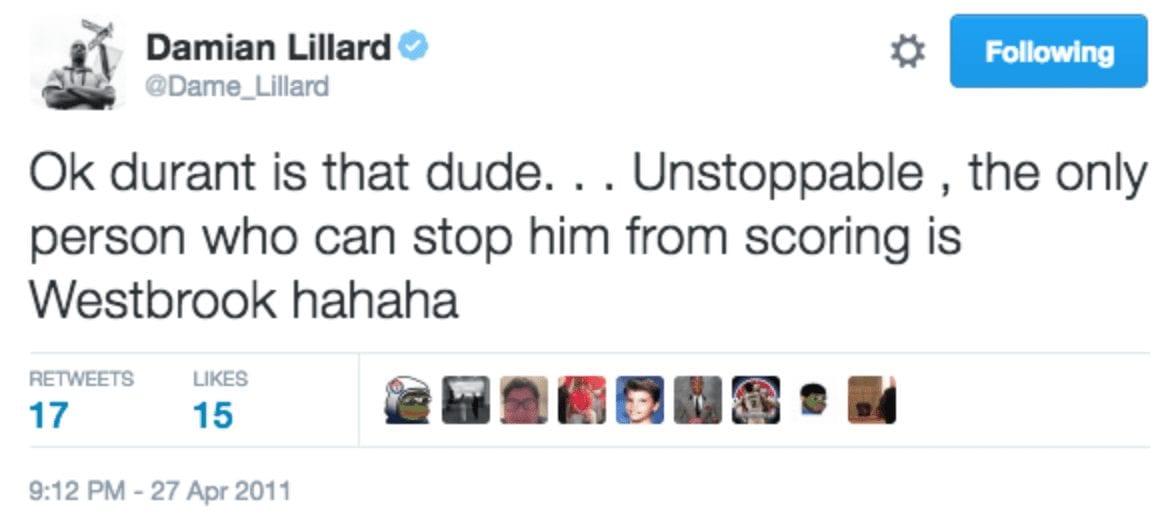 Kings fire shots at Sixers 
Sometimes the ball just doesn't bounce your way, @sixers fans. Trade complete. pic.twitter.com/zINTpdhrIP

— Sacramento Kings (@SacramentoKings) May 15, 2019
Oh dear God, Magic 
The only way San Antonio or Miami don't win the championship is if neither team makes the finals.

— Earvin Magic Johnson (@MagicJohnson) March 7, 2014
If Brandon Knight were to come out, I would take him number 1 in the draft.

— Earvin Magic Johnson (@MagicJohnson) March 27, 2011
For more Basketball Forever content, follow @bballforeverfb and @nickjungfer.