As a rookie, JaVale McGee landed in one of the worst possible situations.
He started his career on that crazy Wizards team that featured Gilbert Arenas, Javaris Crittenton, DeShawn Stevenson and Nick Young.
For McGee, it was the basketball  equivalent of getting caught up with the wrong crowd.
And spending your formative years surrounded by those guys would mess anyone up.
JaVale always had some underlying boneheaded tendencies, but Washington's terrible team and culture really enabled them to come to the surface. 
A model franchise like the Spurs would have forced those bad habits out of him almost immediately. 
But instead, we saw McGee's worst side for three solid years in DC… 
…and Shaquille O'Neal roasting him on Shaqtin' A Fool every night only fuelled the idea that McGee was nothing but a punchline. 
There was a bigger, more fundamental problem too: JaVale wasn't taking advantage of his incredible physical tools or living up to his potential.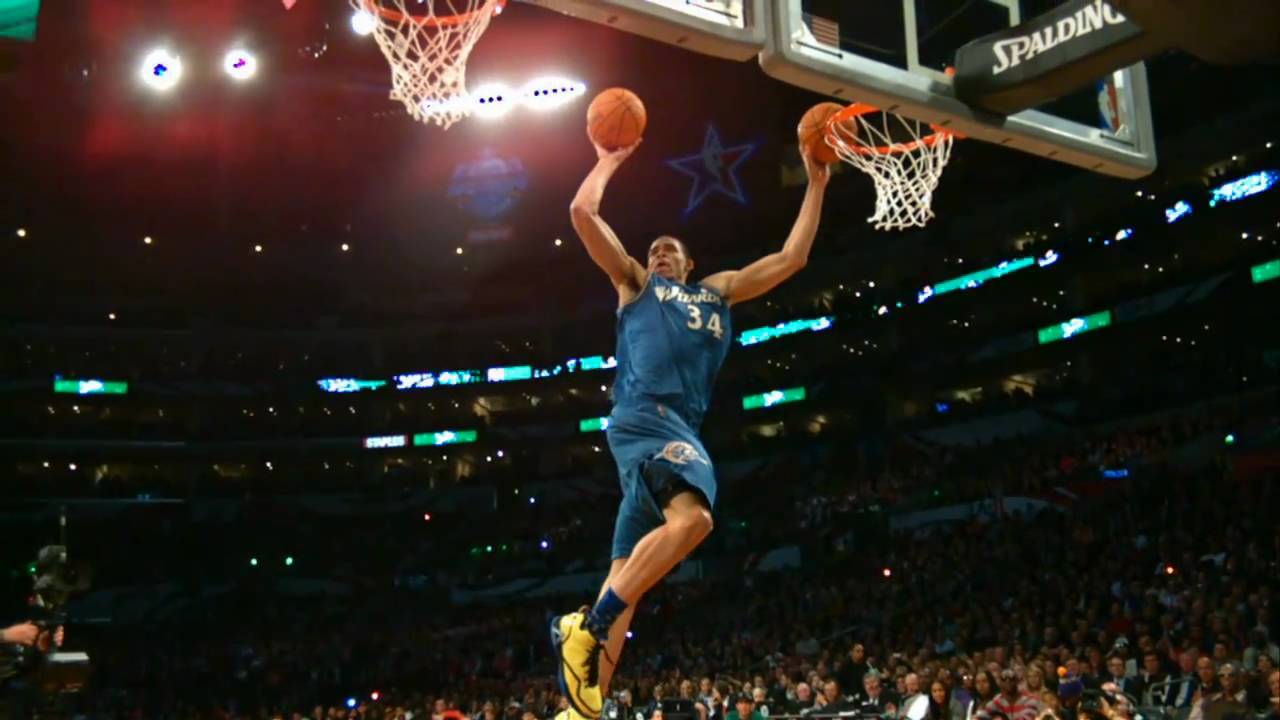 McGee showed flashes, and his stats were OK, but he mainly did it putting up empty numbers. 
He got a lot of his buckets outside the flow of the offence, or once the game had already been lost. 
But the tide finally started to turn when McGee was traded to Denver in March 2012.
He immediately looked so much better on the free-wheeling Nuggets.
That was thanks in large part to George Karl, one of the most successful coaches of all-time and a master of maximising the strengths of his players. 
This was also the first time JaVale had played on a team that actually moved the ball and looked for him on offence… and the results were spectacular.
In his Nuggets debut, McGee threw down endless alley-oops and even won the game with a crazy tip-jam off a missed free throw.
But just as things were really looking up, injury struck.
McGee missed all but five games in 2013-14 after having surgery to repair a stress fracture in his leg.
And the injury bug didn't let up.
McGee managed just 23 games the following season and 34 games the year after that.
And just to rub salt into the wounds, he was traded to the process-trusting 76ers when they barely had a single recognisable player on their roster.
He signed with the Mavs not long afterwards, but was waived once again.
At this point, it would've been easy to write McGee off altogether.
Injuries were getting the better of him and he'd only ever had one and a half good seasons anyway.
The public still perceived him as the old JaVale too, in large part thanks to Shaq.
But there was one team which saw things differently: the Golden State Warriors. 
They understood how good McGee was in Denver and took a chance on him in the summer of 2016. 
Now, remember how good JaVale looked with the Nuggets due to having a team that moved the ball, employed a competent coach and gave him a proper role?
Well, then it should've come as no surprise that McGee bounced back with Golden State.
He didn't play big minutes, but he played important minutes – the opposite of his time in Washington.
And he was highly productive in that time, putting up a career-high 23 points and 12 rebounds per 36 minutes.
He maintained that during the playoffs too, averaging 23 points per 36 in the 2017 postseason, and 19 per 36 in 2018.
Having languished in a basketball wasteland to begin his career, McGee had established himself as an integral part of the greatest team since Jordan's Bulls, and he won back-to-back championships in the process. 
If you tried to predict McGee being on top of the world like that just a few years earlier, you would've been laughed out of the room.
Things were going so well for JaVale that he even had the clout to fire back at Shaq for roasting him so much. 
McGee's next move was to the Lakers in 2018, a move which completed his stunning transition from a 'nothing team', to a dynasty, to the most storied franchise in basketball. 
Incredibly, GM LeBron had clearly said to himself, "If we can't land a star big man, I want JaVale".
Immediately, McGee became one of the team's most important players at both ends of the floor.
For the first time ever, he made his mark as a legitimate starting center, putting up career highs in points, assists and steals for the season.
And he was doing all this alongside LeBron, a guy no one else on the team could figure out how to play with.
On a team that couldn't get anything going, JaVale was out there playing the best basketball of his career.
He then took things to yet another level on March 22, 2019, when he notched two career highs in one game, with 33 points and 20 rebounds against the Nets. 
Clearly a lot had changed in a short space of time. 
Just a few years earlier, DeMarcus Cousins was the best center in the league. 
But it wasn't long before the Lakers signed him as JaVale's backup. 
And when Boogie went down, his new backup was Dwight Howard, who was also the best center in the league in a previous life. 
And while Boogie and Dwight's careers are teetering on the brink of extinction, McGee is just starting to reach his peak at 31-years-old. 
Just take a second to think about how crazy that is. 
Think back to every other so-called 'boneheaded' player from the past.
How many of them actually got better as they aged?
Not many, if any.
Gilbert Arenas, DeShawn Stevenson and Nick Young certainly didn't.
All of McGee's achievements came against the odds.
And this summer, he even had the luxury of being a coveted free agent.
After being a punchline for so long, suddenly he was the guy teams were chasing.
What a difference a few years makes.
For more Basketball Forever content, follow @bballforeverfb and @nickjungfer.