Trying to project the fortunes of young players is a wildly inexact science.
It's one of many reasons draft night makes for such compelling viewing.
And while the draft is always fun in the moment, the juiciest storylines usually emerge months (or even years) later, when we can finally seperate the studs from the duds.
With that in mind, let's harness the 20/20 vision that hindsight allows and break down the worst draft night mistakes of the past 25 years.
Honourable mentions 
Yi Jianlian / 6th pick / Milwaukee Bucks (2007)
The rumours that surrounded the infamous (but possibly mythical) 'Yi vs folding chair' workout was arguably the best part of the Jianlian era, regardless of whether or not it was true.
Jimmer Fredette / 10th pick / Sacramento Kings (2011)
It's easy to feel like your life peaked in college.
But surely no one feels that way more than Jimmer Fredette.
Oh and by the way, Fredette was taken one pick ahead of Klay Thompson.
Yikes.
Thomas Robinson / 5th pick / Sacramento Kings (2012) 
The Kings could have selected Damian Lillard, Andre Drummond or Harrison Barnes with this pick.
But they're the Kings, so of course they didn't.
Portland Trail Blazers trade their way out of the Chris Paul/Deron Williams sweepstakes
In 2005 the Blazers traded the third overall pick (and the right to draft Chris Paul or Deron Williams) for the sixth pick (and the right to draft Martell Webster).
Markelle Fultz (?) / 1st pick / Philadelphia 76ers (2017)
There's still time, but no one (absolutely no one) is holding their breath.
The worst mistakes of all
12. Indiana Pacers trade Kawhi Leonard to San Antonio Spurs for George Hill (2011)
If the Spurs want someone, that should be your first clue that he's going to be good.
11. OJ Mayo / 3rd pick / Memphis Grizzlies (via Minnesota Timberwolves) (2008)
The Grizzlies went with Mayo when they could have taken either member of UCLA's dynamic Russell Westbrook-Kevin Love duo.
To make matters worse, they actually drafted Love before trading him for Mayo.
Although to be fair, at the time Mayo looked like an absolute machine and Kevin Love looked like, well, this: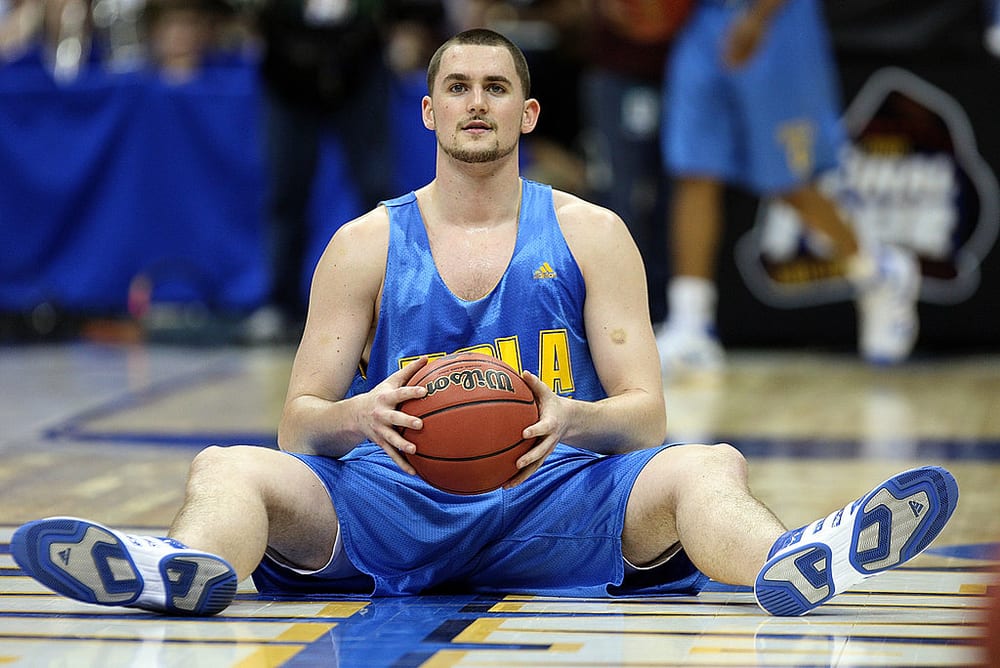 10. Jonny Flynn / 6th pick / Minnesota Timberwolves (2009) 
Not only did the Timberwolves draft Jonny Flynn one pick ahead of Steph Curry, they also took him one pick after they had already drafted a point guard.
For some reason, the immortal David Khan wanted both Flynn and Ricky Rubio.
While some draft night mistakes aren't revealed until years later, everyone knew in the moment that this was sheer, unadulterated stupidity.
To top it all off, Flynn was out of the league three years later and stopped playing basketball two years after that.
9. Marvin Williams / 2nd pick / Atlanta Hawks (2005)
The Hawks had the choice of Chris Paul or Deron Williams, and instead they chose Marvin Williams.
That's like having the choice of a Lamborghini or a Maserati and choosing a Ford Focus.
8. Hasheem Thabeet / 2nd pick / Memphis Grizzlies (2009)
Even if Hasheem Thabeet could hoop in 2009, the lumbering big man would have followed the likes of Roy Hibbert into extinction when the NBA modernised.
Unfortunately, he couldn't play back then either.
Thabeet lasted just a season and a half in Memphis and never averaged more than four points or 13 minutes across his short-lived five-year career.
Worse still, the Grizzlies drafted him one pick ahead of James Harden and five picks ahead of Steph Curry.
7. Andrea Bargnani / 1st pick / Toronto Raptors (2006)
If Dominique Wilkins is the The Human Highlight Film, Andre Bargnani is the Human Blooper Reel.
The raw talent was there – he even rode it to a 21 PPG average one year – but heart and smarts were always lacking.
Really lacking.
I mean just look at this.
6. Kwame Brown / 1st pick / Washington Wizards (2001) 
There is nothing that needs saying about Kwame Brown's game – or lack thereof – that Stephen A Smith hasn't already said.
5. Milwaukee Bucks trade Dirk Nowitzki to the Dallas Mavericks for Robert Traylor and Pat Garrity (1998)
A lot of fans don't even know who Pat Garrity and Robert Traylor are.
That's not a great sign, Milwaukee.
4. Charlotte Hornets trade Kobe Bryant to LA Lakers for Vlade Divac (1996)
This trade was clearly a catastrophe for Charlotte, but what made it even worse was the fact they never even considered taking Bryant for themselves.
They only drafted him because the Lakers asked them to, with a deal in place to immediately swap him for Vlade Divac.
(Jerry f*cking West, man).
If that wasn't bad enough, Divac left the Hornets after two seasons anyway.
3. Anthony Bennett / 1st pick / Cleveland Cavaliers (2013) 
There weren't many great options available at the 2013 draft, with Victor Oladipo (second) and CJ McCollum (tenth) the only impact guys who went in the top ten.
But anyone would have been better than Anthony Bennett, a selection so bad that no one outside of Cleveland's front office even needed the benefit of hindsight to see it.
It was a disaster in the moment and immediately prompted Bill Simmons to request medical help on national television.
2. Darko Milicic / 2nd pick / Detroit Pistons (2003) 
Not only did the infamous Darko Milicic fail to perform, he barely even showed flashes.
That's not ideal for a guy who was drafted ahead of Carmelo Anthony, Chris Bosh and Dwyane Wade.
Shortly after convincing themselves Milicic was worthy of the number two pick, Detroit played him less than five minutes per game in his rookie year.
Talk about instant buyer's remorse.
The Pistons regretted their purchase before they had even left the store.
1. Greg Oden / 1st pick / Portland Trail Blazers (2007)
You know the story by now: a once in a generation big man has his career ruined by a devastating series of injuries.
Of course, Kevin Durant being the next guy on the board only rubbed further salt into Portland's many draft night wounds.
For more Basketball Forever content, follow @bballforeverfb and @nickjungfer.