Russell Westbrook's verbal altercation with a Jazz fan on Monday night has sparked renewed debate about fan behaviour and the steps the NBA should take to protect its players.
NBA fans are almost alarmingly close to the action with every arena's seats trickling all the way down to within a few feet of the court.
There's nothing but an imaginary barrier between players and fans, and it's breached more often than you might think, as you're about to see.
Noted stalker walks onto the court in Denver
The Lakers and Nuggets saw Game 4 of their 2012 first round playoff series take a bizarre turn when a fan ran onto the court during live action.
It later turned out the woman had a history of stalking players and was yelling "Where's Kenyon (Martin)?" as she ran onto the floor.
The answer was "LA", with Martin leaving the Nuggets for China and then the Clippers the previous offseason.
The woman was swiftly arrested and cited for trespassing.
Nuggets fan gets in Russell Westbrook's face
There will be no punishment from the league for Oklahoma City's Russell Westbrook stemming from last night's incident with a courtside fan in Denver, sources tell ESPN's @royceyoung. pic.twitter.com/Y4nNqoJiAl

— SportsCenter (@SportsCenter) February 2, 2018
That fan should consider himself lucky he left the scene before Steven Adams arrived.
Fan flips off Russell Westbrook from point blank range   
Just to recap, this guy spent an ungodly sum of money on high-end seats only to get himself ejected part way through the first quarter.
The man, who turned out to be a wealthy Philadelphia doctor, later claimed Westbrook had yelled "sit down f*cking fat boy".
But the fan apologised to Russ in the aftermath and said "my action in response was clearly inexcusable and I am embarrassed".
The Derek Fisher incident in Utah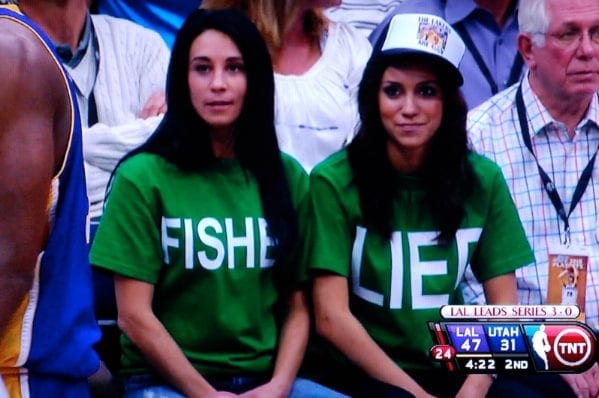 After signing a four-year contract with the Jazz ahead of the 2006-07 season, Fisher asked to be released after just one season.
He told then Jazz owner Larry H. Miller he needed to be in a bigger city to get proper medical care for his daughter, who had been diagnosed with eye cancer.
Miller agreed, and two and a half weeks later Fisher signed with the soon-to-be-powerhouse Lakers.
When he returned to Salt Lake City with LA, one fan famously screamed at Fisher from behind the basket while covering his eye in an attempt to mock Fisher's excuse for leaving the team.
The jury still seems to be out on whether Fisher's reasoning was genuine.
But things certainly got ugly in a hurry.
James Harden takes a laser to the eyeball 
James Harden not happy with some fan using a laser pointer during his FTs. https://t.co/0HsAC98Bvl

— Michael Gallagher (@MikeSGallagher) January 5, 2016
When James Harden stepped to the foul line during an early January game in Utah three years ago, he never could've predicted what would happen next.
As Harden was preparing to shoot, someone in the stands of Vivint Smart Home Arena – which has gained a reputation for being an absolute zoo at times – shined a laser pointer right into his eyes.
The dumbass fan in question was later banned for a year.
Rodney Hood swats away fan's phone
Rodney Hood slapped the cell phone right out of that man's hands pic.twitter.com/ToR9pYeGqN

— Sports Illustrated (@SInow) January 11, 2018
Australian bookmaker Sportsbet put it best when their social media team likened this moment to being around that one friend who Snapchats absolutely everything.
Klay Thompson vs potty-mouthed Bucks fan
When Klay Thompson tumbled towards the baseline seats in Milwaukee last January, one Bucks fan unleashed a particularly NSFW tirade upon him.
According to Thompson's then-teammate David West, he yelled "f*ck you bitch. You mother*cker".
The fan in question was removed from the arena.
The Malice at the Palace
You've already watched it on YouTube a million times…you know how this story goes.
The artist formerly known as Ron Artest gets into it with Ben Wallace, lies down on the scorers' table, cops an airborne drink thrown by some idiot fan, jumps into the crowd, hits the wrong guy, and chaos ensues.
The NBA suspended Artest for the remainder of the season, including the playoffs.
It was the longest suspension following an on-court incident in league history and it cost him about $5 million.
Thee league suspended nine players for a total of 146 games and fined them $11 million all up.
Here's hoping history never repeats itself.
For more Basketball Forever content, follow @bballforeverfb and @nickjungfer.