Winning a championship traditionally bonds teammates for life, but that was never the case for Boston's Big 3.
Ray Allen was always the man on the outer, especially once he defected to the rival Miami Heat in 2012.
To make matters worse, it's hard to imagine an occasion that will ever bring the famous group back together.
While Kevin Garnett and Rajon Rondo were at TD Garden for Paul Pierce's jersey retirement in February, Allen was miles away on the golf course.
Now as the legendary sharpshooter prepares to enter the Naismith Memorial Basketball Hall of Fame on Friday night, he's still unlikely to get any love from Garnett or Rondo.
"No, I don't expect to," Allen told The Athletic's Shams Charania, when asked if he was expecting any congratulatory messages from his old championship teammates.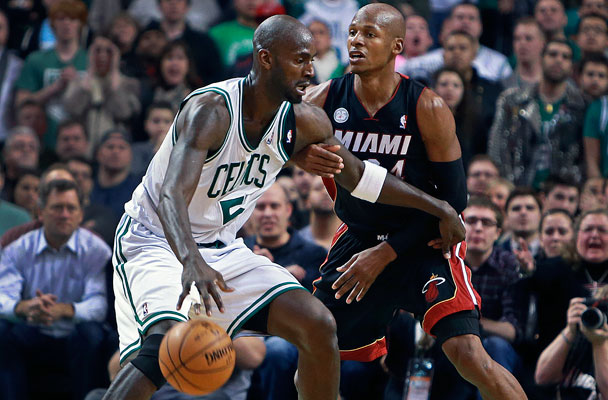 Allen did say, however, that he'd reconciled with Pierce.
"I talked to Paul a year ago today, and we patched it out," he told The Athletic.
"So much was made about my decision, and they were upset with me because I left for Miami.
"But it will never change what went on between us in 2008."
Garnett was especially furious when Allen took a pay cut to sign with a Heat team that had just eliminated the Celtics in a ferocious seven-game Eastern Conference Finals series.
Six years later, KG still can't let it go, even ripping Allen on Area 21 alongside a host of former Celtics teammates.
That 2008 title team also voted to exclude Allen from a cruise celebrating the 10th anniversary of their championship earlier this year.
Meanwhile, Allen didn't do himself any favours when he trashed Garnett and Rondo in his recently-released book.
As Chris Webber and the Fab Five can attest, some rifts last forever.
And the Allen-Celtics beef certainly seems to be heading that way.
For more Basketball Forever content, follow @bballforeverfb and @nickjungfer.