On Tuesday afternoon the immortal Shams Charania ruined every Philadelphia fan's day with an inconvenient truth: the 76ers' first-round pick Zhaire Smith had just fractured his left foot.
The standard recovery time for such an injury is six to eight weeks, but can be longer according to PhillyVoice's Kyle Neubeck.
But the initial diagnosis of a Jones fracture could put the fear of God into the Sixers, who not long ago witnessed Ben Simmons miss an entire season with the same injury.
CURSE #NUTS

— Joel Embiid (@JoelEmbiid) August 7, 2018
Incredibly, Tuesday's development marks the sixth consecutive year Philadelphia's prized first-round pick has suffered a significant injury.
Let's break this curse down, year-by-year.
Nerlens Noel / 2013-14 / Knee (ACL) / Missed entire season
Nerlens Noel blocked shots at all costs during his brief stint at Kentucky.
Unfortunately, the cost was his left ACL.
Noel suffered the injury when swatting a lay-up against Florida in February 2013.
While players generally return from ACL tears after about 12 months – a timeline which would've had Noel in uniform right after the All-Star break – Philly sat him all season long.
It was, after all, year one of 'The Process'.
Joel Embiid / 2014-15 / Foot / Missed entire season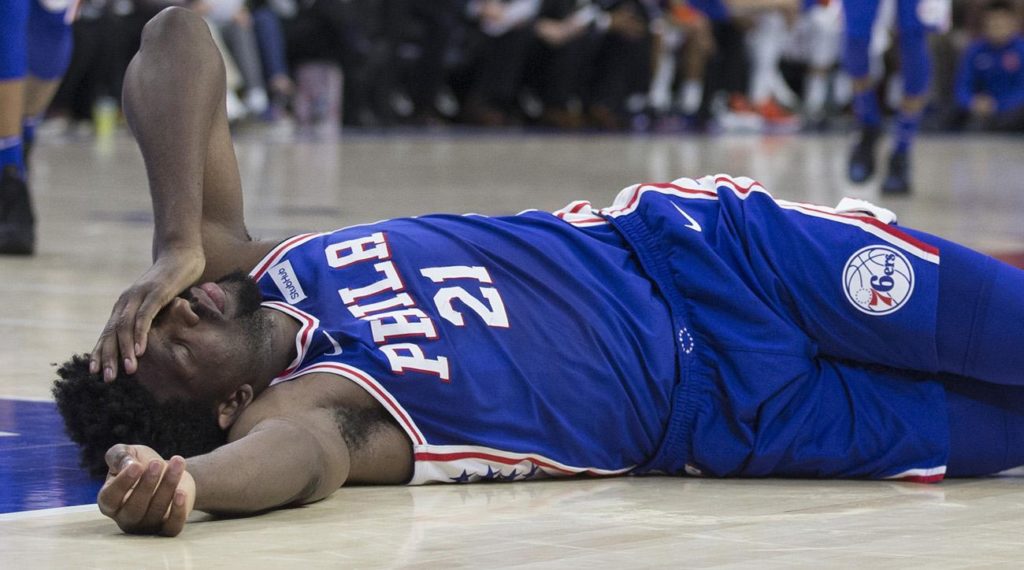 Just six days before the 2014 NBA Draft, your mate and mine Joel Embiid underwent surgery on a broken bone in his right foot.
He was then drafted by the 76ers, an organisation which at that stage had grown incredibly fond of tanking.
Of course, Embiid didn't play all season.
Considering his physical state was well known when the Sixers drafted him, it could be considered a little cheeky to put him under the curse umbrella.
But hold that thought.
Joel Embiid (again ffs) / 2015-16 / Foot / Missed entire season
When the 2015-16 season arrived, things got a whole lot more 'cursey'.
Philly was just fine with the big man missing his first season as they chased further lottery picks, but the prospect of him missing another one was more than alarming.
And yet that's exactly what happened when in June 2015, a CT scan revealed Embiid's recovery had not progressed as expected.
He then underwent a second round of surgery, ruling him out for his second campaign.
Ben Simmons / 2016-17 / Foot / Missed entire season
The 76ers were in the middle of their final training camp scrimmage ahead of the 2016-17 season when their worst nightmare became a reality.
Their latest prized pick had gone down before the season had even begun (sound familiar?), with Ben Simmons rolling his right ankle and later being diagnosed with a Jones fracture.
He was scheduled to miss three to four months, before ultimately being ruled out for the season when tests showed his foot hadn't healed as expected (SOUND FAMILIAR!?).
Markelle Fultz / 2017-18 / Knackered shoulder, broken jump shot / Missed 68 games
Markelle Fultz played just four games to begin his rookie season before being sidelined with "scapular muscle imbalance" in his shoulder.
Some thought this was the reason for his awful new shooting stroke, but The Athletic's Derek Bodner later revealed Fultz had worked with trainer and family friend Keith Williams to make major changes to his action.
The 76ers stated it wasn't clear whether Fultz's jump shot changed because of the injury, or if the injury was caused by the changed shot.
Fultz didn't return until March 26 and finished the regular season with just 14 games to his name before falling out of the rotation in the playoffs.
Zhaire Smith / TODAY / Foot
For more Basketball Forever content, follow @bballforeverfb and @nickjungfer.