76ers co-owner Michael Rubin has opened up about the day Meek Mill was freed from jail and whisked straight to Game 5 of Philadelphia's first round series against Miami in April.
Rubin, who grew close to Meek and became particularly invested in his broader cause, said the rapper told him he often dreamed about Rubin picking him up from jail in a helicopter.
"So when the Supreme Court ruled to get him out of jail, I was like, 'I'm gonna go pick him up, let's get in the car'," Rubin told Bleacher Report. "But it was like an hour and 15 minutes away on Waze."
"So I call up [Sixers co-owner] Josh Harris, because he owns the Harrah's Casino right across the street from the prison, and I say, 'Josh, we gotta land a helicopter in the parking lot of the casino if we're going to make it in time for the game.'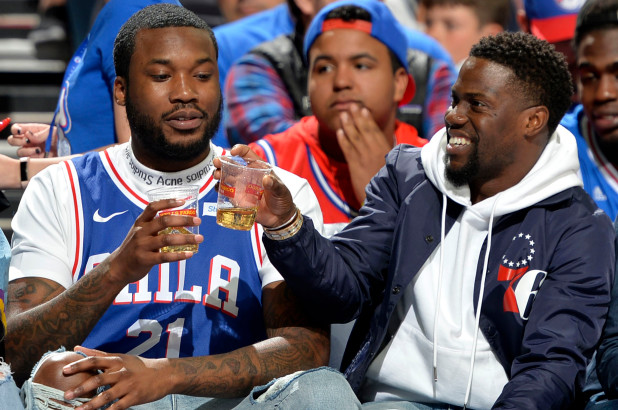 "So he makes it happen, and next thing you know, we're flying back from the prison in the heli, and we got to the game in time."
Rubin also described the wild reactions of various 76ers players when they first realised Meek was about to be released.
"It was like we just won the NBA championship," Rubin said. "…They all play his music before our games…When I got to the prison earlier that day, Joel called us and he's jumping up and down on his bed screaming."
"And then Ben's on FaceTime while we're on the helicopter. And they're all so excited. The whole thing was the most surreal experience I've ever had in my life by about 50 times, and I've seen a lot, by the way."
Rubin added that he would soon team up with Meek to form a foundation with a sole focus on pushing for criminal justice reform, saying he'd dedicated about a third of his time to the matter already.
"We're gonna be announcing a major foundation soon," he said. "I'm going to be highly involved with it, Meek's going to be highly involved with it, and some other big people who you know and follow and care about will also be very involved with it.
"We think we can launch what will be the most impactful foundation within criminal justice reform and create a movement."
For more Basketball Forever content, follow @bballforeverfb and @nickjungfer.