Thon Maker has spoken out against the fresh sanctions handed down by FIBA following the horrific brawl between Australia and the Philippines earlier this month.
Having featured prominently in the large-scale altercation when he unleashed a series of flying kicks, Maker said a glaring lack of security meant he had no choice but to protect his teammates.
"While remaining respectful of FIBA as a governing body for basketball with a duty to protect the integrity and sanctity of our game, I disagree with their decision to sanction me for three games," Maker tweeted on Friday.
"I tried to break up a conflict, but without security things quickly devolved into a very dangerous situation where I needed to act to protect my teammates and myself from imminent harm.
"As a human being I cannot turn my back on anyone, Australian or Filipino, teammate or not, who is being attacked by a mob without the adequate help from security."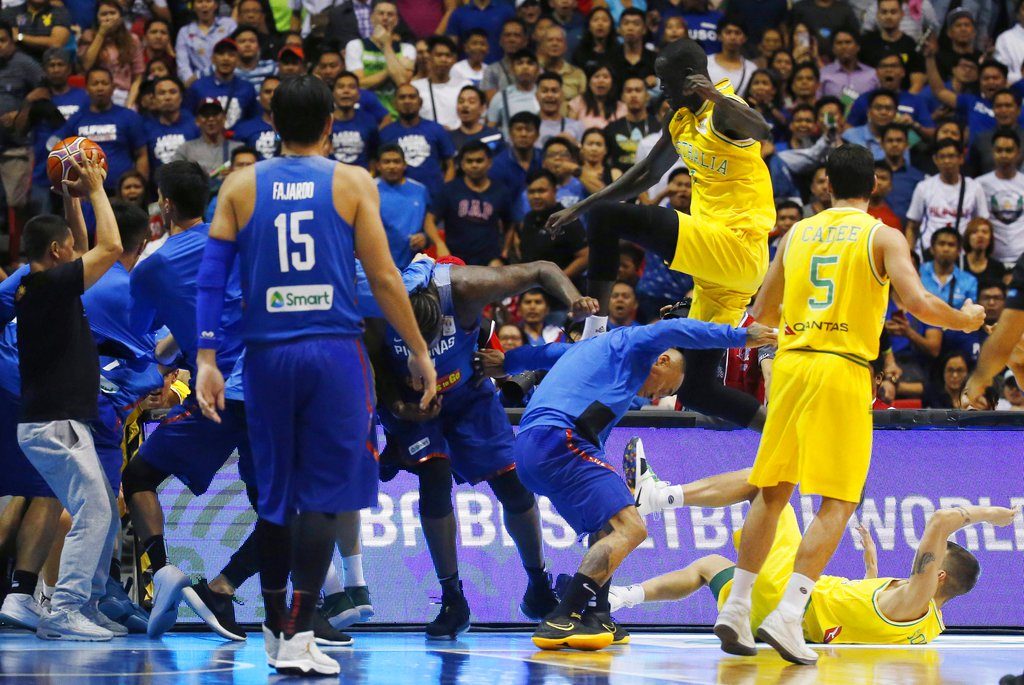 Meanwhile, Maker's Australian teammates Daniel Kickert And Chris Goulding were suspended for five games and one game respectively.
Goulding's suspension sparked a mixture of public anger and disbelief back in Australia, with the guard appearing to do little other than shield himself from a vicious mob attack.
Few were more enraged than Goulding's agent Daniel Moldovan, who has stated on multiple occasions that Goulding could've been killed.
"The most disturbing aspect of FIBA's ruling is the fact that assistant coach Joseph Uichico, who in my opinion, is guilty of attempting to cause grievous bodily harm that could have easily resulted in the death of Chris Goulding, has been given a farcical 3 game suspension," Moldovan tweeted.
"What message is FIBA sending to children all over the world when a violence and non-sensical act such as this is given nothing more than a slap on the wrist?"
No player was suspended for more than six games.
FULL SUSPENSIONS
AUSTRALIA
Daniel Kickert: 5 games
Thon Maker: 3 games
Chris Goulding: 1 game
PHILIPPINES
Calvin Abueva: 6 games
Roger Pogoy: 5 games
Jio Jalalon: 5 games
Carl Cruz: 5 games
Andray Blatche: 3 games
Jayson Castro William: 3 games
Terrence Romeo: 3 games
Japeth Aguilar: 1 game
Matthew Wright: 1 game
Joseph Uichico (assistant coach): 3 games
Chot Reyes (head coach): 1 game
FINES
Filipino National Federation – $337,000 AUD
Basketball Australia – $135,000 AUD
For more Basketball Forever content, follow @bballforeverfb and @nickjungfer.