Warriors shooter Steph Curry seems to be having the time of his goddamn life this offseason and it's great to see!
Seriously, can you name an NBA player who's had a better summer than Steph?
Let's take a in-depth look at what the prolific three-point shooter has been up to. Cause it's been a lot.
WON THE 2023 AMERICAN CENTURY CHAMPIONSHIP
Steph put aside his impressive NBA resume to participate in the celebrity tournament and showed basketball isn't his only talent.
Curry became the first active professional athlete to win the celebrity tournament in 23 years.
He even had a WILD 152-yard hole-in-one during the tournament.
STEPH CURRY HOLE-IN-ONE! 🔥🤯

The first EVER on the 152-yard 7th at the @ACChampionship!

📺: @NBC & @peacock pic.twitter.com/ViCuoOcFPA

— NBC Sports (@NBCSports) July 15, 2023
RAPPED (KIND OF) IN A MUSIC VIDEO
Steph could maybe give up his day job to become a golfer, but he definitely shouldn't give it up to become a rapper.
Curry posted the music video for Lil Fish, Big Pond from Tobe Nwigwe and could be seen lip syncing some bars about his NBA career.
The official music video for "Lil Fish, Big Pond" from the one and only @tobenwigwe and me is live! Check out the full video on YouTube and watch #UnderratedFilm on @AppleTV. pic.twitter.com/Jv7jFgfy4O

— Stephen Curry (@StephenCurry30) August 2, 2023
Hilariously, many news outlets thought Steph was legit rapping.
"Watch Steph amazingly drop bars in viral new rap song," one headline from NBC Sports Bay Area read.
While another from Bleacher Report said, "Warriors' Stephen Curry Raps in Tobe Nwigwe's 'Lil' Fish, Big Pond' Music Video". Lol
STEPH RELEASED A DOCUMENTARY
Steph put out a documentary about his career titled Underrated and it's been available to stream on Apple TV+ for a few weeks now.
Realising that not everyone has access to streaming services like these, he gave everyone a free two month trial so they didn't have to miss out. Thanks Steph!
I want to make sure everyone gets a chance to watch #UnderratedFilm, so I'm giving everybody a two month free trial for Apple TV+. Visit https://t.co/BKxwDterUO
 to get the offer. @AppleFilms @a24 @proximitymedia @unanimousmedia @petenicks pic.twitter.com/pkBAI91FRn

— Stephen Curry (@StephenCurry30) July 20, 2023
As most NBA fans know, Steph wasn't always as successful as he is now, so the doco follows his journey and struggles.
SANG ON STAGE WITH PARAMORE
Paramore were performing at the Chase Center in San Francisco this week and the band had a surprise guest up on stage to sing a verse.
Welcome to the @stephencurry30 and @paramore show pic.twitter.com/4u97mImlBI

— Chase Center (@ChaseCenter) August 8, 2023
Curry was at the concert with his wife Ayesha Curry, who called it "date night" and explained how the band have a special meaning for the couple.
"We listened to Paramore on one of our first dates… and many years later they were kind enough to perform at (Curry's) 30th (birthday)," Ayesha Curry wrote on her Instagram Story. "What a full circle moment… Honestly one of the coolest nights."
STEPH PARTIED WITH DRAKE
Steph and Ayesha pulled up in Brooklyn to go to a Drake concert.
And of course, the pair got a shout out from the man himself.
Steph Curry pulled up to the Drake concert tonight in Brooklyn 🎤

(via @WordOnRd)pic.twitter.com/T5WEOYO2LZ

— ClutchPoints (@ClutchPoints) July 18, 2023
CELEBRATED HIS ANNIVERSARY WITH AYESHA
Last week, Steph and Ayesha jetted off to Greece to celebrate their 12-year wedding anniversary.
The couple have three kids but they were left at home for this romantic getaway.
All of it was well documented on socials. Cuties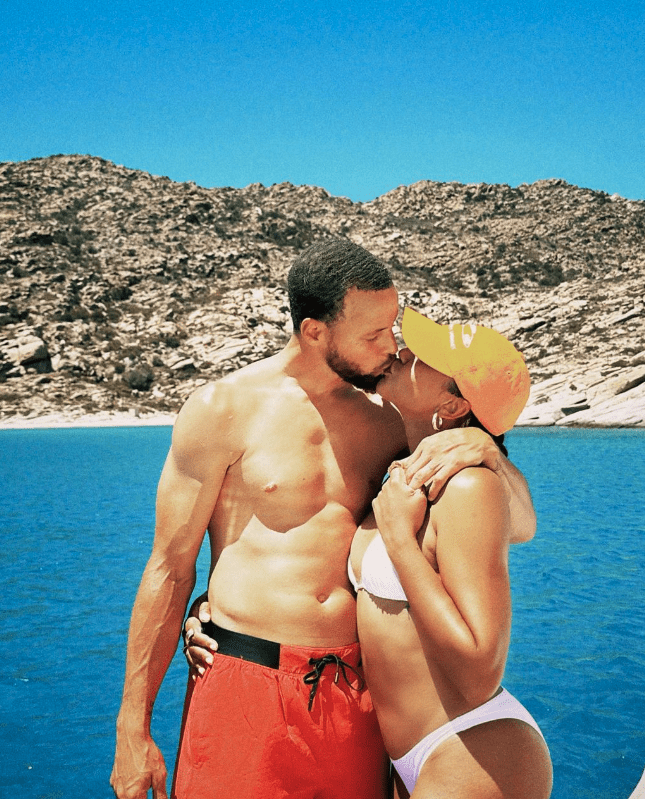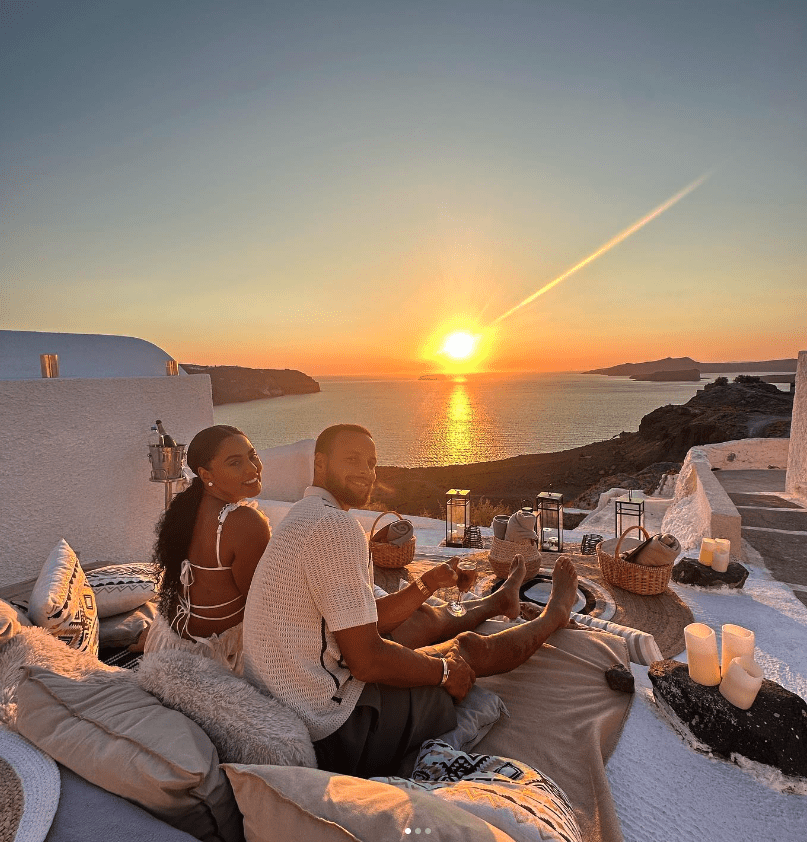 STEPH APPEARED ON HOT ONES
Like the true champ that he is, Curry got through the increasingly hot wings with host Sean Evans on Hot Ones.
While that was going on, he managed to speak about his career and a cool moment he shared with the late Kobe Bryant.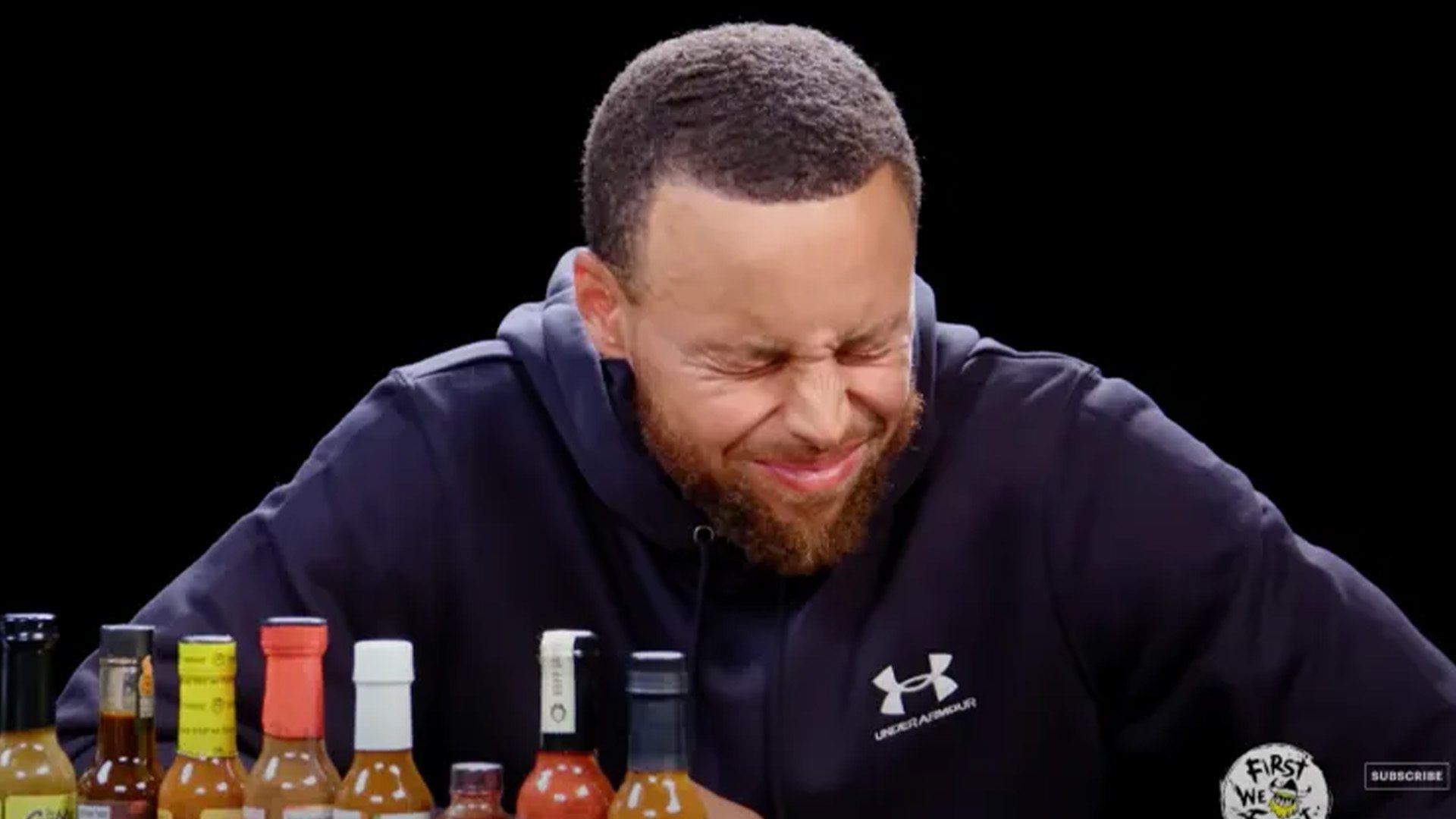 DID A PUPPY INTERVIEW
Curry has been promoting the sh*t out of himself and his new doco and even did a puppy interview with Buzzfeed. Pretty cute.
Had a phenomenal time with @buzzfeed and some friends for The Puppy Interview! 🐶 Thanks for having me 🙌🏽 https://t.co/6kO2CqLSVA pic.twitter.com/PQnS0rsMNe

— Stephen Curry (@StephenCurry30) July 28, 2023
One of the questions was along the lines of, what would you be doing if you didn't play in the NBA?
Steph said he would probably have been some kind of school / P.E teacher / coach since his Mom was an educator.
HELD A CURRY CAMP
Steph held his eighth basketball camp for kids.
Another year, another unbelievable #CurryCamp 🙌🏽 8 years in, and we just getting started. Appreciate the support from everyone who makes this possible. ⭐️ pic.twitter.com/wkypLtlpeQ

— Stephen Curry (@StephenCurry30) August 8, 2023
Surely it's time for him to go home and have a nap?!