Kylian Mbappe appears to be on the brink of becoming insanely rich.
Saudi club Al Hilal has offered to pay the French soccer star $766 million for one season, and NBA players can't believe it.
For context, Mbappe would earn more than 14 times as much as next season's highest paid NBA player, LeBron James, who will make $53.4 million in 2023-24.
Here are the best reactions from NBA players around the league:
Me headed to Saudi when they call @RichPaul4 & @mavcarter for that 1 year deal! ✌🏾🤷🏾‍♂️😁 pic.twitter.com/IX0VSMZYNb

— LeBron James (@KingJames) July 25, 2023
1 year 776mm? Wtf lol …

— Damian Lillard (@Dame_Lillard) July 24, 2023
Al Hilal you can take me. I look like Kylian Mbappe 😂😂👀 pic.twitter.com/VH0syez3VX

— Giannis Antetokounmpo (@Giannis_An34) July 24, 2023
😂😂😂😂😂😂😂😂😂😂😂😂😂 https://t.co/hKhqYXC7tH

— Kylian Mbappé (@KMbappe) July 24, 2023
They got basketball leagues too right? 😱😱🏃🏿🏃🏿💨💨💨💨💨 I don't the ink on my contract has dried up yet 🤣🤣🤣🤣

— Draymond Green (@Money23Green) July 25, 2023
1 bil for 1 year!?!?

— Tre Jones (@Tre3Jones) July 24, 2023
MORE REACTIONS:
Mbappe to Al Hilal. Here we gopic.twitter.com/AMclfVF4Gn

— Troll Football (@TrollFootball) July 24, 2023
LeBron on IG live when he sees the Saudi bag that Mbappé got offeredpic.twitter.com/ePFssbtQCY

— Buttcrack Sports (@ButtCrackSports) July 24, 2023
If Mbappe is worth €300 million, imagine how much young Cristiano Ronaldo and Lionel Messi would have cost in today's transfer market 🤯 pic.twitter.com/JRmK9zzJBv

— Janty (@CFC_Janty) July 24, 2023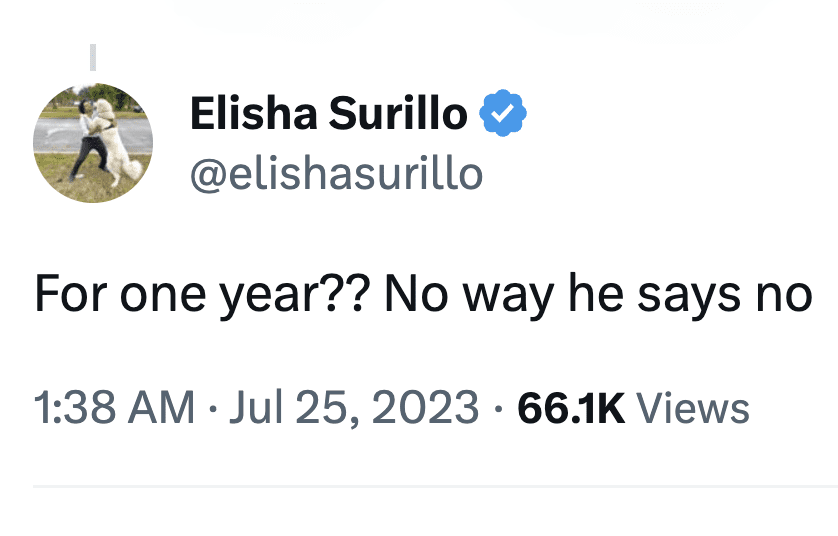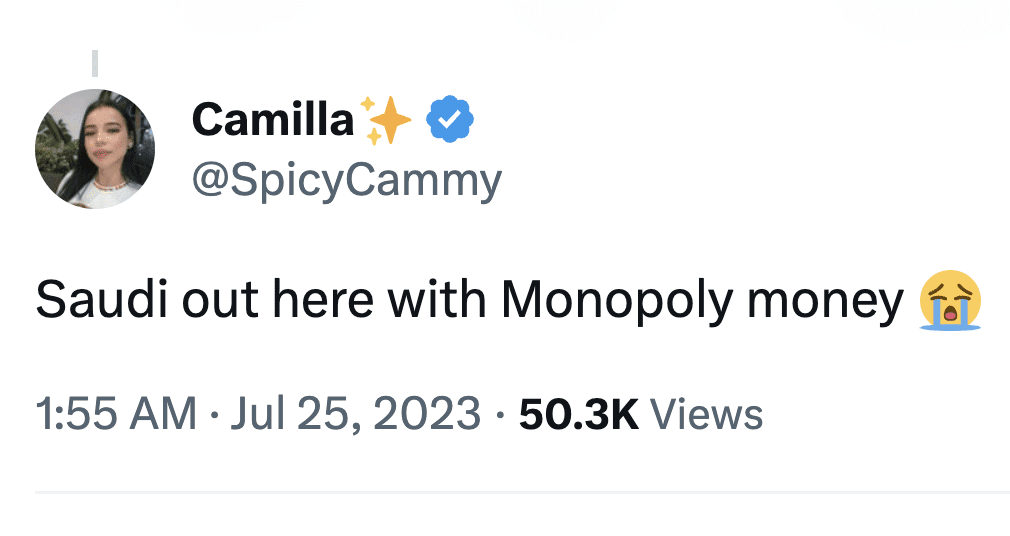 Gilbert Arenas Reveals Extremely NSFW Reaction to Dropping 60 on Lakers
Prime Gilbert Arenas was an absolute bucket when he got cooking.
And while plenty of fans associate insanely big scoring nights with Kobe Bryant, one night in December 2006, it was Arenas who dropped 60 points against Kobe Bryant.
Agent Zero finished the night with 60 points and eight assists on 53.1 percent shooting from the field.
Now, all these years later, Arenas has opened up on his postgame reaction that night, and it's… uh… really something.
"I walk into the locker room late and I was like, 'Yo! I just f***** scored 60 bro. 60 on f****** Kobe Bryant.' Coach says, 'And we won the game.' 'Man f*** the game, you know how much p*ssy I'm going to get now?!"
Well, that's certainly one way to analyze a great performance.
You can watch the full interview here.
READ MORE: How James Harden Might've Cost Himself $100 Million
NBA Champ Explains Why LeBron Is Tougher to Guard Than Kobe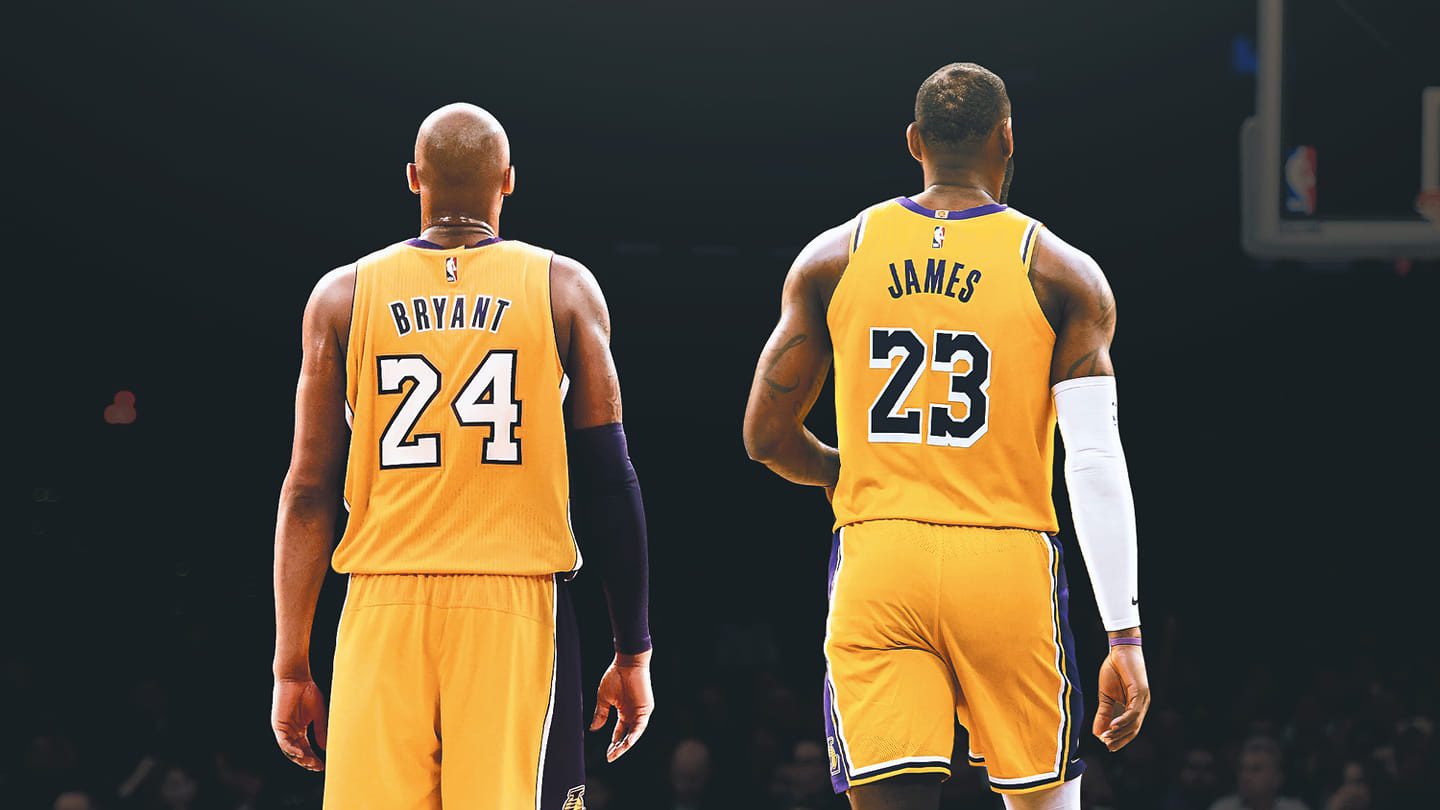 Richard Jefferson had the unenviable task of playing against both LeBron James and Kobe Bryant, and he says LeBron was definitely the toughest player he ever had to guard.
"Kobe was gonna do what Kobe does. he was gonna shoot the ball," Jefferson said on NBA Today.
"… That to me wasn't the hardest person to guard. It was still LeBron James. Mainly because of this: it was he was bigger, he was more physical."
Jefferson added that guarding a young LeBron in the 2007 playoffs was an absolute nightmare.
"At 22, 23 years old, I was like, 'Man, I don't know what we are going to do with his man," he said.
That was the postseason when James almost single-handedly beat New Jersey 4-2 in the second round, and this was when the Nets had Jason Kidd and Vince Carter.
Of course, Kobe fans aren't going to like this take from Jefferson.
But at least Lakers fans can thank their lucky stars that they somehow landed both players in purple and gold.