Bryce James is only 16 years old but for obvious reasons, he's already insanely famous.
While there are certain perks to being the son of LeBron James, the tradeoffs are pretty major too.
One of those tradeoffs is getting hassled by fans constantly, and one of Bryce's recent interactions is going viral online as we speak.
Lebron James gotta fire that security bc look at Bryce reaction 😩 pic.twitter.com/aJj7MvALsI

— Shannonnn sharpes Burner (PARODY Account) (@shannonsharpeee) July 22, 2023
To Bryce's credit, he handled the whole thing like a total pro. If only we could say the same thing for the fan who asked him for a photo.
Bryce a real nigga… first time I ever heard eem talk 🤣 good first impression

— WATR 🤷🏾‍♂️ IG: @Rip.WATR (@ripWatr) July 23, 2023
LeBron when the bodyguard show up: pic.twitter.com/uINHJkezmk

— Machine Gun Kenny⚜️ (@The_WarDawg) July 22, 2023
Bryce passed the test. He's already a better role model than Ja Morant.

— JokicBedAh🤑 (@RipsAndSlips) July 22, 2023
Didn't step between them or nothing, man go hire a green beret not some youth football coach

— Sam🍊 (@samtrevlicrow) July 22, 2023
Bryce 🐐 response

— JokicBedAh🤑 (@RipsAndSlips) July 22, 2023
Lmfaooo he sound just like Lebron. Him and Bronny

— Mona De Janeiro (@monadejaneiro) July 22, 2023
Yeah he's packing his bags today

— HollowFrobe (@the_only6) July 22, 2023
Austin Reaves Reveals What Russell Westbrook Was Like as a Teammate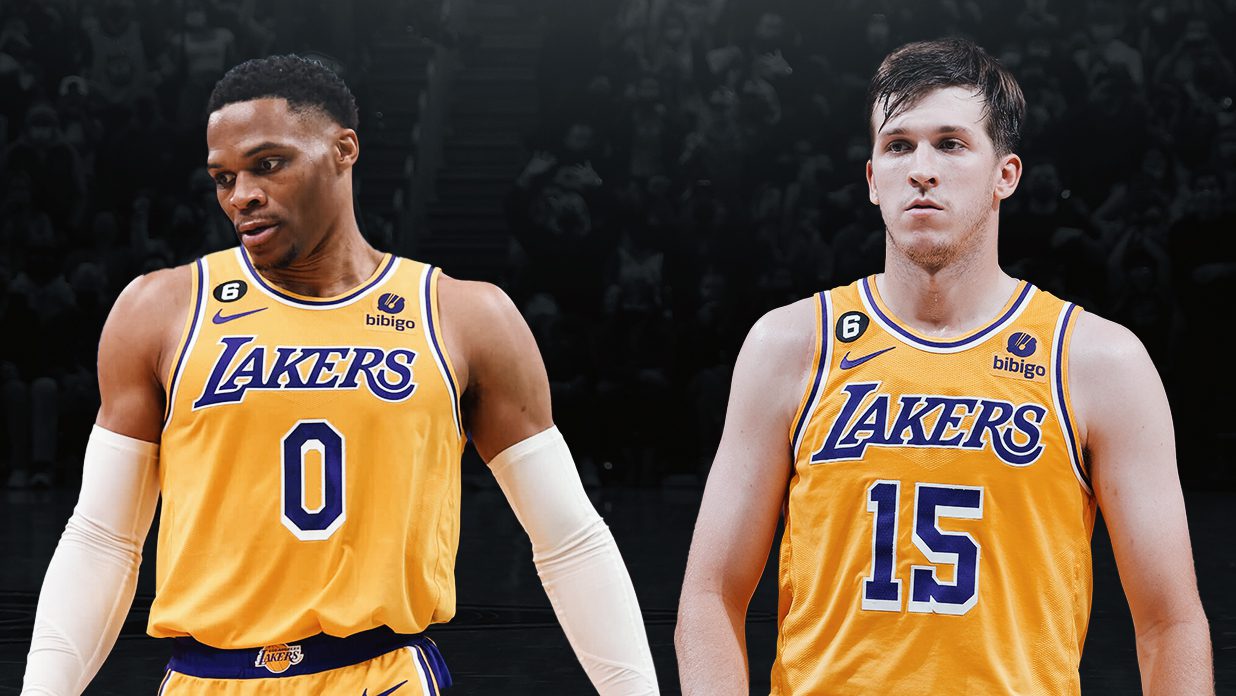 Russell Westbrook's time with the Lakers was far from a success, and in the end he was traded away.
But he still has at least one big fan at the Lakers, and his name is Austin Reaves.
Speaking on a recent episode of the All The Smoke podcast, Reaves raved about Westbrook as a person and teammate.
"He's one of the best teammates I've ever had," Reaves told co-hosts Matt Barnes and Stephen Jackson. "As a person, you can't get much better. I got Covid in December of my rookie year in Minnesota. I was stuck in Minnesota for seven days so it was rough. But he reached out three or four times, asked if I need anything, offered to send me stuff, whatever I needed."
Reaves didn't stop there either.
"As a teammate, he was always empowering everybody to really be better or do better," he added. "Like you said he gets a bad rep, and I don't really understand why."
Of course, Westbrook's bad publicity was more related to his on the court misdemeanours.
But listening to Reaves speak, it sounds like Westbrook is much harder to fault off the court.