Some sh*t went down between Britney Spears and number one draft pick Victor Wembanyama's security team in Vegas, with the popstar alleging they slapped her in the face.
What Went Down
Britney and her husband, along with two others went to Catch restaurant in Vegas at the ARIA Hotel on Wednesday night and as they were walking over to the restaurant, Spears spotted a 7′ 5″ Victor.
Apparently Spears is a fan of Wemby's and she went to tap him on his right shoulder so she could a photo with him.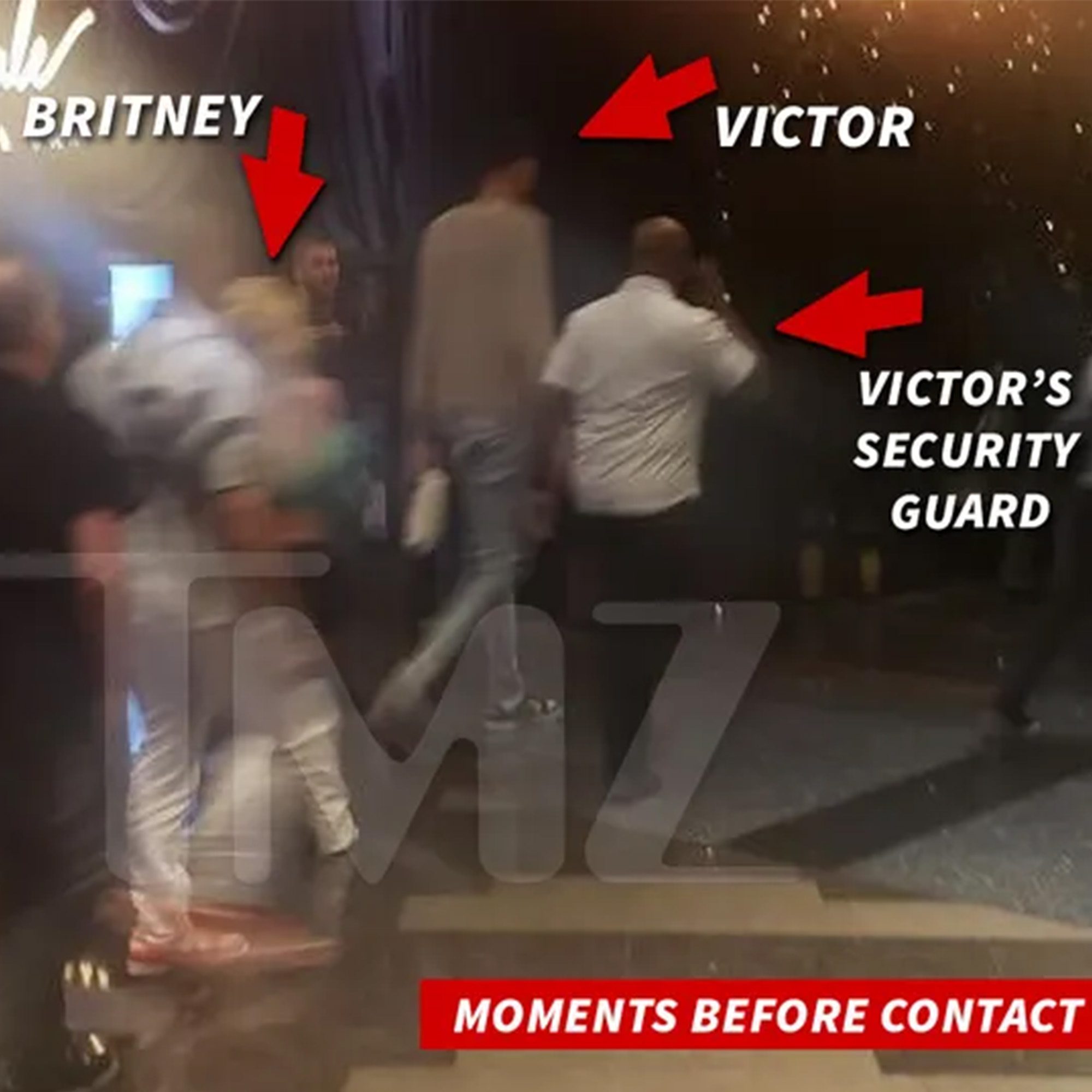 Then, the Director of Team Security for the San Antonio Spurs, Damian Smith, instantly backhanded her and she fell to the ground and her glasses fell off.
The 41-year-old star then reportedly went to her table at the restaurant, where the security director came over and apologized.
"You understand how it is when you're being swarmed by fans," he said, whilst claiming he didn't realize who she was when he slapped her, TMZ reports.
TMZ also said that Britney accepted his apology, though went on to file a police report with the Las Vegas Metropolitan Police Department, alleging battery.
"On July 5, 2023, at approximately 11 p.m., LVMPD officers responded to a property in the 3700 block of Las Vegas Boulevard regarding a battery investigation," The department's Office of Public Information said. "The incident has been documented on a police report, and no arrest or citations have been issued."
TMZ went on to further initial reports by saying, "Our source says this is indeed a criminal investigation and they are taking the incident "as serious as a heart attack." The source adds the case will "likely" be referred to the D.A., although that does not mean criminal charges will be filed".
What Wembanyama Said
"Something did happen a little bit when I was walking with some security of the team to some restaurant," Wembanyama said Thursday.
"We were in a hall that had a lot of people, people coming in, obviously,' he continued. "One person was coming to me, but we talked with the security to not stop because it's gonna make a crowd, so I couldn't stop. … That person grabbed me from behind. I didn't see what happened because I was walking straight and we said don't stop. But that person grabbed me from behind, not on my shoulder, she grabbed me from behind. So I just know the security pushed her away, I don't know with how much force though, but security pushed her away. I didn't stop to look so I kept walking, enjoyed a nice dinner."
Notice Wembanyama did not name Britney at all.
What Spears Said
Spears released a statement on Twitter, which started with, "Traumatic experiences are not new to me and I have had my fair share of them."
"I was not prepared for what happened to me last night," Spears wrote. "I recognized an athlete in my hotel lobby as I was heading to dinner. I later went to a restaurant at a different hotel and saw him again. I decided to approach him and congratulate him on his success. It was really loud, so I tapped him on the shoulder to get his attention.
— Britney Spears 🌹🚀 (@britneyspears) July 6, 2023
"I am aware of the player's statement where he mentions 'I grabbed him from behind,' but I simply tapped him on the shoulder. His security then back handed me in the face without looking back, in front of a crowd. Nearly knocking me down and causing my glasses off my face.
Spears explained that she gets "swarmed by people all the time" and that night she was approached by a group of at least 20 fans.
"My security team didn't hit any of them," she wrote. "This story is super embarrassing to share with the world but it's already out there. However, I think it's important to share this story and to urge people in the public eye to set an example and treat all people with respect.
Spears said that she has "yet to get a public apology from the player, his security or their organization" and "I hope they will."
Britney's statement on Twitter has over 2,000 comments with fans likely saying something along the lines of, "Leave Britney alone!"
No doubt there will be more to come on this.
READ MORE: Christian Wood's Social Media Has Lakers Fans Speculating