Damian Lillard publicly requested a trade from Portland on Saturday and the Blazers fans have quickly turned on him for it.
The fans hate may be misdirected and Dame himself has questioned what he's actually done to warrant the hate, especially considering he made it very clear months ago that he wouldn't be sticking around for a rebuild.
"It's in my blood to take the high road. I'd love to hear what fans are turning on… have I mislead them? Or anyone ? Fill me in," Lillard tweeted in response to a fans comment.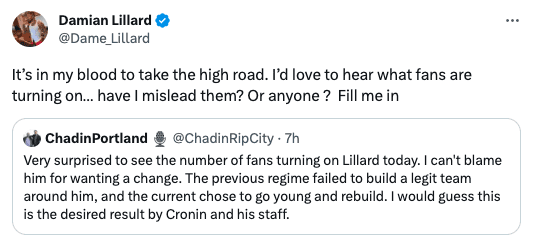 Initially, it was reported that the Blazers were expected to work to accommodate Lillard and his desire to play for Miami but things have taken a turn.
One of the Blazers most loyal and talented players in franchise history won't be given any courtesy, according to ESPN's Adrian Wojnarowski.
"The Blazers' front office, their organization made it clear to teams who called yesterday about Damian Lillard that they are open for business everywhere in the league on him," Wojnarowski said Sunday morning on ESPN. "Our Marc Spears reports that Damian Lillard wants to play for the Miami Heat, that he has told the Blazers that. But he does not have a no-trade clause in the way that Bradley Beal did; he does not get to control where he goes next. And for Portland, listen, they're gonna go out into the market place and try to find the best deal they can—a combination of young players, draft picks, salary cap relief, all the things you want when a star of Damian Lillard's magnitude asks to be traded. So I think this will not be a quick process, and Miami does not have any advantage in trying to get a trade for Damian Lillard."