NBA free agency is almost here and the rumors are coming in hot.
Let's take a look at some of the juiciest whispers and updates from teams around the league.
PORTLAND TRAIL BLAZERS
Veteran journalist Dwight Jaynes sent the NBA world into a spin when he said on live radio that free agent Draymond Green and Damian Lillard were meeting in Portland.
"I just got a text… [Draymond Green] is in Portland tonight meeting with [Damian Lillard] at a restaurant. A friend had reservations and was told Dame rented out the restaurant and they had to cancel his reservation."
However, Jaynes has since clarified this was simply not true.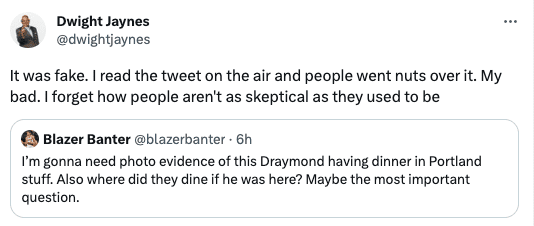 The Oregonian writer Aaron J. Fentress was also quick to dismiss these rumors.
"According to multiple NBA sources, Draymond Green was NOT in Portland meeting with Damian Lillard regarding coming to the Blazers and all signs point to him returning to Golden State," Fentress tweeted.
As for Dame, many insiders are tipping he will remain at the Blazers but if he was to request out and dip, the Heat would be his first port of call.
"It's extremely difficult to see a realistic path for general manager Joe Cronin to construct the contender-caliber roster that Lillard has clearly stated he needs to be comfortable staying in Portland," ESPN's Tim MacMahon said. 
Having another elite scorer like Lillard alongside Jimmy Butler and Bam Adebayo would be a massive win for Miami.
The only problem is his HUGE contract, that includes a player option for the 2026-27 season which could see him get over $60 million at 36 years old.
LOS ANGELES LAKERS
Nuggets championship player Bruce Brown could be on the move after declining his $6.8 million player option and the Lakers are a contender.
"One team with significant interest in signing Bruce Brown away from Denver is the Los Angeles Lakers, multiple sources told @denverpost," Denver Post's Mike Singer tweeted.
"The Lakers could offer him the full MLE ($12.3M annually). Nuggets can only offer up to $7.8M this year."
This information certainly has legs considering players in their front court, like Rui Hachimura, may not return next season.
Lakers GM Rob Pelinka did say the franchise is looking to add "tough, defensive-minded, selfless" players during free agency – all of which Brown is.
READ MORE: Lakers Drafted Jalen Hood-Schifino as Austin Reaves' Potential Replacement
PHOENIX SUNS
Phoenix already played their hand by trading for Bradley Beal from the Wizards but they are still keen to sign some more veterans, per Shams Charania.
"Expect them to be aggressive in trying to get veterans in the free-agent market," Charania said. "With the addition of Bradley Beal to Kevin Durant, Devin Booker and Deandre Ayton, the expectation is that there will be strong interest from veterans looking to make an impact on a contender, even while the Suns will only have veteran minimums to offer."
NBA insider Marc Stein dropped a few names from KD's past and thinks they could potentially join him in Phoenix.
"As Phoenix scours the league for quality players willing to play for the league minimum and chase a ring in its supporting cast surrounding Kevin Durant, Devin Booker and Bradley Beal, Nets sharpshooter Yuta Watanabe and Nets alumnus Mike James (Durant's close friend who played this past season at AS Monaco in the EuroLeague) have surfaced as potential targets," Stein said.
MIAMI HEAT
It looks as though Miami will use veteran guard Kyle Lowry as trade bait, as they clearly think he is no longer worth the $29.6 million in his final year of his contract.
Lowry could be used to lure Dame to Miami or another big star, but if that doesn't work out the franchise is "comfortable beginning next season with Lowry on the roster if he isn't traded this summer. More trade opportunities could open before next February's trade deadline," Barry Jackson from the Miami Herald said.
Miami fans may feel conflicted because the Heat are reportedly planning to move Max Strus but keep Gabe Vincent, Jake Fischer of Yahoo Sports reports.
"There are several teams often mentioned by league personnel as Strus suitors, from those with cap room like Detroit, Indiana and Orlando, to teams that have the full mid-level exception like Cleveland, and others that are working to get under the first tax apron and gain access to that $12.2 million salary slot," Fischer said.
"Gabe Vincent, the Heat's other key free-agent starter from their underdog run, has a strong opportunity to return. Vincent has generated plenty of interest around the league, but some of his possibilities elsewhere, as is the case with many of the forwards on this summer's open market, have already dried up."
HOUSTON ROCKETS
The Rockets have bowed out of the race for James Harden ahead of free agency, according to The Athletic's Kelly Iko.
"In recent days I've understood that Houston is no longer an option for James," Iko said in a livestream. "I would call them out of the running. From the Rockets' perspective, that makes sense considering James was never interested in taking any kind of discount."
Iko went on to explain that Harden has met with new Sixers coach Nick Nurse and was "pretty on board" with his plan for this season, but other suitors are lurking.
"From James' perspective, there were always a few options," Iko said. "Phoenix was always an option. Another team that I've heard recently that is a dark horse… is actually the Los Angeles Clippers."
Someone the Rockets are chasing is Wizards forward Kyle Kuzma, according to NBA insiders Carmichael Dave and Fischer.
Both Houston and Sacramento are among the teams with the most projected cap space, so the Kings have also been floated as another possibility for Kuz.
The Rockets may also target veterans like Fred VanVleet, Dillon Brooks and Brook Lopez.
The countdown to free agency is well and truly on!