Many Boston fans were shocked that the C's traded away Marcus Smart but now with a unicorn on the roster, will it get the team closer to a championship?
Kristaps Porzingis aka The Unicorn at center could be the missing puzzle piece for Boston and ESPN's Stephen A. Smith certainly thinks so.
"I think it makes (the Boston Celtics) title favorites," Stephen A. Smith said on First Take. "I'm looking at every team in the NBA, and I dare somebody to tell me who can the Boston Celtics not beat.
"I'm looking at Porzingis – third-best defended field goal percentage in the NBA behind Giannis (Antetokounmpo) and Draymond (Green). I'm thinking about that, and I'm thinking about the fact that he's 7-3, and he can step away from the basket and shoot if a 'j' if not a three."
The three-team trade with Memphis and the Wizards was about restoring balance in Bostons' roster, president of basketball operations Brad Stevens said on Friday after the NBA Draft.
"From our standpoint, we just looked at it as 'what's our best opportunity to continue to grow and improve as a team?'" Stevens said. "Knowing that sometimes really, really hard decisions have to be made. Like I said, not only adding Kristaps with his skill, his size and the positional versatility, we just had many more numbers and options at the smaller positions than we did at the bigs, especially as we look forward too."
Porzingis is coming off arguably the best season of his career and his ability to seamlessly switch from offense to defense around the rim will benefit the team greatly.
As for Smart, he spent his entire nine-year NBA career with the C's up until this point and Stevens acknowledged his departure.
"The greatest legacy that you can leave is to be someplace and it's better off because you were there," Stevens said. "And I think that everybody here feels that way.
"I think that he will always be appreciated and thought of so fondly here for any number of reasons. Obviously, everybody loved the way that he plays and how hard he plays, but also his work in the community. You know, we're all really grateful to have Marcus in our life for as long as we've had and are sad to see him go."
Smart was shocked to be leaving the franchise and those close to him said it was a "gut punch" for him to learn he was being traded, as he wanted to retire a Celtic.
The 2022 DPOY tweeted an emotional goodbye to the team and its fans on Friday.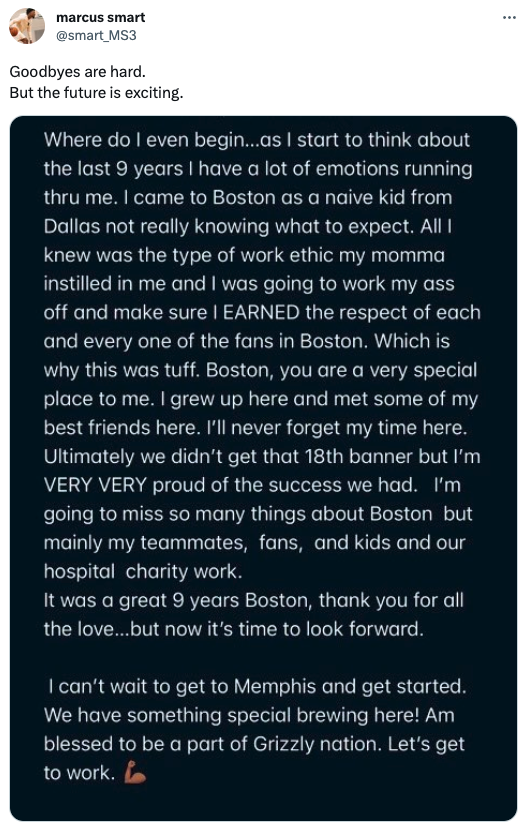 Smart will be working alongside the 2023 DPOY in Jaren Jackson Jr. and will likely be taking on a big role on offense in the first part of the season at least, with their star guard Ja Morant out for the first 25 games.