There has been some interesting information floating around the NBA, so let's get to the bottom of the latest speculation.
WERE THE ZION TRADE RUMORS LEGIT?
New Orleans pursued a trade for Scoot Henderson and it was reported they were willing to trade Brandon Ingram or Zion Williamson to get Scoot.
But Zion wasn't ever offered up to any franchise, ESPN's Adrian Wojnarowski reports.
"I could not find a general manager who was offered Zion Williamson," Wojnarowski said on ESPN during the 2023 NBA Draft broadcast.
Despite rumors of a fractured relationship with the team and a noticeable absence this summer, Zion has been at practice this offseason even more than he has in the past, the NBA Insider also said.
The Pelicans plan is to continue building around Williamson, the number one pick in 2019 who's played a total of 114 NBA games in his three-year career.
WHICH TEAMS WERE INTERESTED IN PG-13?
NBA Insider Marc Stein reported earlier in the week that the Clippers were gauging Paul George's trade value and seriously considering splitting him and Kawhi Leonard up.
Two teams that were reportedly interested were the Knicks and Blazers, but both were worried about acquiring him for a number of reasons, LA Times'  Andrew Greif and Broderick Turner report.
"Though George was an All-Star forward as recently as February, multiple league insiders this week expressed doubts about what return value the team could get for him, if the Clippers are truly motivated to deal him, and believed a top draft pick in exchange for George was not within range," Turner and Greif wrote. "Those doubts, the sources said, centered on his history of injuries and contract status."
Any team in the league would likely have the same worries, so it looks like the Clippers may just run it back. Let's pray Kawhi and Paul can stay healthy.
DID BRUCE BROWN DROP A HUGE CLUE?
Nuggets championship player Bruce Brown is a unrestricted free agent after declining his $6.8 million player option and he may have just hinted his next team.
Brown posted a black screen Instagram story that only contained three smiling emojis and revealing his location to be Boston, Massachusetts.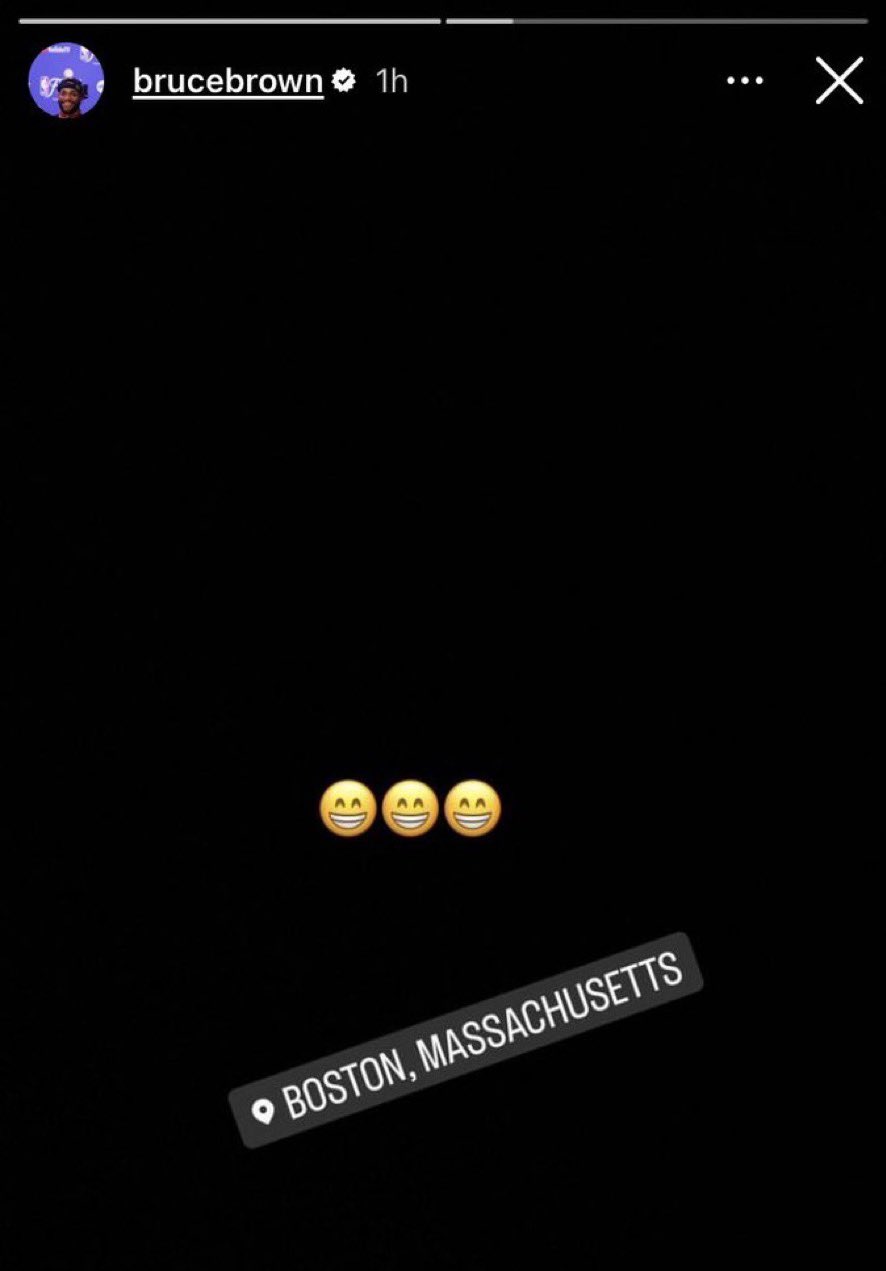 Now, the small forward is from Boston, so he could just be happy he is back in his hometown, but that hasn't stopped the speculation from C's fans.
In the words of Kevin Garnett, anything's possible.
MAVS WANTED JARRETT ALLEN
Dallas made contact with Cleveland about a trade for center Jarrett Allen, but the Cavs weren't interested, according to Chris Fedor from Cleveland.com.
"Sources say the Dallas Mavericks, who own the No. 10 overall pick in the 2023 NBA Draft and have sharpshooter Tim Hardaway Jr. — a player the Cavs discussed at the February trade deadline — were one team that recently reached out about Allen's availability," Fedor wrote. "While it's unclear what was offered, the Mavericks have been seeking a pick-and-roll partner for guards Luka Doncic and Kyrie Irving."
SIAKAM WANTS TO STAY
Raptors power forward Pascal Siakam is on an expiring deal this 2023-24 season and there are plenty of teams interested in signing the two-time All-Star.
Toronto may try and trade him soon so they don't end up with nothing if he walks away at the end of his deal.
But despite all this speculation, Bleacher Report's Chris Haynes says Siakam wants to stay in Toronto.
"There's growing sentiment Toronto star Pascal Siakam — who's on an expiring deal — would not re-sign with a team who attempts to trade for him as his preference is to remain with the Raptors, sources tell @NBAonTNT, @BleacherReport," Haynes tweeted.