Since his comments May 22 when Lakers were swept by Denver, LeBron has been mostly silent but has now posted a cryptic Instagram story, again hinting at retirement.
LeBron shared a screenshot of a video posted by an IG account called lbjhistory.
The post was swipe through of some amazing LeBron moments through the years and was captioned "LeBron will have the greatest documentary in history."
King James shared it to his story with a pointed message.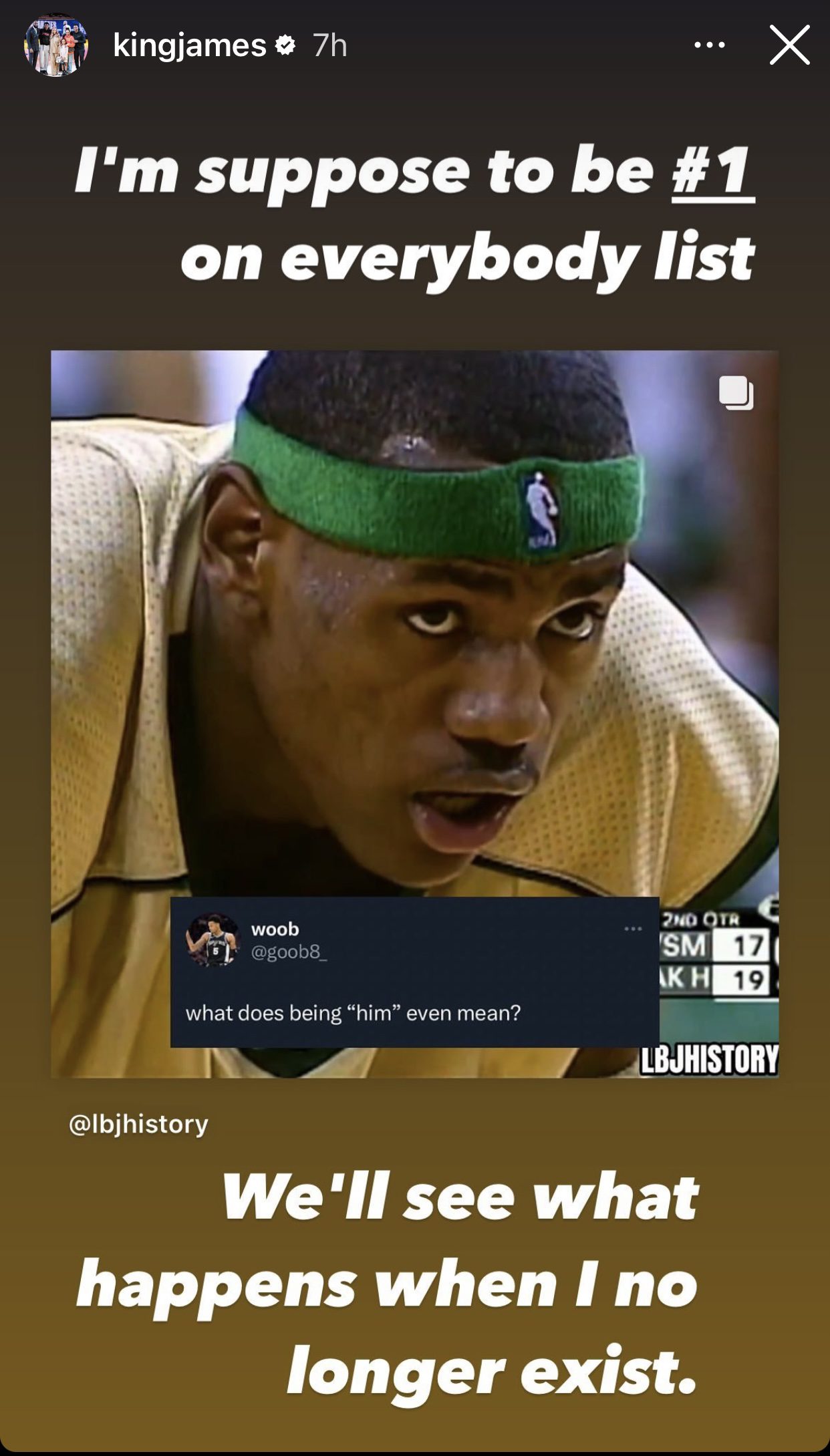 "I'm suppose to be No. 1 on everybody list," James wrote. "We'll see what happens when I no longer exist."
Maybe LeBron will take up a career in poetry with that masterpiece?
Seems as though he is sending a message for people to appreciate his game while they still can, unless it's too late.
Many NBA Insiders around the league don't believe that this is not the way that LeBron will bow out.
"My sense is LeBron could have two years left remaining in his career," Shams Charania said. "… Just a few months ago, he could have had season-ending surgery on that tendon. He's had to have such a big load on this team as far as how much he's gotta carry them on a night-to-night basis." "… There's certainly an expectation that he's gonna continue playing. He's got two years left on his Lakers deal… It would be a true surprise if he really did actually retire."
At 38 yers of age, LeBron continues to perform at an impressively high level and became the league's all-time scorer this season, while averaging 24.5 points, 9.9 rebounds and 6.5 assists in the postseason, despite playing through a foot injury.
"He'll suit up next year," one Western Conference executive told B/R. "He just changed the conversation. Now we're not talking about a sweep; we're talking about LeBron and retirement. He loves to control the narrative."
Even though the Lakers were swept, LeBron didn't go down without a fight and played the full game in Game 4 while recording 40 points, ten rebounds and nine assists.