Dwight Howard has been fairly active on his social media accounts for one reason – to troll Chris Paul.
Chris Paul and the Suns were embarrassed by the Nuggets in Game 6 and now their postseason is over and Paul is no closer to winning a chip.
At 38 years old, his time is running out.
Howard decided to make fun of Paul by posting a video with a fake quote on Instagram saying that Paul would join him in Taiwan if he didn't win a ring with Kevin Durant.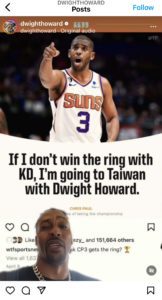 Howard also took to Twitter after the Suns loss to post a cryptic tweet.
Taiwan calling 👀

— Dwight Howard (@DwightHoward) May 12, 2023
Rumors of a CP3 Suns exit have been rife since the end of the game and Paul himself has only added to speculation.
"My contract is not up. Unfortunately, I'm not the GM or anything like that. So we'll see," Paul told Duane Rankin of AZCentral.
ESPN's Tim MacMahon says he expects the Suns franchise to "aggressively shop" Paul on the trade market.
MacMahon went on to say it was "pretty likely" that Paul will be on a different team in 2023-24 and the Suns will try to trade Paul before the June 28, when his guaranteed salary changes from $15.8 million to $30.8 million.
The Lakers are the current betting favorites to land the 18-season veteran.
As for Howard, his basketball career looked as though it could have been over before the three-time DPOY went to Taiwan to dominate for the Taoyuan Leopards in the T1 League.
Read more: Chris Paul Opens Up About Title Chase, Shuts Down Retirement Rumors