Kim Kardashian let the world know that Lakers bench player and Khloe Kardashian's baby daddy, Tristan Thompson is back in the family's good books.
And maybe even back with Kim's sister Khloe?
Kim was sitting courtside for the Lakers 104-101 win in Game 4 and posted a picture on snapchat of Thompson looking stoked after the win.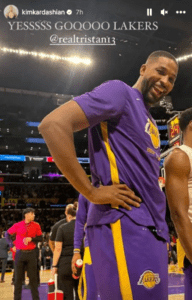 TT didn't see any game time at all but Kim wrote "YESSSSS GOOOOO LAKERS" with a photo of Thompson in his Lakers warm-up t-shirt because at no point was he required to change into his actual jersey. Lol.
It is worth noting Kim took the picture down on Tuesday morning and it is unclear why.
Now you may be thinking, 'Yeah so what, Kim posted a picture of him?'. It is a big deal because the whole Kardashian family iced Thompson out after it was revealed that he fathered a kid with Maralee Nichols.
There were also positive signs from Khloe herself when the Lakers announced on Easter Sunday that Thompson was joining the franchise and Khloe liked the post to show her support.
The whole Khloe-Tristan timeline is an absolute mess and is littered with cheating rumors on his part.
Their on-again, off-again relationship has been a big part of the celebrity gossip mill since they got together in 2016.
Khloe and Tristan's first child, True Thompson, was born in April 2018. Then in August 2022, they welcomed their son, Tatum Thompson, via surrogate.
Who knows, maybe if he can keep the bench nice and toasty during this postseason and earn himself a championship ring with the Lakers, all may be forgiven.
Read more: NBA Insider Believes LeBron Isn't Playing Like Himself Due to Foot Injury