Heat legend Dwayne Wade has spoken out about the issues that affected his family in Florida and why he had to move away.
The laws and politicians affecting the LGBTQ+ community were the main reason that Wade says South Florida has now become "a nice place to visit but I wouldn't want to live there."
Wade has a 15-year-old transgender daughter, Zaya and he explained in a recent interview that Florida isn't a place where his family is fully accepted.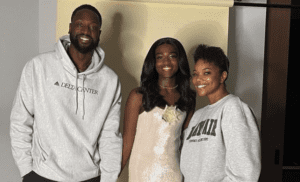 "A lot of people don't know that," Wade told Rachel Nichols on Headliners. "I have to make decisions for my family, not just personal, individual decisions.
"I mean, obviously, the tax [situation] is great. Having Wade County is great. But my family would not be accepted or feel comfortable there. And so that's one of the reasons why I don't live there."
Florida governor, Ron DeSantis, and state-level lawmakers have passed controversial legislation, including a new law that criminalizes providing gender-affirming care to minors, as well as the so-called "Don't Say Gay" bill that negatively impact families like Wade's.
The 41-year-old retired in 2019 and his jersey number has also been retired by the Miami franchise.
Wade won three championships with the Heat and was a 13-time All-Star, who will be inducted into The Naismith Memorial Basketball Hall of Fame this year.
No doubt he would have been watching on when Miami took out the first-seeded Bucks on Wednesday night to advance to the second round of the playoffs.