Honestly, Dillon Brooks must be the most embarrassed player in the NBA right now. All talk and no action.
Since calling LeBron out the Memphis forward has averaged 18 points and gone 7/23 from the field and 2/13 made threes per game.
As well, after the Lakers Game 3 and Game 4 wins, he declined to speak to the media following both games.
Twitter is clowning him real hard, but let's be honest, he kind of brought this on himself when poked the bear aka LeBron James.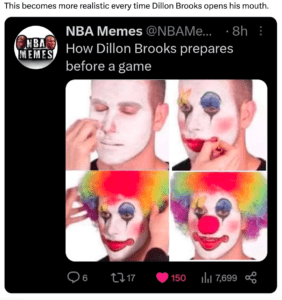 Dillon brooks after seeing playoff bron pic.twitter.com/4jKH45wUlJ

— SSB (@SSBurner_) April 25, 2023
"WHERE WILL DILLON BROOKS BE PLAYING NEXT YEAR?" pic.twitter.com/fOTfQjFSa4 https://t.co/SgkBazrsPU

— De🅿️ressed Warriors Fan 🏆 (@GoIdenState) April 25, 2023
Dillon Brooks attempts one more three and the NBA is going to make the fans sitting courtside wear helmets or sign a waiver.

— Rob Perez (@WorldWideWob) April 25, 2023
Dillon Brooks after running his mouth all series: pic.twitter.com/LISSBzoKBI

— Bookmakers Review (@BMRReviews) April 25, 2023
Dillon Brooks didn't speak to reporters for the second straight game and said "He's out"

Ja Morant declined to talk to the media

LAKERS BROKE THE FRONTRUNNERS 🤣🤣🤣

— The Laker Files (@LakerFiles) April 25, 2023
Michael Jordan was talking about guys just like Dillon Brooks: pic.twitter.com/474BuRTfuZ

— The Pettiest Laker Fan 🤫 (@ThePettiestLA) April 23, 2023
*Any pivotal moment in this series*
Cameraman zooming in on Dillon brooks: pic.twitter.com/0hSBlpOIP9

— Dom2K 🌊🏖 (@Dom_2k) April 25, 2023
LeBron to Dillon Brooks after putting up 22 points & 20 rebounds #LakeShow: pic.twitter.com/gjwHwI4OvN

— Danny Armstrong (@DArmstrong44) April 25, 2023
DILLON BROOKS WILL NOT SPEAK TO THE MEDIA TONIGHT — "I'M OUT" 😭😭 pic.twitter.com/VRxTWPXbwS

— LakeShowYo (@LakeShowYo) April 25, 2023
Dillon Brooks has retired. pic.twitter.com/HA2hkudMti

— Ballsack Sports (@BallsackSports) April 25, 2023