Okay yes, there is clearly some bias when a Sixers legend says Joel Embiid will win MVP, but Julius "Dr. J" Erving called it early.
Back on January 6, Erving told ESPN's Malika Andrews that the Philly big man was his favorite to win MVP.
At this time, Embiid was the league's leading scorer but no one really wanted to talk about it.
Fast forward to today and Embiid still tops the league in points as he averages 33.5 per game.
He has also surpassed Nuggets center Nikola Jokic as the odds-on favorite to win MVP.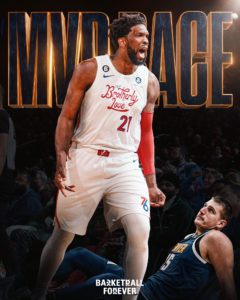 The 29-year-old has recorded 30+ points in ten consecutive games, which is the most by a center since Shaquille O'Neal.
"I think he's definitely worthy. I think he's been worthy in the past," Erving told the media on Monday. "Jokic is formidable. Tremendous numbers and his team was leading the conference for most of the season. So he's formidable, Giannis [Antetokounmpo] is formidable and Luka [Doncic] is formidable. One of those four and it might be Joel's turn, which would be poetically justifiable."
Philly coach Doc Rivers weighed in on the debate as well, calling on the NBA community to lift players up instead of putting them down after Former Denver coach and Hall of Famer George Karl made negative comments about Embiid.
"I'm going to say this one more time," Rivers said. "I'm going to try to stay off this subject. Joel is the MVP, but I want to make a point. Can we stop trying to put people down? We should be celebrating different guys in the league."
The 76ers recent win record has certainly helped things sway in Embiid's favor, as they have won eight of their last nine games, while the Nuggets have only won four of their last nine.
Stats wise, Embiid is currently averaging 33.5 points, 10.2 rebounds, 4.2 assists on 54.6 percent shooting from the field this season overall, compared to Jokic's 24.7 points
11.9 rebounds, 9.9 assists and 63.4 percent shooting from the field.
The MVP will almost certainly be decided next week when Embiid and Jokic match-up as the 76ers travel to Denver to play the Nuggets.