An Australian basketball association could approve the application of a transgender player in one of it's top women's leagues, and former Golden State Warriors big man Andrew Bogut has voiced his strong opposition to it.
Basketball Victoria confirmed on Monday that the athlete has applied to join the Kilysth Cobras in the NBL1 South women's competition and announced it would institute a new assessment system for transgender and gender diverse players wanting to participate.
"Basketball has long prided itself as 'everyone's game' and this remains the case, particularly at the community level," Basketball Victoria's diversity manager, Sheena Atkin, said. "We recognise there is still much to learn in this space, the new guidelines confirm the inclusion and safety of the LGBITQA+ community into all levels of basketball being an imperative."
Bogut, meanwhile, responded to the news with fierce opposition.
Word is @NBL1 South Women will have a biological Male playing this upcoming season.

Are you ok with sacrificing the sanctity of Female Sport in the name of "inclusion"? #GirlDads where are you?

The hashtag is trendy until action is needed.

— Andrew Bogut (@andrewbogut) March 12, 2023
Its makes me sad you are ok with Women's sport and Women's spaces being taken over by Men

I dont condone any abuse to the Kilsyth player, nor do I blame the player.

I blame the league/club admin and officials for allowing it.#SaveWomensSports https://t.co/0jm3zDHBLn

— Andrew Bogut (@andrewbogut) March 13, 2023
He has since posted a video to Instagram with further comments.
View this post on Instagram
Chloe Bibby, who plays in the NBL1, responded to the uproar and had a positive message for the incoming player.
As someone who plays in the NBL1 , I don't care what they identify as or their pronouns, she/her, they/them, he/him because regardless I'm still gone try beat their ass on court. They want to play ball & I have nothing but the upmost respect for this person. Go kill it queen! https://t.co/KwjEIb3E8y

— Chloe Bibby (@chloelbibby) March 13, 2023
So many men have an interest and opinion on this "rumour" in a "protective way.
Where are they when we talk about equal pay, equal funding, equal rights in sport?
But now they want to "save" women's sports?
Please…you want to do that? Start with pay, funding & rights

— Sam Squiers (@SamSquiers) March 13, 2023
Basketball Victoria is currently still navigating the situation, while Basketball Australia has released a statement condemning the "negative commentary and hurtful language used across social media".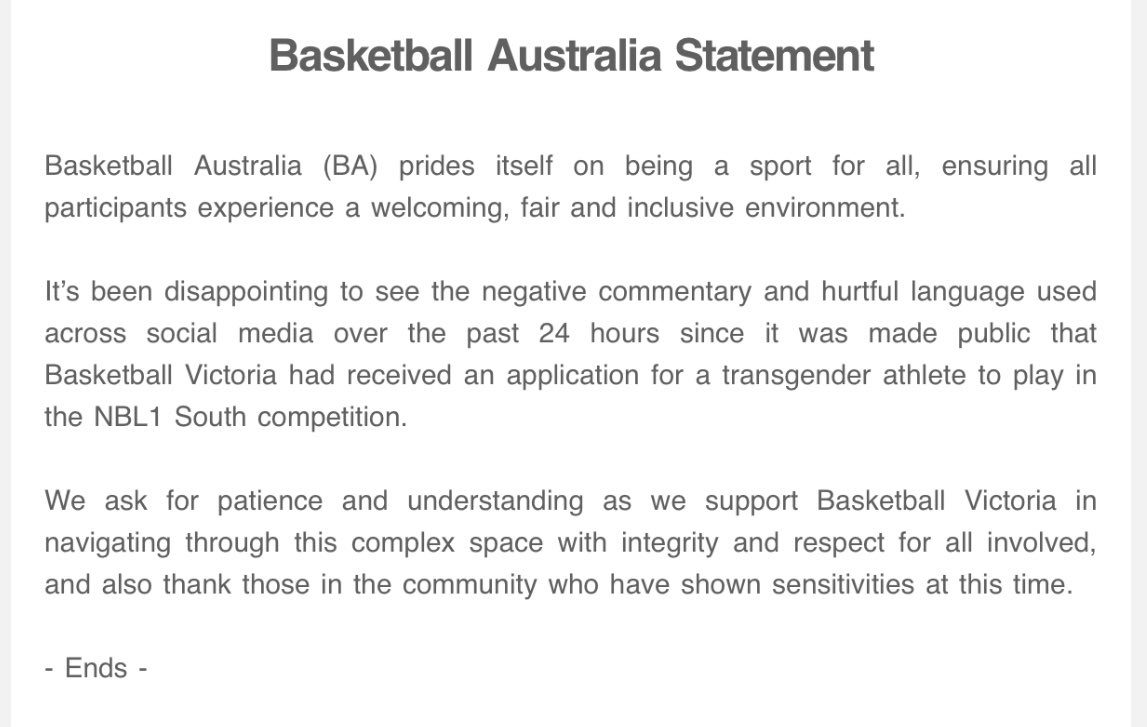 More to come.