With over eight billion people in the world, it's fairly likely you have a doppelganger somewhere out there and NBA players are no different.
Some of their look-alikes just happen to be celebrities, so we've compiled some of the best (and worst) ones doing the rounds.
You be the judge!
Steven Adams – Jason Momoa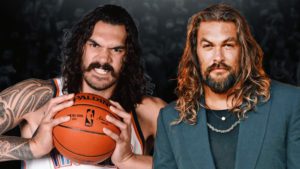 Grizzlies big man Steven Adams plays tough on the court but is actually a gentle giant who hails from New Zealand.
He's got long, dark, flowing locks which reminds us of a certain Aquaman and Game of Thrones actor, Jason Momoa.
Apparently we aren't the only ones who have noticed the similarities between the two, as Adams recalled a time when he got mistaken for the star in Croatia during an awkward run-in with a TMZer a while ago.
Reggie Jackson – Bobby Shmurda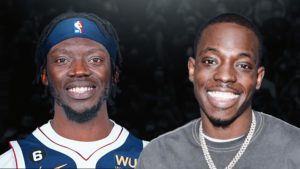 Fans on social media have been saying how much current Nuggets point guard Reggie Jackson and Bobby Shmurda look-alike for ages but it doesn't appear Bobby has quite the same handles as his basketball twin.
View this post on Instagram
Jackson has joked in the past that Bobby "always steals his flow" and NBA fans went wild in 2020 when Jackson did the Shmoney Dance after making a free throw.
Reggie Jackson hit the "Shmoney Dance" after fans started chanting "Bobby Shmurda" at him 😂💰 pic.twitter.com/MZ9pPSDNLD

— SportsCenter (@SportsCenter) January 30, 2020
Shmurda went to prison on drug charges and after he got out, many people noticed that Jackson started playing out of his mind! So maybe they are connected in more ways than they realize.
Reggie Jackson told me he's never met Bobby Shmurda before, but he's seen every single meme of them. Would love to meet him.

I'm not saying it should be our mission in life to have them finally meet, but literally nothing else is important in life.

— Farbod Esnaashari (@Farbod_E) April 11, 2022
Tobias Harris – J. Cole
There were plenty of conspiracy theories floating around that former Pistons player Tobias Harris and J Cole were the same person but the myth was debunked in 2016 when the pair met and provided photo evidence.
View this post on Instagram
That hasn't stopped people from marveling at their similarities and TNT even took it a step further when they asked Harris to recite Cole's lyrics postgame. Talk about awkward…
they really had Tobias Harris do the J. Cole thing on TNT loloololololol pic.twitter.com/loZDgVHzTo

— Rob Lopez (@r0bato) March 24, 2021
Gary Trent Jr. – The Weeknd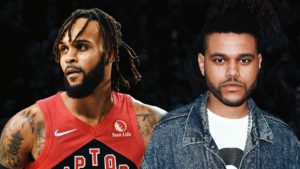 The dreadlocks, the brooding looks, the facial hair. Raptors shooting guard Gary Trent Jr. and The Weeknd share some undeniable resemblance.
Last season, The Weeknd even made a cameo on the Raptors bench, or was it Trent Jr?
Fred VanVleet – Drake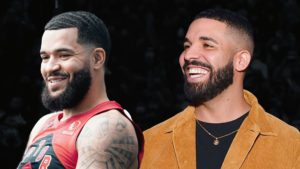 One of Trent Jr's teammates, Fred Van Vleet shares an uncanny resemblance to one of the most popular rappers of all time, Drake.
Drake is Canadian so he is obviously a big Toronto fan and since 2016 when FVV was drafted there, people have poked fun at their likeness, including themselves.
Drake has been known to post memes about it and the pair refer to one another as their twin.
Drake even made fun of Van Vleet's tan on a live NBA broadcast and when the Raptors shooting guard made the All-Star team last year, Drake and his son gave him their personal congratulations.
Tee Morant – Usher
Nothing more fun than the Playoffs 😎

📸 #NBAPlayoffs x Tee Morant & @Usher pic.twitter.com/GH4FClMs57

— NBA (@NBA) June 28, 2022
Ja Morant's dad, Tee Morant, sees himself as a cool dad. And he also happens to look a lot like Usher.
The two of them sat courtside in Game 5 of the 2022 playoffs wearing similar clothes which proved they could literally be twins.
Tee has caught a few strays lately following Ja's gun incident but it seems like no one can keep this man and his swag down.
Kent Bazemore – Chance the Rapper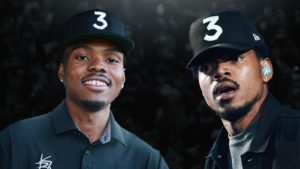 Veteran Kent Bazemore was last seen playing for the Lakers in 2022 but hasn't seen much NBA action this year, so maybe he can go on tour with Chance the Rapper?
The two look very much alike and people must have been telling Bazemore that because six years ago, he started wearing Chance's hat everywhere he went.
Ja Morant – Lil Nas X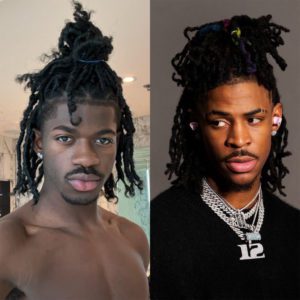 The side by side above of Grizzlies guard Ja Morant and singer Lil Nas X had the internet going wild and they were dubbed 'Lil Ja X'.
Despite leading the rockstar life, Lil Nas just recently adopted two cats, while Morant was cleared of committing a crime after flashing a gun on an Instagram live so despite looking similar, they clearly lead very different lives!
View this post on Instagram
Ja isn't expected to be back on the court for another few games so he's got time to take his horse to the old town road and chill the hell out.
Kevin Durant – Jamie Foxx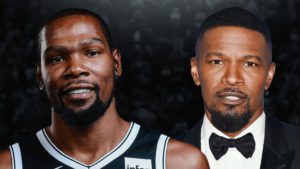 You could swear KD and Django Unchained actor Jamie Foxx were separated at birth.
The pair have hung out and Foxx hilariously recalled a time when the US Olympic Basketball team came to his house and KD was shooketh by some David Blaine magic.
Rob Pelinka – Rob Lowe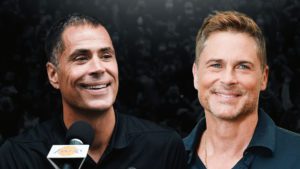 Their birth mother didn't even bother to give Rob Pelinka and Rob Lowe different first names.
Lakers GM Pelinka and seasoned actor Lowe looked the same when they were younger and now as they grow older, still the same person!
If Rob Pelinka doesn't take the Lakers GM job maybe @RobLowe would be interested. pic.twitter.com/NfirSSprBG

— Arash Markazi (@ArashMarkazi) February 21, 2017
Lakers owner Jeanie Buss makes fun of their uncanny likeness as much as she can by calling Lowe 'Pelinka' whenever she sees him.
Buss is such a big fan of Lowe that she even let him pretend to be Pelinka at a Lakers ticket holder season event and answer questions up on stage. Wild!