This year's projected number one NBA draft pick isn't happy with FIBA after they posted what he claims to be a "fake interview" of him.
On February 18, FIBA published an "exclusive interview" where 19-year-old Wembanyama spoke about playing for the French national team and the European qualifiers for the FIBA World Cup.
But Wembanyama claims the interview never actually took place and took to Instagram to let people know.
"4 days ago FIBA published a fake interview of me," Wembanyama wrote on his IG story. "Wtf???"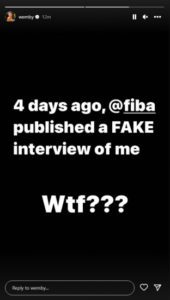 After seeing this, FIBA issued a statement apologizing and saying they had taken the story down. They claimed the interview "was provided to FIBA by a long-time French contributor" and they have "immediately terminated the relationship with the freelance reporter."
— FIBA Basketball World Cup (@FIBAWC) February 22, 2023
FIBA has since been gassing Wembanyama up on their socials today as he recorded 22 points, 17 rebounds, six blocks and four steals in the World Cup Qualifiers.
Nothing to see here…

Just @vicw_32 dropping back to back threes casually.#FIBAWC x #WinFoFrance pic.twitter.com/i01xkv4iSo

— FIBA Basketball World Cup (@FIBAWC) February 23, 2023