We've gotten through another trade deadline and what a wild ride it was. Some highly anticipated trades went down, some we expected and some we didn't.
Kevin Durant to Phoenix, Kyrie Irving to Dallas and Russell Westbrook to Utah were the headliners, but there were tons of deals made right before the deadline.
Read below as we briefly recap everything that went down:
SUNS RECEIVE: Kevin Durant and TJ Warren
NETS RECEIVE: Mikal Bridges, Cam Johnson, Jae Crowder (redirected) and four unprotected first-round picks (2023, 20225, 2027 and 2029), plus a pick swap in 2028
There were rumors the Suns were interested in Kevin Durant but for this to have actually happened?! CRAZY. The Nets lost two of their biggest stars in a matter of days.
Durant is earning $43 million this season with an incentive of about $1.1 million. He signed a four-year, $194 million extension in 2021 which kicked off this season and was signed when the Nets had the big three of KD, James Harden and Irving.
Fast forward to today and none of them are in Brooklyn.
Woke up to the @NBA simulator on one…. Kevin Durant to the SUNS 🫠
Gotta love a good plot twist ! Shout out to the script writers 🙏🙌😂

— Andre Drummond (@AndreDrummond) February 9, 2023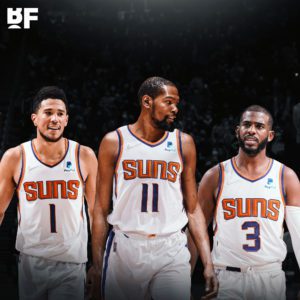 MAVERICKS RECEIVE: Kyrie Irving, Markieff Morris
NETS RECEIVE: Spencer Dinwiddie, Dorian Finney-Smith, a 2027 second-round pick, a 2029 first-round pick (unprotected) and a 2029 second-round pick
Irving had his fair share of dramas at the Nets so is turning a new leaf in Dallas. He played his first game for them against them in Wednesday's 110-104 win over the Clippers and recorded 24 points, four rebounds and five assists and safe to say Luka Doncic was thrilled.
All he could say to ESPN to describe Irving's debut was "amazing."
He only got one practice session in and it was his first time being traded in the middle of the season but he looked comfortable.
"That's how talented he is," Mavs coach Jason Kidd said of Irving. "He makes things look easy. He works on his craft. He's a pro, up for any challenge."
That boy good 😮‍💨@KyrieIrving // #MFFL pic.twitter.com/j7Q4jInFET

— Dallas Mavericks (@dallasmavs) February 9, 2023
JAZZ RECEIVE: Russell Westbrook, Damian Jones, Juan Toscano-Anderson, Lakers' 2027 first-round pick (protected 1-4)
TIMBERWOLVES RECEIVE: Mike Conley Jr., Nickeil Alexander-Walker, 2024 second-round pick, 2025 second-round pick, 2026 second-round pick
LAKERS RECEIVE: D'Angelo Russell, Jarred Vanderbilt, Malik Beasley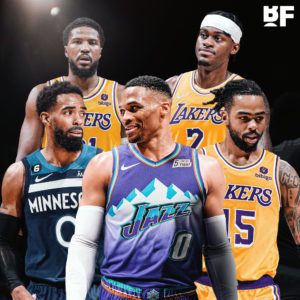 This was an absolutely huge trade – WOW! Lakers fans were dancing in the streets after learning about this one. Westbrook had issues with the coaching staff and playing his role, before he was moved to the bench. He also gave LeBron James more headaches than anyone.
The former MVP has secured a buyout and it's being reported that teams including the Heat, Bulls and Clippers are interested in him.
Never easy saying goodbye to your guys. Even tougher leaving the people in the community that helped make us feel at home from day 1. Woke up today counting my blessings! Grateful for the last few years and ready for the journey ahead. Minnesota, let's get it!! #RaisedbyWolves pic.twitter.com/dkG9Fww76n

— Mike Conley (@mconley11) February 9, 2023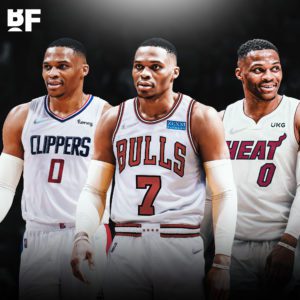 BUCKS RECEIVE: Jae Crowder
NETS RECEIVE: Two second-round picks
PACERS RECEIVE: George Hill, Serge Ibaka, Jordan Nwora, three second-round picks
The Suns are set – if you will. No more Jae Crowder taking up bench space and a future Hall of Famer with the best hessi pull up in the game incoming.
Crowder seems pretty happy with the move, as he played in college at Marquette University where he averaged 17.5 points and 8.4 rebounds in 2011-12 season and was an AP second-team All-America selection.
When he was in form and actually wanting to play, he helped the Suns to the 2021 NBA Finals.
414 BUCKSNATION X MUNATION ITS TIME TO WORK.!!! IM GLAD TO BE BACK HOME.!! 🙏🏾🙏🏾 https://t.co/B9703s4aMR

— JAE CROWDER (@CJC9BOSS) February 9, 2023
76ERS RECEIVE: Jalen McDaniels
HORNETS RECEIVE: Svi Mykhailiuk, second-round picks
BLAZERS RECEIVE: Matisse Thybulle
Portland will be bolstered by Matisse Thybulle's defensive ability and with Damian Lillard on scoring, that will be an exciting team.
While, 25-year-old McDaniels is an athletic wing in his fourth NBA season, averaging a career high in minutes (26.7), points (10.6) and steals (1.2).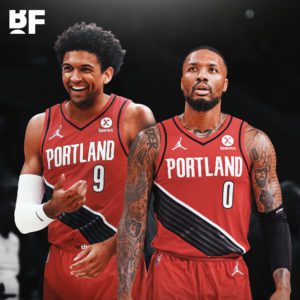 HAWKS RECEIVE: Saddiq Bey
PISTONS RECEIVE: James Wiseman
WARRIORS RECEIVE: Gary Payton II
BLAZERS GET: Five second-round picks
Warriors fans rejoice! GP2 is BACK! It was pretty clear the Warriors needed to move James Wiseman and bringing back a solid impact player off the bench who already knows the team well is a terrific move by Golden State.
They will also save roughly $7 million in luxury tax this year and $30 million in 2023-2024 after these trades.
Saddiq Bey is a good get for the Hawks as a straight shooting forward in his third NBA season. He can bounce off Trae Young and Dejounte Murray.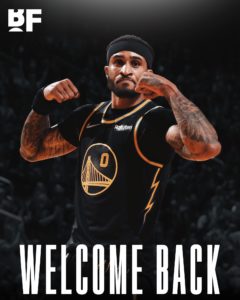 KNICKS RECEIVE: Josh Hart
BLAZERS RECEIVE: Cam Reddish, Svi Mykhailiuk, Ryan Arcidiacono, a 2023 first-round pick (lottery protected; if it doesn't convey, it turns into four second-rounders)
Poor Josh Hart found out he was being traded during the warm up with the Blazers. When Shams and Woj say it, it must be true.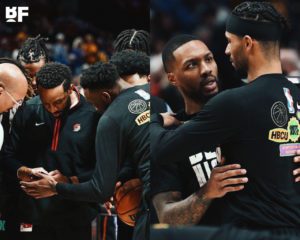 His former teammate Jalen Brunson was stoked to learn he would be reunited with Hart and Hart seems to be in good spirits about the trade following his latest tweet.
So when we doing dinner? @jalenbrunson1 @mikal_bridges

— Josh Hart (@joshhart) February 9, 2023
OTHER TRADES:
NUGGETS RECEIVE: Thomas Bryant
LAKERS RECEIVE: Davon Reed, three second-round picks
SUNS RECEIVE: Darius Bazley
THUNDER RECEIVE: Dario Saric, second-round pick
CLIPPERS RECEIVE: Mason Plumlee
HORNETS RECEIVE: Reggie Jackson
CLIPPERS RECEIVE: Eric Gordon, three second-round picks
ROCKETS RECEIVE: Danny Green, John Wall, first-round pick swap with Clippers
GRIZZLIES RECEIVE: Luke Kennard
SPURS RECEIVE: Devonte' Graham, four second-round picks
PELICANS RECEIVE: Josh Richardson
LAKERS RECEIVE: Mo Bamba
MAGIC RECEIVE: Patrick Beverley
CLIPPERS RECEIVE: Bones Hyland
NUGGETS RECEIVE: Two second-round picks
CELTICS RECEIVE: Mike Muscala
THUNDER RECEIVE: Justin Jackson, two second-round picks
RAPTORS RECEIVE: Jakob Poeltl
SPURS RECEIVE: Khem Birch, 2024 first-round pick, two second-round picks
KINGS RECEIVE: Kessler Edwards and cash
NETS RECEIVE: David Michineau
SPURS RECEIVE: Dewayne Dedmon and a 2028 second-round pick
HEAT RECEIVE: Cash
HAWKS RECEIVE: Garrison Mathews, Bruno Fernando
ROCKETS RECEIVE: Justin Holiday, Frank Kaminsky, two second-round picks
LAKERS RECEIVE: Rui Hachimura
WIZARDS RECEIVE: Kendrick Nunn, three second-round picks
Who's looking to rent a house in LA 👀

— Kendrick Nunn (@nunnbetter_) February 9, 2023