Vin Diesel made an unexpected cameo at the Lakers home game on the weekend. It's no surprise to see Hollywood stars courtside during Lakers games but his appearance showcased just how popular he is, even LeBron and AD took time to greet the Fast & Furious star.
family pic.twitter.com/0KGrCVcAQ1

— Grant Goldberg (@GrantGoldberg) November 21, 2022
The interesting part of all of this is days later, Vin Diesel posted to Instagram – sending a message about Brittney Griner – who has been in a Russian prison for the past 6 months.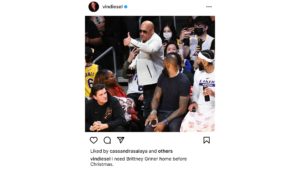 Who knows if this will help the situation at all but when Vin Diesel asks, you do.