The Philadelphia 76ers have experienced a staggering number of freak events over the years. At this point, their fans must be burning sage and praying to the basketball gods to reverse whatever form of witchcraft has been struck upon their team. Here is a glimpse of the carnage that has unfolded in Philly over the years:
THE ANDREW BYNUM FIASCO
After winning back-to-back championships as the Lakers' starting center, Andrew Bynum was traded to Philadelphia in 2012 and almost immediately injured his already fragile knee while bowling in the offseason (yes, actual ten-pin bowling).
He had planned to return around the All-Star break, but it was then discovered that his knees had begun to degenerate. Bynum underwent season-ending knee surgery as a result and left in the offseason to embark on a similarly disastrous stint in Cleveland. He never played a game for the Sixers, with his only memorable contributions in Philly being his hilarious range of haircuts.
SAM HINKIE'S EXCEEDINGLY STRANGE RESIGNATION LETTER
When Sam Hinkie called an end to his reign as 76ers general manager in 2016, he submitted one hell of a resignation letter. A 7,000 word monstrosity, the letter quoted everyone from Abraham Lincoln to Elon Musk, and even offered an analogy based on an extinct flightless bird.
Well, that's one way to quit your job.
MARKELLE FULTZ'S MUM INSTALLING CAMERAS IN HIS HOUSE
As if Markelle Fultz didn't have enough problems at the time, The Washington Post reported in 2018 that his mother, Ebony, had installed cameras in Fultz's house during his rookie season.
The report claimed she also asked some of Fultz's acquaintances to sign non-disclosure agreements, for reasons that remain unclear. "There's definitely crazy [expletive] going on with the mom and how involved she is and how overprotective she is," one source told The Post. "The best possible situation is if the mom just backs off for a period of time and gives him a chance to breathe."
Ebony refused to address the claims directly, simply saying she was looking out for her son's health.
PHILLY ARENA STAFF PREMATURELY DROP CONFETTI, SIXERS PROCEED TO LOSE
When Marco Belinelli hit what seemed to be the game-winning shot in Game 3 of Philadelphia's second-round matchup against Boston in 2018, the Sixers arena staff showered the court with confetti. The only problem was that Belinelli's foot was on the line, meaning he had tied the game rather than won it. Embarrassingly, the Sixers went on to lose in overtime.
The 76ers blasting confetti because they thought they won and then proceeding to lose in OT is an all-time classic pic.twitter.com/OoJjZwxJ1z

— Celtics Junkies (@Celtics_Junkies) June 23, 2020
THE BRYAN COLANGELO BURNER ACCOUNT SCANDAL
The 76ers had a PR disaster on their hands in 2018 when The Ringer published an investigation into Bryan Colangelo, the team's general manager and president of basketball operations at the time. The report claimed Colangelo had used up to five burner accounts to disparage his predecessor, Sam Hinkie, as well as numerous 76ers players including Joel Embiid and Jahlil Okafor.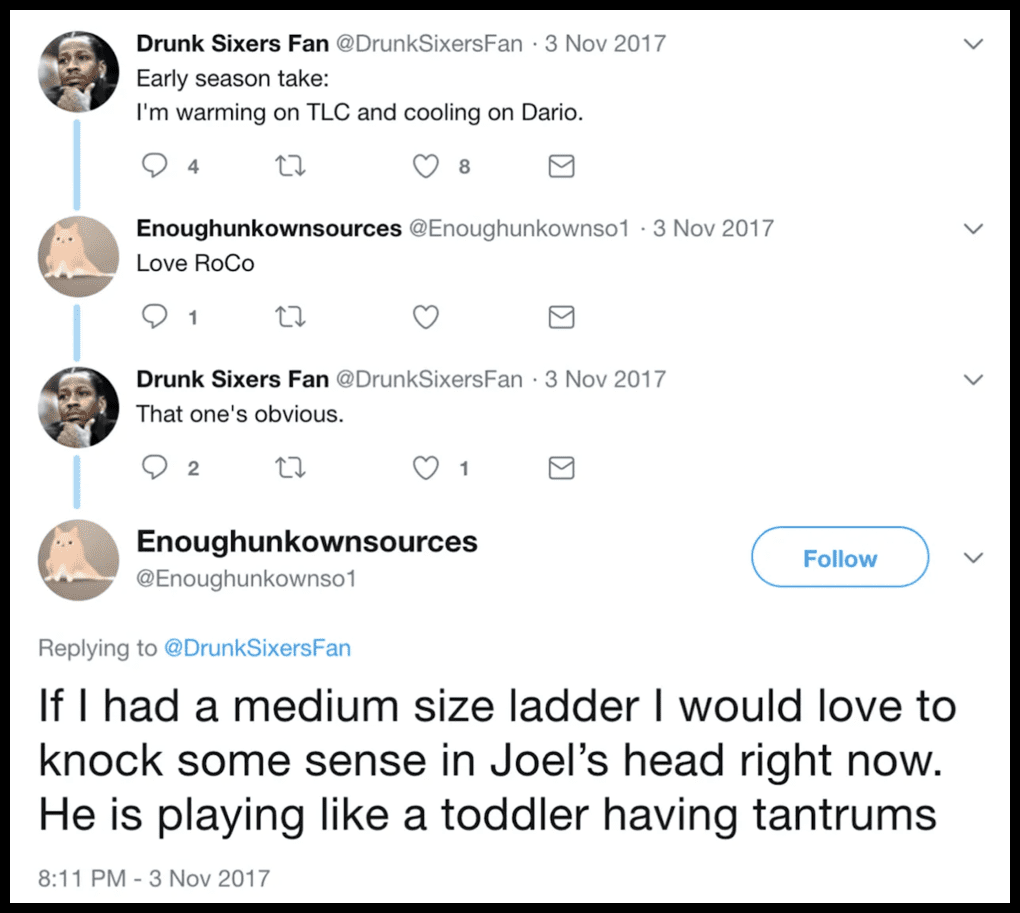 In the days that followed the bombshell, Colaneglo's wife admitted to making and operating some of the accounts. An investigation by an outside law firm concluded that Colangelo was the source of her information, while Colangelo himself denied that assertion.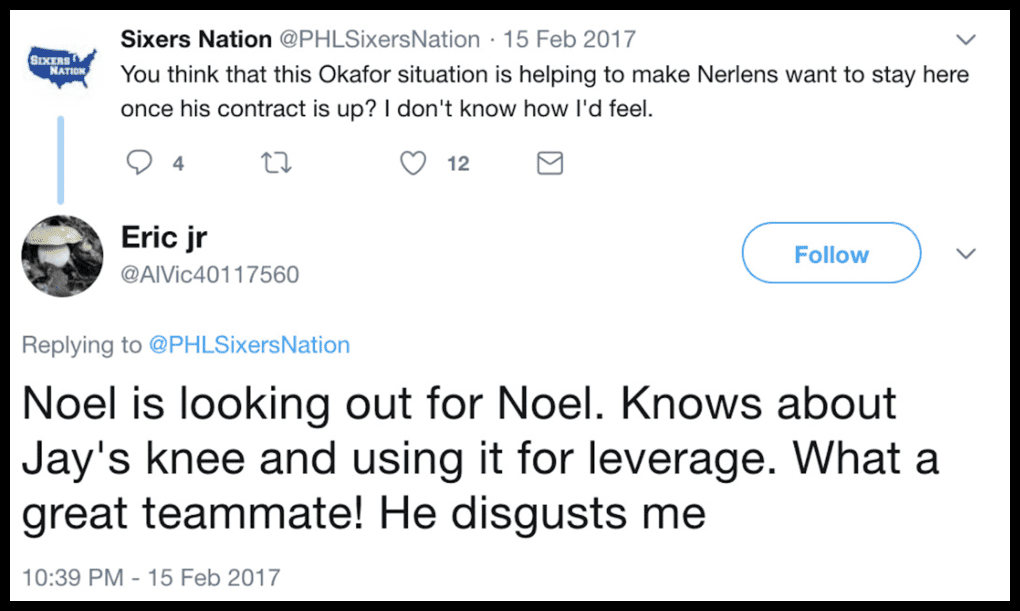 As well as criticising the team's players, the tweets also debated the decisions of Philadelphia's coaching staff, foreshadowed the team's trade for the No. 1 overall pick that became Markelle Fultz, and disclosed private medical information about Jahlil Oakfor.
The report contained enough burner account shenanigans to make Kevin Durant blush, and just over a week after it was published, Colangelo resigned.
KAWHI LEONARD BURIES SIXERS WITH GAME 7 BUZZER-BEATER
What's more devastating than a Game 7 winner at the buzzer? How about a Game 7 winner at the buzzer that bounces around the rim for so long that it seems to suspend time?
Pain.
THE NO.1 PICK CURSE
The Sixers had three number one picks in four seasons: Joel Embiid, Ben Simmons and Markelle Fultz. That alone is wild, but all three of those guys missing their entire rookie seasons was even crazier. Embiid missed his first two seasons, while the injuries that Simmons and Fultz suffered were just the beginning of an unfortunate series of events for each of them.
Fultz lost the ability to shoot thanks to a nerve injury, while Ben Simmons straight-up refused to shoot (and then refused to play at all after having a complete meltdown in the 2021 playoffs).
THE BROADER ROOKIE CURSE
It wasn't just Philly's number one picks who were prone to dropping like flies. Nerlens Noel, who the 76ers acquired in exchange for Jrue Holiday, also missed his entire rookie season, although Philadelphia did at least know he had a torn ACL when they drafted him.
Zhaire Smith, the 16th pick in the 2018 NBA Draft, broke his foot right after becoming a 76er. Then a life-threatening allergic reaction completely derailed his recovery, and his career. To make matters worse, the Sixers had traded Mikal Bridges to get him.
Jahlil Okafor, another high draft pick who never worked out, played in just 56 percent of all possible games with the 76ers. He was lucky not to be injured further when he got into a street fight with a taunting fan. He also had a gun pointed at his head following a heated exchange at a club, and on another occasion, was caught driving at 108 mph in a 40 zone.
Michael Carter-Williams got through his first couple of years relatively healthy and even won Rookie of the Year. But that would prove to be the high-point of his career. He was traded away after a year and a half in Philadelphia, averaged 6.3 points per game on 38 percent shooting over the last five years of his career, established himself as the undisputed king of missing layups, and is currently out of the league.
Evan Turner was another high pick whose career never took off. Drafted second overall in 2010, he averaged 9.7 points per game on 43 percent shooting over his career. Turner was drafted second overall by Philadelphia in 2010, and they traded him for Danny Granger (who they bought out) and a second-round pick.
JAMES HARDEN CONFIRMS PHILLY CAN NEVER HAVE NICE THINGS
Philly turning a disgruntled Ben Simmons into James Harden should have been a monumental win. Harden had previously established himself as one of the most devastating scorers of all-time , dominating the league with 36 points per game as recently as 2019.
But he showed up to Philadelphia out of shape and barely managed 20 points per game in Philly, or 40 percent shooting for that matter. And so, Sixers fans had to wait at least one more year for their horrendous luck to turn around.