Jayson Tatum is fortunate to have a life-changing amount of athletic talent, but he certainly didn't have it easy when he was younger.
Growing up in St. Louis, Missouri, it was just Tatum and his mother, Brandy Cole, doing their best to get by. Cole considered herself fortunate to have her own home, but life was still a struggle.
"It was tough, we had a lot of tough times living here," Tatum told Sage Steele on ESPN. "I remember the nights we wouldn't have anything to eat. But two doors down, a neighbour named Donna, she fed us many a night."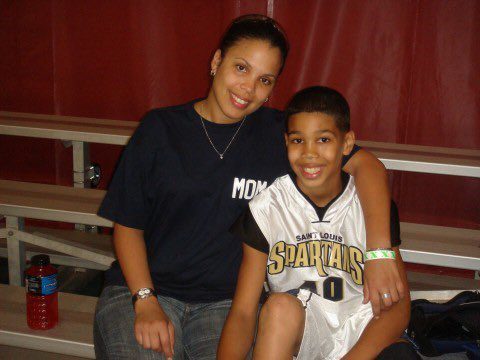 Cole didn't have enough money to furnish her home. She and Tatum had to sleep in the same bed for years. Outside the house, they had a blue tarp over half the roof because there was no money to get it fixed. There were other times when they thought they wouldn't have a home at all.
"I remember coming home and there being a pink eviction notice on the house and my mum crying the whole night," Tatum told Steele.
But Cole always managed to work her way out of tight spots. On this occasion, she applied for a loan modification and kept the house. But working hard all day and night to pay the bills and get her degree came at a price.
"There were many nights I'd come home and he'd already be sleeping," Cole told ESPN. "It was really tough, but it was what I felt like I had to do for both of us … I remember one day my mum called and told me Jayson crawled for the first time. I just broke down and cried."
All these years later, Tatum recognises the sacrifices his mother made and could not be more grateful, and she could not be more proud.
READ MORE: NBA Finals Ticket Prices Are Absolutely Eye-Watering