It's no secret that LeBron James wants to finish his career playing alongside his son. He even reiterated his desire to do so after watching Bronny play at the arena formerly known as Staples Center last month.
The potential for LeBron and Bronny to become teammates has attracted a huge amount of interest for quite some time now, and that interest has only continued to increase as Bronny gets older and improves his game.
So, let's answer all the most frequently asked questions about Bronny's NBA future.
WHEN CAN BRONNY ENTER THE DRAFT?
Bronny will graduate high school at the end of the 2022-23 season. Current rules require him to play one additional season (outside of the NBA) after that, either collegiately or professionally, before he will be old enough to declare for the draft in 2024.
WHAT IS LEBRON'S CONTRACTUAL SITUATION?
James will become an unrestricted free agent at the end of the 2022-23 season. When he signed that deal, it appeared the "one and done" rule might be abolished by the time Bronny graduated high school, meaning James Jr. could head straight to the NBA in 2023 without having to spend a year in college, the G-League or overseas.
However, talks have since stalled and may not resume until 2025, according to ESPN's Adrian Wojnarowski. That means LeBron will likely sign a one-year deal for the 2023-24 season to realign his free agency with his son's NBA eligibility.
IS BRONNY GOOD ENOUGH TO MAKE AN IMPACT IN THE NBA?
He at least has a chance. Bronny didn't play huge minutes in his freshman year of high school and missed time with injury as a sophomore. That has placed a lot of importance on his junior and senior seasons, which should reveal a lot more about his trajectory. James Jr. passes the ball well, has good vision and reads the game with relative ease. He has a smooth shot and is cool under pressure, which is of course key for someone under the brightest of spotlights.
It will be interesting to see how much more he grows physically. Sprouting up to 6'6" or so would be a difference maker for the youngster, who currently stands at 6'3" but only turned 17 in October.
HOW OLD WILL LEBRON BE WHEN BRONNY ENTERS THE NBA?
When Bronny plays his first NBA game in October 2024, LeBron will be 39 years old and just two months from his 40th birthday.
IS BRONNY MORE LIKELY TO BE DRAFTED BY A REBUILDING TEAM OR A CONTENDER?
If Bronny goes late in the first round, as NBA Draft Room predicts, he will likely be selected by a contender. A rebuilding team would only be able to draft him late in the first round with a pick they received from a contender. But if his stock dips slightly and he's selected early in the second-round, it will likely be a rebuilding team that picks him.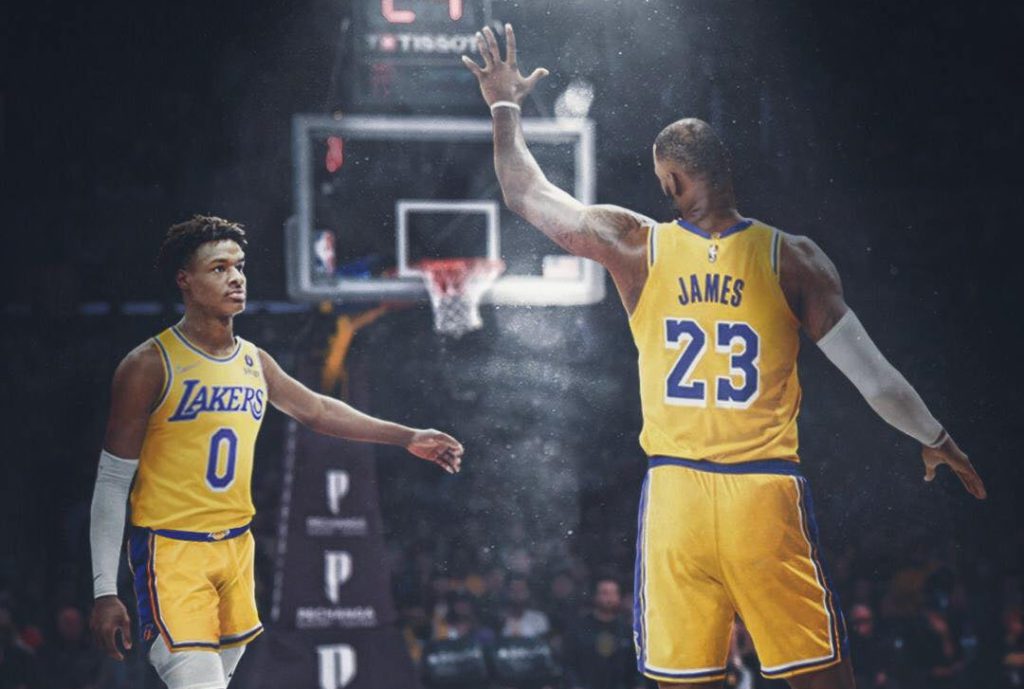 Something else to watch will be whether Bronny is drafted significantly earlier than he would if he wasn't a member of basketball's royal family with direct ties to the greatest player of this generation and possibly all-time. Will teams be willing to bank on LeBron following Bronny to whichever team drafts him?
WHERE WILL BRONNY PLAY BETWEEN FINISHING HIGH SCHOOL AND GETTING DRAFTED?
That remains to be seen, but he reportedly has offers from Kentucky, Duke, North Carolina and Kansas, according to ESPN and 247Sports. ESPN also has UCLA on its list.
However, alternative pathways to the NBA are becoming increasingly popular. Recent lottery picks Jalen Green and Jonathan Kuminga are among those to bypass college in favour of the G-League, while LaMelo Ball and Josh Giddey opted to hone their skills in Australia. Those decisions, made by such high profile players, are bound to make future prospects like Bronny at least consider the alternatives to college.