Standing at 7-foot-3 in shoes with a tremendous skill set and NBA potential, 19-year-old Kai Sotto had reached celebrity status in his native Philippines well before signing his first professional contract. Ever since his early teenage years, Sotto was earmarked for stardom by a basketball-mad country dying to see one of their own make it big.
The hysteria surrounding Sotto reached fever pitch when he put up video game numbers at the 2018 FIBA Under-16 Asian Championship, erupting for 28 points, 21 rebounds and three blocks in the quarterfinal and backing it up with 26 points, 21 rebounds and six blocks in the semifinal.
A lot of pressure comes with being the most promising homegrown prospect from a proud basketball nation boasting some of the most rabid fans in the world. But Sotto says he is no longer affected by the weight of expectations.
"It all started when I was about 14, so I've had a long time to get used to all the attention and I've reached a point where it doesn't bother me anymore," Sotto told Basketball Forever. "Instead of worrying about pressure, I just look at all the people who are supporting me back in the Philippines. It just gives me extra fuel, extra energy to keep pushing.
"I'm really big on representing my country in every way that I can, including playing for the national team, which has been one of the best experiences I've ever had in basketball. I just want to make everyone back home proud."
Sotto, whose father Ervin also played professionally, has long intrigued coaches and scouts around the world. When his brief stint with the NBA's G League Ignite program ended earlier this year due to national team commitments and pandemic-related travel complications, it was the Adelaide 36ers of Australia's NBL that secured him on a multi-year deal.
A longstanding relationship between 36ers general manager Jeff Van Groningen and Sotto's agent Joel Bell was the catalyst for the move, and the 19-year-old says Josh Giddey's rapid transition from 36ers rookie to NBA difference-maker was a major tick for the organisation in his eyes.
"Seeing what Josh Giddey did and knowing that he came from the 36ers and then went to the NBA, that was big," Sotto said. "It gave me confidence that I could do the same thing."
The idea of Sotto replicating Giddey's success may seem ambitious to some, but Van Groningen doesn't believe it's a stretch at all.
"It was pointed out to me that when we first recruited Josh, some mock drafts had him going 55th, and of course he ended up going sixth," Van Groningen said. "So you never know what the year entails and what the draft will look like for that matter. Things can change so quickly and whether Kai starts showing rapid improvement in six months or 36 months, I'm convinced that at some point, we will see that happen."
Regardless of how good Sotto can become down the road, Adelaide head coach CJ Bruton is sure of one thing: his new recruit is more than capable of making an impact in the NBL right now. Bruton, an Australian basketball legend who won six NBL championships as a player, has been keeping tabs on Sotto for years. He even tried to recruit Sotto to the Brisbane Bullets during his time there as an assistant. Almost in disbelief when he landed his first head coaching job at the same club that won the Sotto sweepstakes, Bruton is itching to unleash the burgeoning young talent.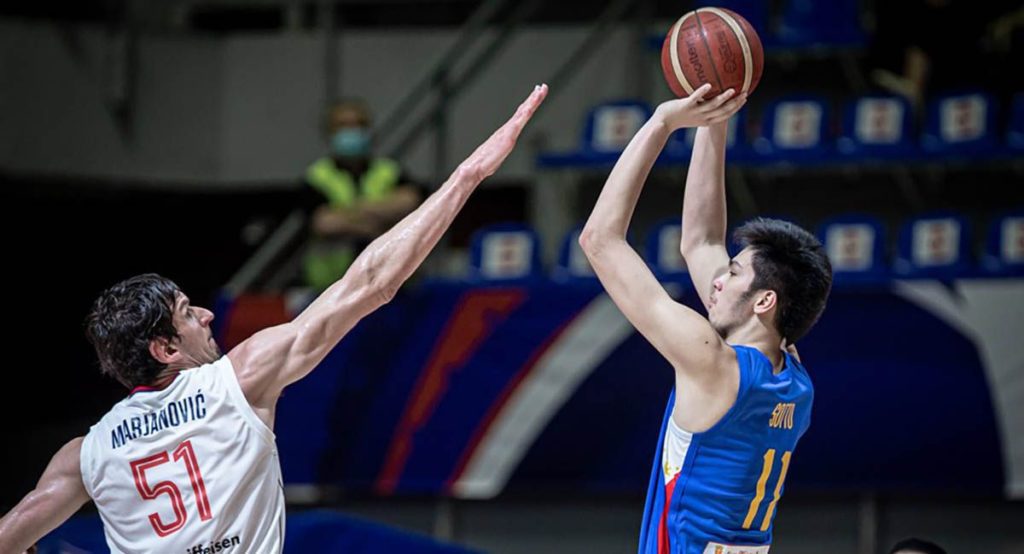 "I definitely think he can excel on both sides of the ball, and rather than pigeonholing him under the rim because of his size, we want to allow him to showcase and develop all the different parts of his game," Bruton said. "He can pass the ball, stretch the floor and do a lot of different things.
"Players like him don't come this way too often. They're either straight on to NBA or they get snapped up by the top European teams. We're lucky to have him."
Sotto's combination of size and shooting ability has drawn comparisons to Kristaps Porzingis, but the teenager believes his ability to see the floor and pass the ball makes his playing style more like that of Nikola Jokic and his childhood hero, Pau Gasol.
Like most rookies, he needs to get stronger and says that has been one of his top priorities, along with improving his speed and agility. Sotto will also need time to adjust to the pros on defence, but he has shown flashes at that end of the floor thanks to his size and instincts.
"He's always changing shots," Bruton said. "Even when he doesn't have a whole lot of blocks, it feels like he has changed 15 or 20 of them. If you drive too deep against him, he's playing volleyball, just spiking the ball out of there."
Sotto's most pressing short-term task is shaking off the knee soreness that sidelined him for the first four games of the season, and he'll look to put that in the rearview mirror when he makes his debut against the Cairns Taipans on Saturday.
But in the long-term, he has some major big-picture aspirations. When asked what his biggest dream is, Sotto didn't offer the expected response of making the NBA, even though that is very much in his plans. Instead, what first sprang to mind were all the ways he could inspire his homeland.
"The ultimate goal for me is to create a pathway from the Philippines, to help players back home see that they can make it to the big leagues too," Sotto said. "There's no reason why more Filipino players can't play in the NBL and the NBA. All it takes is one person to show that it's possible."
With the spotlight bearing down, it's safe to say Sotto well and truly has the attention of everyone back home. What he does with it is up to him.