Since winning the Rookie of the Year award in 2021 LaMelo Ball has become a must watch, his highlight reel plays surely have him on the cusp of becoming a first time All-Star.
Together with Myles Bridges, he has the Hornetts in 8th in the Eastern Conference as they try to get back to the playoffs for the first time since 2016.
Since his rookie year, LeMelo has continued to grow as a player, improving across the board. In 24 games this season he is averaging 20 points (up from 15.7), 8.3 assists (up from 6.1) and 7.7 rebounds (up from 5.5).
LeMelo's connection with Australian basketball runs deep. Not only did he cut his teeth with the Illawarra Hawks, winning NBL rookie of the year, he is also forever linked with both LeBron James and Australia's own Josh Giddy as the only teenagers to rack up 100 assists and 100 rebounds in their first 20 games.
We've never seen anything like LaMelo Ball. With a blend of skill, size and talent, no one comes close. He's a singular force on the hardwood, with dunks that defy gravity and handles straight out of sci-fi.
That's why his first signature PUMA Hoops shoe, the MB.01, looks and performs like nothing else out there. A cosmic colorway comes together with space-age PUMA Hoops tech, like Nitro Foam and specially engineered knit, to make for a pair of kicks that are impossible to imitate.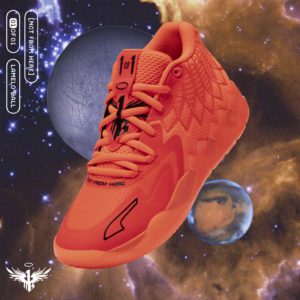 Cushioning
Nitro Foam throughout midsole for superior responsiveness and comfort, while remaining lightweight – perfect for high-energy, explosive playstyles.
Grip
Full coverage engineered traction with non-slip rubber compound for enhanced durability and traction that's ideal for quick cuts and spot up jumpers.
Fit
Disruptive upper construction made with breathable monomesh for a supportive but ultra-lightweight feel.
Get Yours Now
PUMA MB.01 is available via EQL raffle.  Blast off fast if you want a shot at getting a pair of your own.
Enter the draw to purchase the MENS PUMA M.B. 1 RED BLAST/FIRE RED
The draw opens on 14 Dec 2021, 10:00 and closes on 16 Dec 2021, 09:59 AEDT.
Winners will be randomly selected and notified within 48 hours of the draw closing.
Link: https://launch.footlocker.com.au/en-GB/launch/mens-puma-mb-1-red-blast-fire-red-au/