LaMarcus Aldridge's sudden retirement due to an irregular heartbeat stunned the basketball world on Thursday, but no one in NBA circles felt it more than his long-time former teammates.
Damian Lillard immediately took to social media with the following message:
"Health and family will always come before a game. Amazing career bro! Prayers up!"
He then went on Jalen & Jacoby right after the announcement to call on the Trail Blazers to retire Aldridge's jersey.
Blazers star @Dame_Lillard joined @JalenRose and @djacoby as the LaMarcus Aldridge retirement news broke, and immediately asked Portland to RETIRE #12 👀 pic.twitter.com/jtkPSCzdR3

— Jalen & Jacoby (@JalenandJacoby) April 15, 2021
"It's time, man. It's time for the Blazers to retire No. 12, man," Lillard said.
"He had an amazing career in a Trail Blazers uniform. I think everyone was expecting him to return, and he ended up leaving and people felt some type of way about it, but there's denying the kind of career he had in Portland and what he meant to this city.
"So I think that's the proper respect to retire that jersey, because of who he was and what he did for this organization."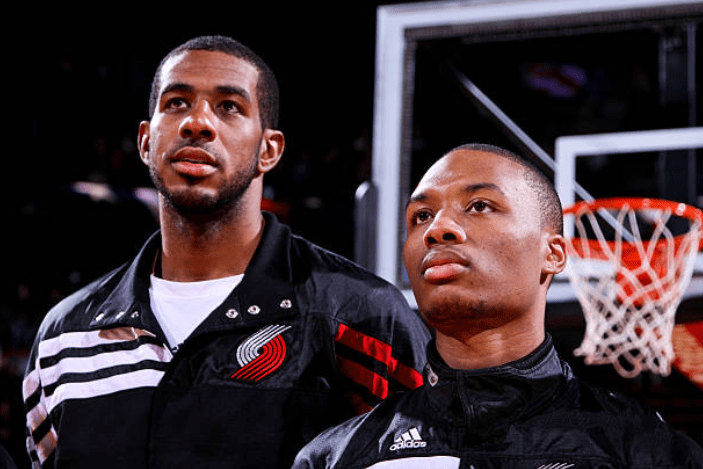 Aldridge, a seven-time All-Star, played nine seasons for the Blazers.
He is the franchise's all-time leading rebounder and is third in scoring behind only Clyde Drexler and Lillard.
Aldridge made his shock announcement earlier today, when he revealed he played his final game with an irregular heartbeat. He says he is better now but has decided retirement is the best option for his ongoing health.
"For 15 years, I've put basketball first, and now, it is time to put my health and family first."
"…You never know when something will come to an end, so make sure you enjoy it every day. I can truly say I did just that."