Ah yes, the NBA trade deadline, when everyone in the league changes teams and everyone in our office consumes a medically unadvisable amount of coffee.
Despite talk of a potentially quiet trade period this year, there was no shortage of fireworks when the deadline got close.
Let's jump straight into a quick-hitting rundown of everything that went down with our updated recap below.
SIGNINGS
Lakers get: Andre Drummond 
Imagine the feeling of landing on the Lakers after years playing for the Pistons and Cavs (not to mention living in Detroit and Cleveland).
Andre Drummond, the man who crawled through a river of s**t and came out clean on the other side.
Nets get: LaMarcus Aldridge
I was 100% joking when I posted this in the wake of Blake Griffin joining Brooklyn: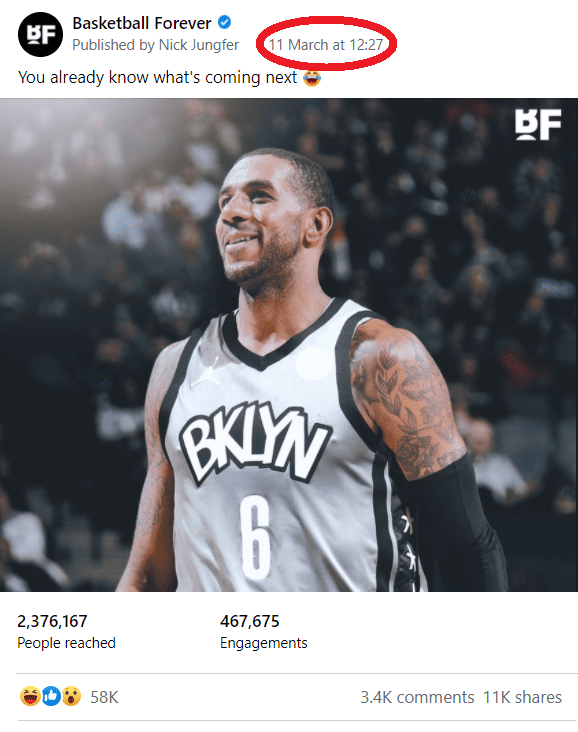 And LaMarcus went ahead and actually did it 💀
READ MORE: NBA Players React To Trade Deadline Madness
Bucks get: Austin Rivers (probably) 
The Bucks are reportedly leading the race to sign Austin Rivers (it's not a big race).
Spurs get: Gorgui Dieng
TRADES
Heat get: Victor Oladipo
Rockets get: Avery Bradley, Kelly Olynyk, pick swap
It really is incredible that Miami didn't give up Tyler Herro or Duncan Robinson, with everyone assuming they would have to part with one or the other in their pursuit of Oladipo. Evil genius Pat Riley does it again.
Nuggets get: Aaron Gordon, Gary Clark
Magic get: Gary Harris, RJ Hampton, first-round pick (2025)
To get Aaron Gordon, all the Nuggets gave up was a late first-round pick they couldn't find any court time for, a future pick way down the road, and an overpaid Gary Harris. Not a bad day's work for Denver's front office.
Trail Blazers get: Norman Powell
Raptors get: Gary Trent Jr., Rodney Hood
Fun fact: Norman Powell is averaging just under 20 points in 30 minutes per game, while shooting 44 percent from long range. And over his past 10 games he's putting up 26 points per game on 45 percent from deep.
Celtics get: Evan Fournier
Magic get: Jeff Teague, two second-round picks
Much like someone who finally escaped a long and miserable marriage, Evan Fournier finally gets to live a little after seven long years in Orlando.
Bulls get: Nikola Vucevic, Al-Farouq Aminu
Magic get: Wendell Carter Jr., Otto Porter Jr, two first-round picks
Nikola Vucevic escapes the eternally mediocre Magic, only to find himself at another historically mismanaged organisation. At least Orlando has nice weather.
The Bulls now have two players in Zach Lavine and Vucevic or can score the ball like crazy (three if you want to include Lauri Markkanen) but at 30 years of age, he doesn't exactly fit this young team's timeline.
Clippers get: Rajon Rondo
Hawks get: Lou Williams, two second-round picks, cash
Rajon Rondo's trade-fuelled quest to play for every team in the league continues. Meanwhile, the Battle of LA just got a little spicier (assuming that the Clippers can actually survive long enough in the playoffs to face the Lakers this time).
MORE TRADES
Heat get: Nemanja Bjelica
Kings get: Mo Harkless, Chris Silva
76ers get: George Hill, Ignas Brazdeikis
Knicks get: Terrance Ferguson
Thunder get: Tony Bradley, Austin Rivers, two second-round picks (2025 and 2026)
Nuggets get: JaVale McGee
Cavaliers get: Isaiah Hartenstein, two second-round picks
Kings get: Mfiondu Kabengele
Clippers get: Future second-round pick
Mavericks get: J.J. Redick, Nicolo Melli
Pelicans get: James Johnson, Wesley Iwundu, 2021 second-round pick
Hornets get: Brad Wanamaker
Warriors get: Cash
Kings get: Terence Davis
Raptors get: Future second-round pick
Jazz get: Matt Thomas
Raptors get: Future second-round pick
Bulls get: Troy Brown Jr., Daniel Theis
Wizards get: Chandler Hutchison, Daniel Gafford
Celtics get: Moritz Wagner, Luke Kornet
Spurs get: Marquese Chriss
Warriors get: Cady Lalanne
Kings get: Delon Wright
Pistons get: Cory Joseph, 2021 second-round pick, 2024 second-round pick
PLAYER WAIVINGS
Terrance Ferguson (Knicks) 
Ferguson started every game for the Thunder two years ago and two thirds of them last season. But so far it's all been downhill since he was shipped out of OKC.
Meyers Leonard (Thunder) 
Leonard has immediately transitioned from starting almost every regular season game he played for the Finals-bound Heat to being unwanted across the league largely for PR reasons.
Jeff Teague (Magic) 
Imagine not being wanted by the Magic. 
Jabari Parker (Kings) 
Marquese Chriss (Spurs)