The Miami Heat weren't meant to be this good. Not yet, and not with only one superstar. Pair Jimmy with Giannis and then we'll talk, or so went the main school of thought.
But this team had no interest in waiting, especially when they could already smell blood in the water. After missing the playoffs entirely last season, Miami is now 8-1 in the postseason and just four wins away from the NBA Finals.
That's especially wild considering just last season the Heat had no cap space to speak of (they had $51.5 million tied up in Hassan Whiteside, James Johnson and Dion Waiters alone).
And while a lack of cap space usually means teams have to rebuild through the draft, the Heat transformed their roster without a single top-10 pick. Here's how Pat Riley and co. masterfully rebuilt the Miami Heat empire, piece by piece:
BAM ADEBAYO
DRAFTED 14TH OVERALL (JUNE, 2017)
Thanks to the Heat, Bam Adebayo was drafted significantly earlier than many had predicted. Sports Illustrated had the Kentucky big man pegged as the 23rd pick and SB Nation left him out of their entire first-round mock draft altogether.
But Miami didn't draft Adebayo a moment too soon. In fact, if you were to re-do that draft, he would have to be the third pick behind Jayson Tatum and Donovan Mitchell.
DUNCAN ROBINSON
SIGNED AS AN UNDRAFTED FREE AGENT (JULY, 2018)
In college, Duncan Robinson went from Divison III to playing for Michigan in the national championship game. But even when his stunning run with the Wolverines came to a close, his Cinderella run was just getting started. After going undrafted in 2018, he signed a Summer League contract with the Heat and averaged 12.4 points per game on 62.9 percent three-point shooting in Vegas.
From there, Duncan signed a two-way contract with Miami and when the Heat began the season with four injured players, Robinson unexpectedly found himself on the opening night roster. He averaged just 3.3 points in 15 games as a rookie but returned this season with an almighty vengeance, putting up 13.5 points per game on 44.6 percent three-point shooting.
Robinson attempted more threes (606) than anyone in the league other than Damian Lillard and James Harden, and yet his 44.6 percent shooting from downtown was the third-best in the league among players to attempt at least four threes per game.
This season he also set franchise records for three-pointers made in a quarter and in a half, while tying the franchise record for threes made in a game, dropping seven of them on Indiana in Game 2 of the first round and only missing one in the process.
KENDRICK NUNN
SIGNED AS AN UNDRAFTED FREE AGENT (APRIL, 2019)
The Heat took a flyer on Kendrick Nunn last year after he was let go by the Warriors without playing a game. He made an immediate impression with a 40-point explosion against the Rockets in the preseason and was quickly inserted into the injury-ravaged Heat's starting lineup.
Nunn then scored 22.4 points per game on 52 percent shooting across his first five games, while also holding his own defensively. He held onto his starting spot throughout the regular season, even when Miami's wounded soldiers started getting healthy again.
Much like Duncan Robinson, Nunn may never have had the chance to shine if it wasn't for the team's slew of injuries, which ultimately proved to be one of the best things to happen to the Heat all season.
TYLER HERRO
DRAFTED 13TH OVERALL (JUNE, 2019)
Tyler Herro is as ballsy as they come. He bet on himself when he braved intense backlash to attend Kentucky instead of his hometown college Wisconsin, and he bets on himself every night he steps on the NBA hardwood to take and make big-time shots.
Like most rookies, Herro is no ace on defence. But his offensive numbers in the playoffs are better than ever, scoring 14.7 points per game on 40 percent three-point shooting.
The Conference Finals is usually no place for a rookie, and Miami's upcoming series against Boston will be the greatest test of his basketball life. Passing it would only add to the legend that surrounds this remarkable young talent.
JIMMY BUTLER
ACQUIRED VIA SIGN AND TRADE (JULY, 2019)
HEAT RECEIVE: JIMMY BUTLER, MEYERS LEONARD
HEAT GIVE UP: JOSH RICHARDSON, HASSAN WHITESIDE, PROTECTED FIRST ROUND PICK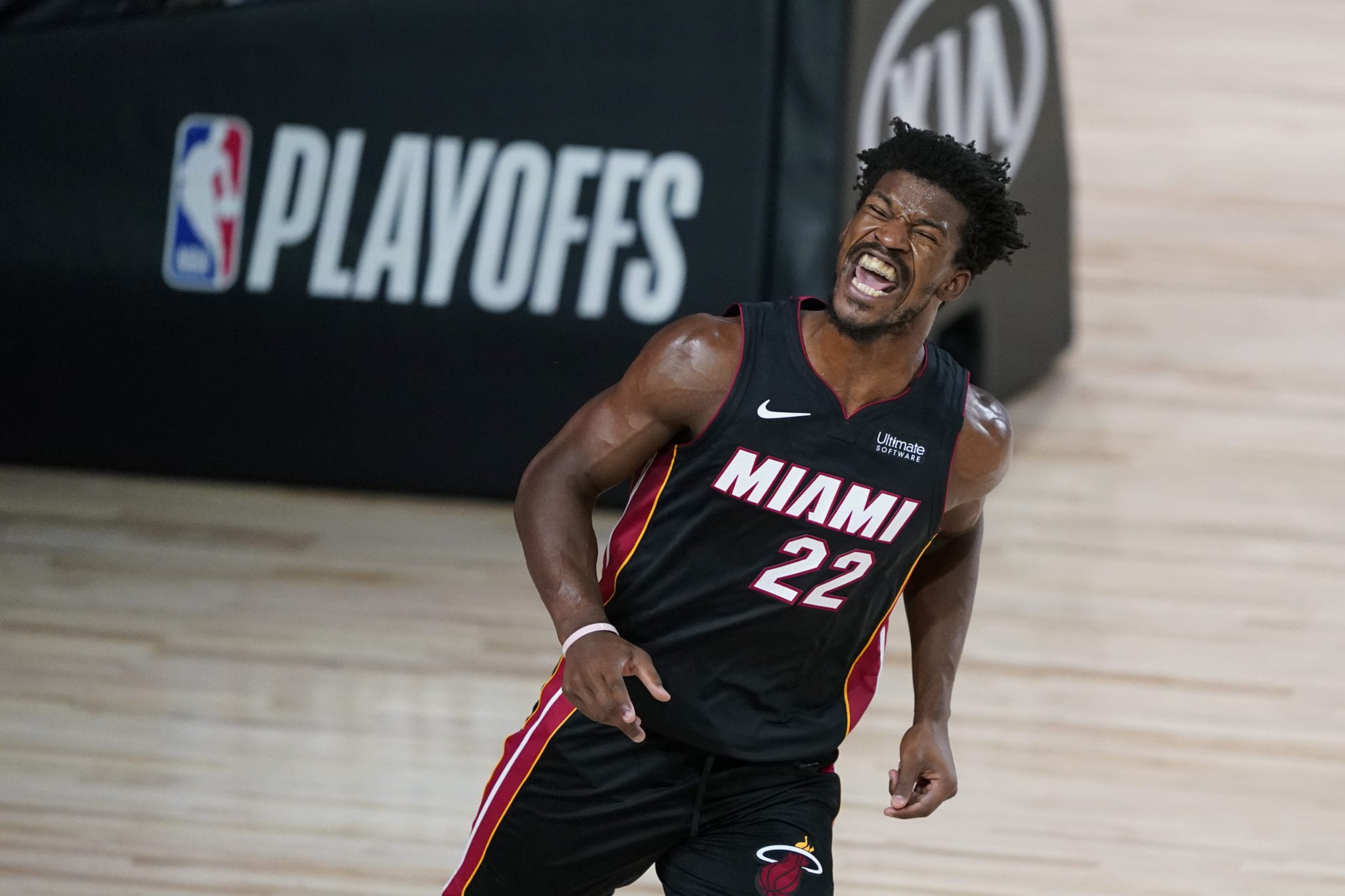 The Miami Heat culture we always hear about is a real thing, and it got even more real when genuine alpha Jimmy Butler signed there. Butler brings the edge – and the superstar talent – that this team needs.
There's no taking plays off when you're on Butler's team, and his intense mindset permeates the rest of the team. You can see it on the court as the Heat outwork their opponents on a nightly basis.
In Butler, the Heat found the perfect match, and they really only had to give up Josh Richardson to get him.
Side note: the one concern about Butler's game this season was his horrid 24.4 percent three-point shooting. But guess what? He's shooting 50 percent in the playoffs on just as many attempts.
Of course, this is a much smaller sample size, but if Butler can even come close to maintaining his current playoff hit rate, he's going to be extremely difficult to stop.
JAE CROWDER
ACQUIRED VIA TRADE (FEBRUARY, 2020)
HEAT RECEIVE: JAE CROWDER, ANDRE IGUODALA, SOLOMON HILL
HEAT GIVE UP: JUSTISE WINSLOW, DION WAITERS, JAMES JOHNSON
The Heat had the 12th best defence in the regular season but are ranked fourth in the playoffs, and mid-season acquisition Jae Crowder is a big reason why.
Crowder also hit 43.1 percent of his threes in Miami's second-round series against the Bucks and has looked increasingly comfortable in the Heat's offence now that he has at least been around long enough to unpack his bags.
ANDRE IGUODALA
ACQUIRED VIA TRADE (FEBRUARY, 2020)
HEAT RECEIVE: ANDRE IGUODALA, JAE CROWDER, SOLOMON HILL
HEAT GIVE UP: JUSTISE WINSLOW, DION WAITERS, JAMES JOHNSON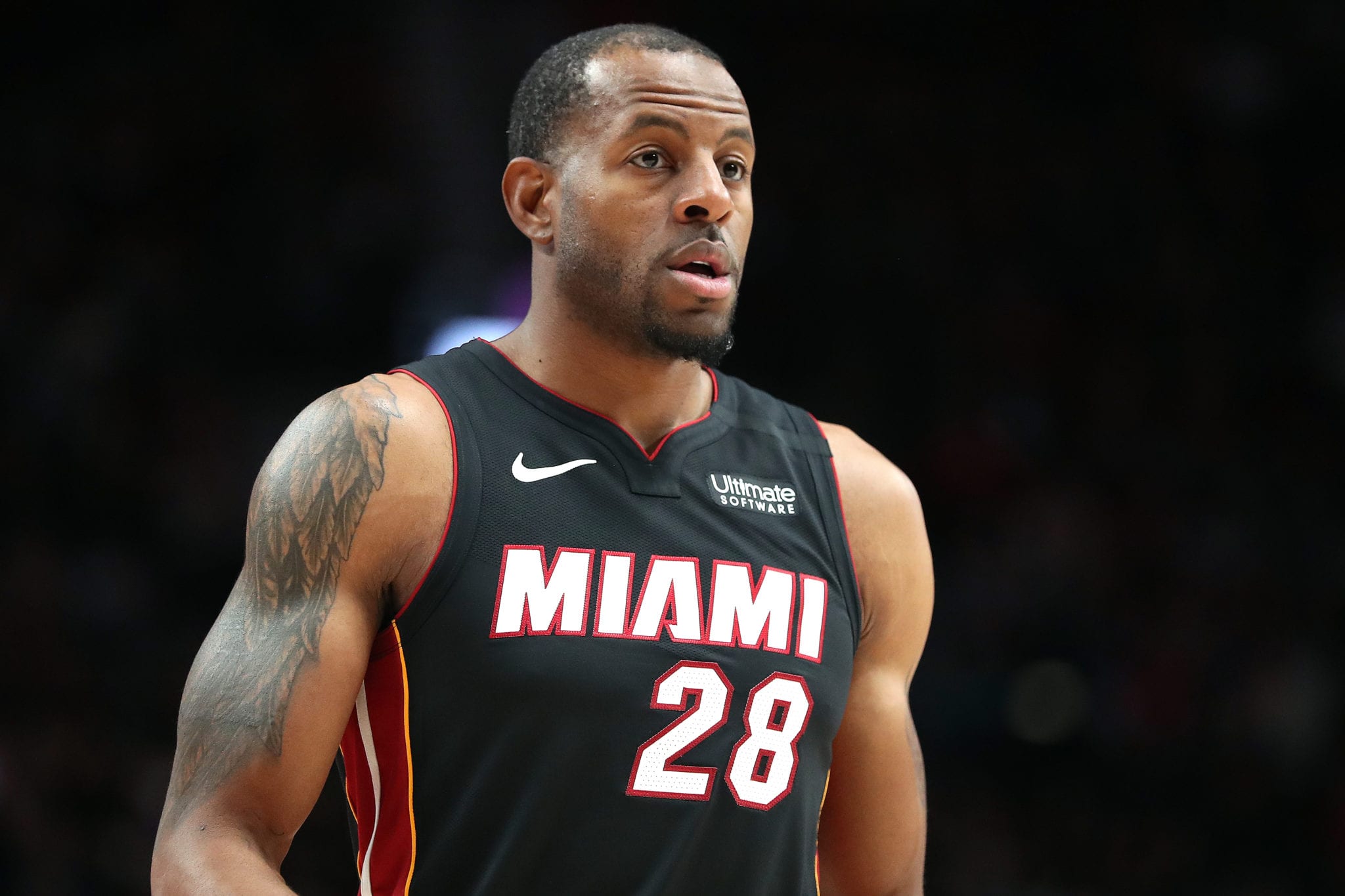 Adding Andre Iguodala – an excellent piece for just about any contender – may have seemed like a strange move for a five-seed. But as it turns out, the Heat knew they were championship material all along.
At 36, Iguodala isn't what he used to be, but he's still a very good defender and provides a veteran presence with championship experience, the importance of which cannot be overstated as this Heat team makes its first deep playoff push.
So, let's recap:
– Miami turned Josh Richardson, Hassan Whiteside and a protected first-round pick into Jimmy Butler and Meyers Leonard
– They traded Justise Winslow along with Dion Waiters' dead weight and James Johnson's bloated contract for Andre Iguodala and Jae Crowder
– They turned a no. 13 pick and a no. 14 pick into Tyler Herro and Bam Adebayo respectively
– They picked up Duncan Robinson and Kendrick Nunn off the scrap heap
And just like that, the Heat are back in the Eastern Conference Finals.
Miami never stays down for long, and it's because of brilliant front office manoeuvring like this.